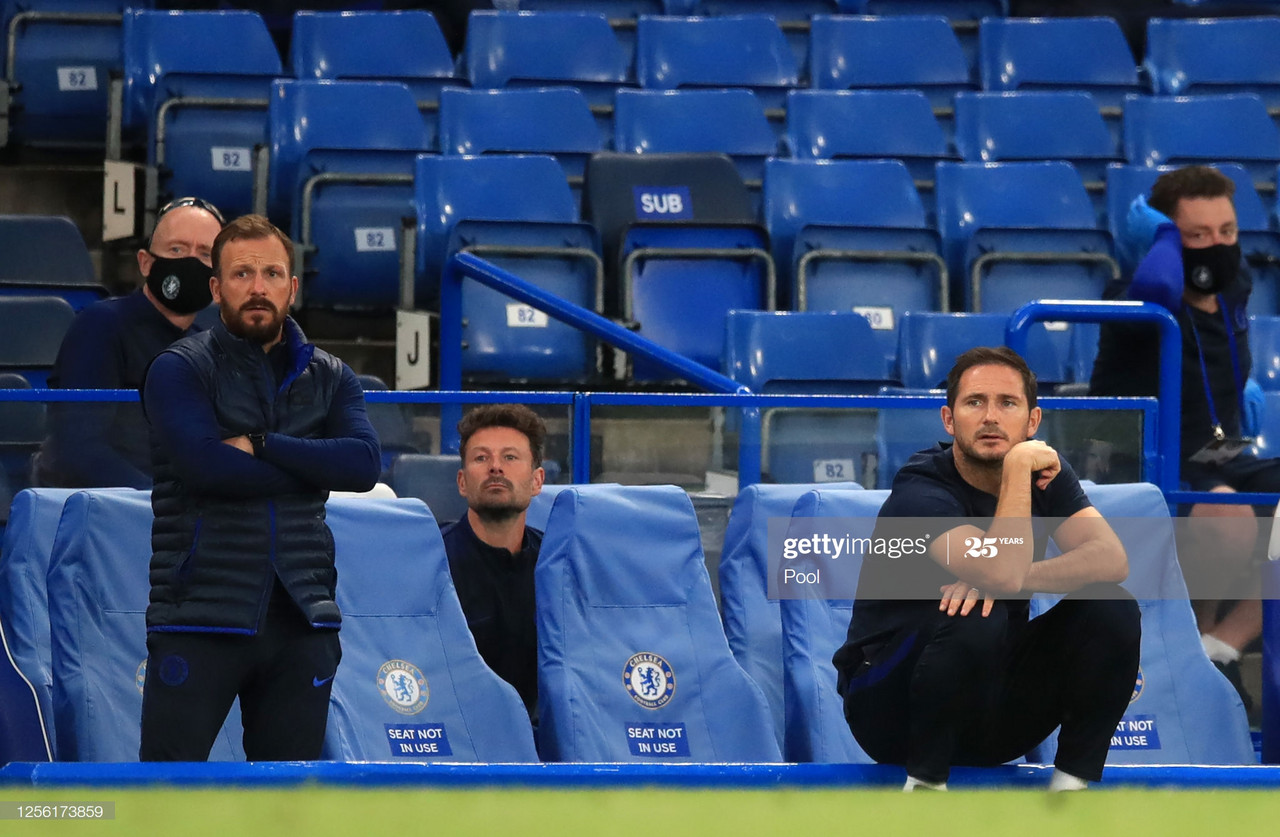 Frank Lampard gave an honest assessment after his side beat Norwich City 1-0 at Stamford Bridge last night, claiming it was an "okay" performance.
The head coach admitted he was satisfied with what was on display. It was a slow tempo performance, but the feeling of satisfaction has come from where it puts Chelsea in the table.
The Blues stay third in the Premier League which enhances their Champions League qualification quest.
Bouncing back and showing improvment
Norwich did not register a shot on target throughout the 90 minutes. This would have pleased Lampard after his sides recent showing in leaking goals. Three against West Ham United and another three conceded against Sheffield United was unacceptable. A clean sheet against already relegated Norwich means an optimist can take positives.
"Ideally when you get the first goal you go and score one or two more," Lampard explained. "When you look at the games that are going on, with Manchester United and Leicester, it is so intense at the minute and we are at the business end, so you take your three points.
"We did not give them any real chances in the game, but there were lots about our game that I would like to be a bit better. We could be quicker with the ball, we could have more rotation, we could cause them more problems, but we defended well enough and we got our three points."
Getting rid of bad habits
This young Chelsea side has often not shown experience and professionalism this season when trying to see out a game. Examples can be given when Chelsea conceded a late goal to Sheffield United at Stamford Bridge in the 1-1 draw in August and the one a piece draw at Brighton and Hove Albion on New Year's Day. Both sides scored with less than 10 minutes remaining.
"We controlled it well, it is one of the things I was pretty pleased with. I made a couple of changes and moved 'Azpi' over to the other side.
"They brought Emi Buendía on who is a dangerous player and comes off the line a lot. We were attacking a fair bit still down the sides and it was time for security and security of pass.
"We had 10 or 15-minutes mid-way through the second half where we got sloppy again and we got slow and passed back on ourselves. It is a trait that we have that comes back in our game, but we got out of that and we finished it well."
The power couple
One thing that has become noticeably clear since the resumption of football is the impact of Olivier Giroud and Christian Pulisic. Lampard discussed the relationship between the two that have added 10 goal contributions between since the Aston Villa game.
"We clearly saw that with the goal and I was delighted with Christian's movement to run behind on the little angle, because that is what we were not doing in the early stages of the game, and then Oli will always be alive in the box to sort those sort of balls.
"If you are playing Olivier Giroud you want to get balls in the box. You need to play to his strengths, and he gets a good goal. The link-up is good, but it could have been better. A lot of balls went astray for us today when normally we are a bit slicker with the passing, but it is job done."
Unlike the win against The Canaries, Chelsea will for sure have shots on their goal in their next game. The trip up north to Merseyside will be a tough challenge. Liverpool will be lifting the Premier League title so despite already wrapping the title up, they will want to win on their trophy day.