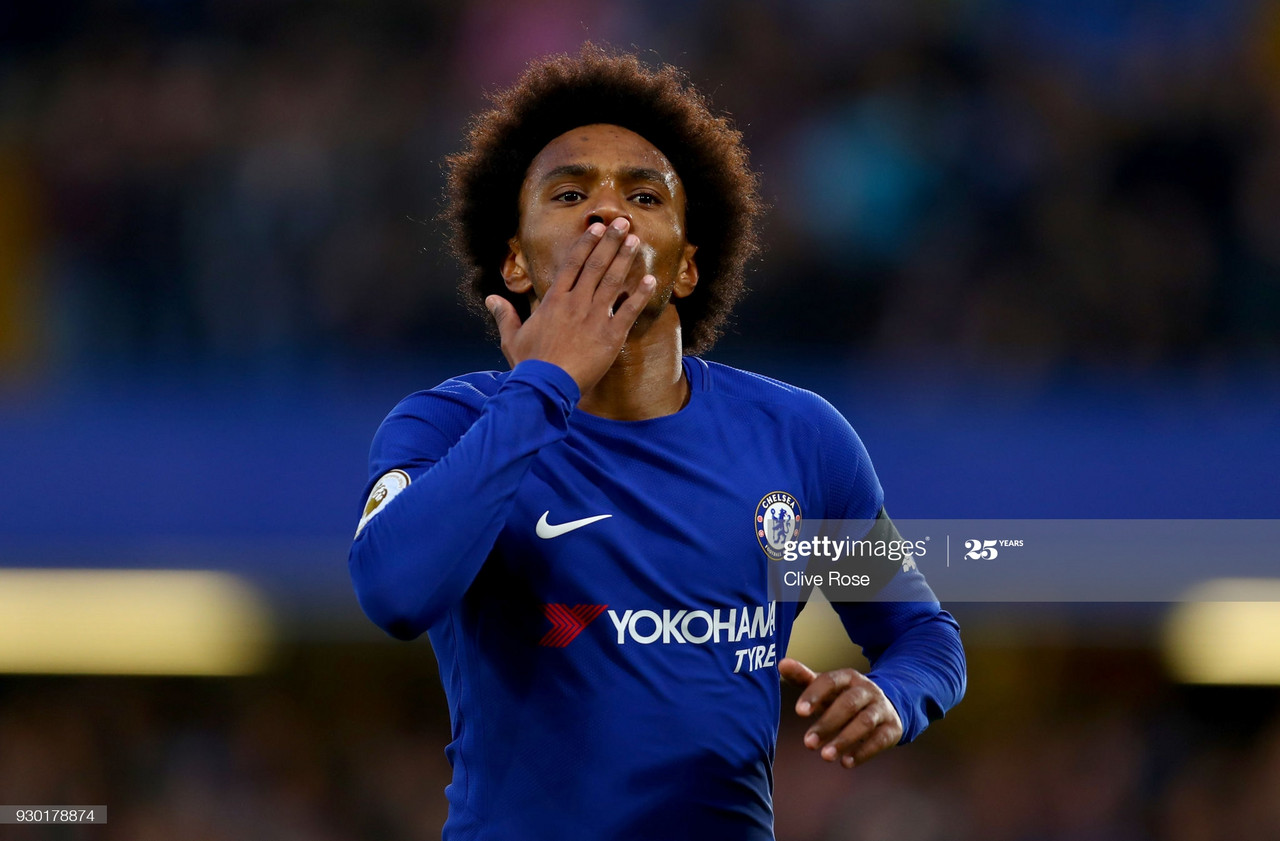 It's a piece of news that has been drawn out perhaps further than necessary in recent weeks, but finally it was confirmed following Chelsea's departure from the Champions League that the former Shakhtar Donetsk winger would be leaving SW6 for pastures new.
In a rare order form in the modern game, the news was announced by Willian via his social media channels, before being later confirmed by Chelsea themselves.
In an open letter to fans, sent out on both Twitter and Instagram, the former Blues number 10 said: "I've had seven wonderful years.
"In August 2013 when I received the offer from Chelsea, I was convinced that this was where I had to play.
"Today I am certain that it was the best of decisions."
Seven years at the top level of English football was always going to be an intense experience, with highs and lows aplenty, as Willian was keen to reflect upon in his statement. He also looked back upon what was always a brilliant learning process.
He continued, "There were so many happy times, some sad, there were trophies and it was always very intense.
"Yet, beyond the trophies, I learnt allot about myself, I developed a great, becoming a better player and a better person.
"With each training session, with each game, with every minute spent in the dressing room, I was always learning.
Speaking of the how the fans took to him upon arrival in SW6, the Brazilian, who made 339 appearances in a Blues shirt, stated: "I am really grateful to the Chelsea fans for the affectionate way they welcomed me at Stamford Bridge and their support of me throughout my time at the club.
"There was also criticism, which is normal, what is important though is that both the affection and the criticism drove me to always give my all in every training session, every game, to be constantly improving until my very last minute in a Chelsea shirt.
"My heartfelt thanks go out to all of you and god bless you".
Ups and downs from start to finish
Having been poached from under the nose of then Tottenham Hotspur manager, Tim Sherwood, who had looked to make the Brazilian the first signing of a hopeful cohort of world-class talent joining the North London club.
Willian took a while to make an impact for what was then Jose Mourinho's Blues side, scoring only eight times in all competitions during his first two seasons, not a return a Chelsea side who were challenging for titles were after, especially when he was in competition for a place in the attacking third of the pitch for a Blues side that also had Juan Mata, Eden Hazard and Oscar Emboaba at their disposal.
His overall statistics in the Premier League do allot to praise the now 32-year old, with him contributing towards 70 goals, be that scoring or assisting, in 234 games.
A winner of two Premier League titles as well, under Jose Mourinho and then Italian admiral, Antonio Conte.
Following a Friend
Rumour mills have been swirling with talk of where Willian might head next, with well-connected Italian journalist, Fabrizio Romano, tweeting that a deal between Mikel Arteta's Arsenal and Borges Da Silva.
In a tweet to his one million followers, following the open letter from Willian to Chelsea supporters, he stated: "Confirmed. Last details and paperwork time between Willian and Arsenal. He's going to join Gunners on next week".
With the highly-acclaimed journalist reporting many a deal with one-hundred percent accuracy, many a supporter of the beautiful game should see this deal as all but done.
The main reason behind Willian's move to the Gunners is no doubt his close, loyal and loving friendship with former colleague and current Arsenal centre-half, David Luiz.
The pair have shared the international stage since the inception of their careers and share a business in London, a Restaurant called "Babbo".
It will no doubt mean allot to the pair to be sharing the pitch at club level once again.