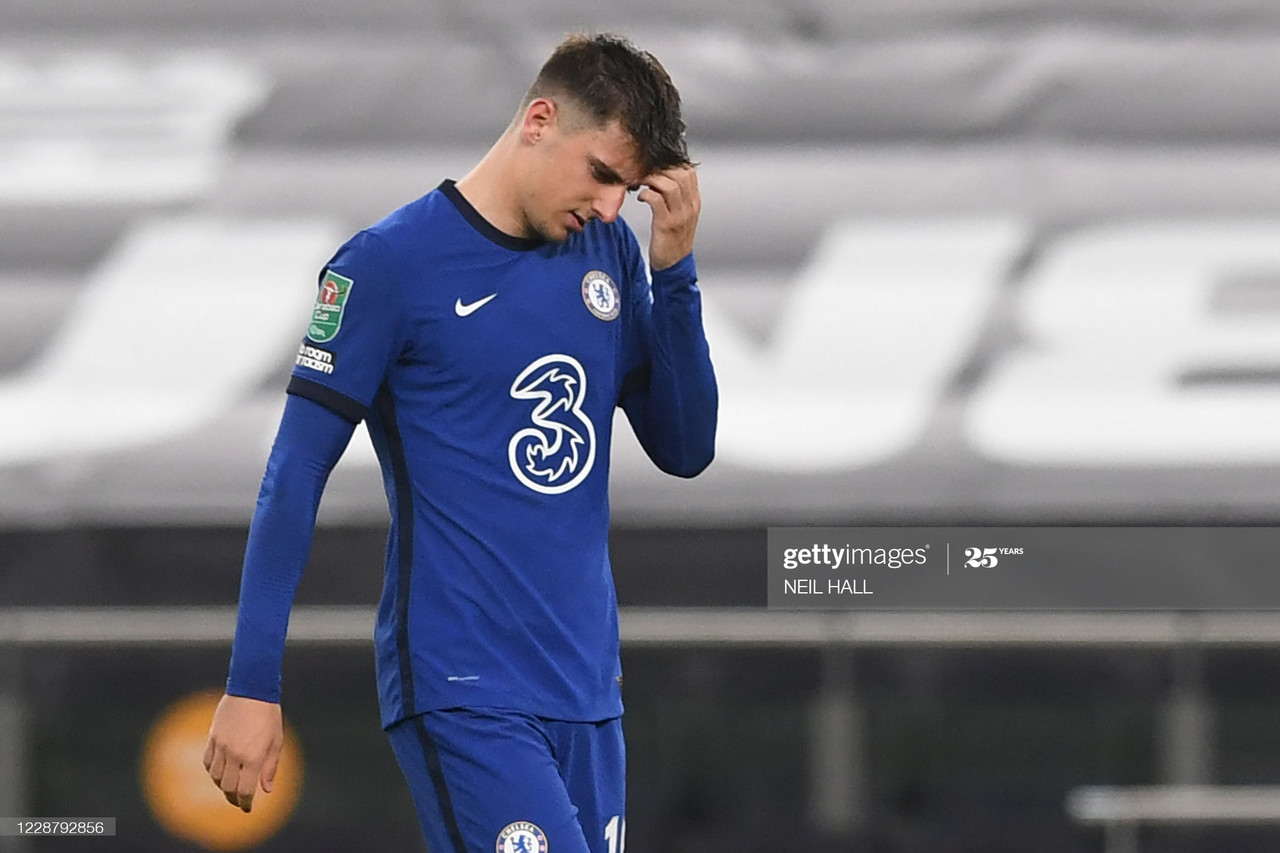 Chelsea midfielder Mason Mount hit the post and missed the crucial spot-kick which saw Spurs edge the shootout and progress to the quarter finals of the Carabao Cup.
The defeat will come as a big blow for Frank Lampard and his team, having paid the price for a sloppy second half display- in which Mount, Timo Werner and Callum Hudson-Odoi all missed golden-oppotunities to deny Spurs any chance of a late comeback.
Clearly, Chelsea lacked any incisive forward momentum, confidence on the ball and urgency to add another in the second-half.
And when this was coupled with terrible transitional play and poor positioning at the back, it made for one of the most lacklustre, dull performances under Frank Lampard thus far.
Only livened by Werner's ruthless finish from the edge of the Tottenham box, the first-half viewing wasn't that much better than the next.
For the entirety of the first forty-five minutes, it seemed as if Jose Mourinho's side were not even interested in winning the game- something the Blue's should have capitalised on and put the game beyond doubt, instead of contently passing the ball side-to-side bereft of any end product.
With the pressure mounting and the bad habits continuing to creep into Chelsea's performances, only the FA Cup and a top four finish remain as a realistic target for this season.
Player ratings:
Following his arrival last Thursday and the great fanfare despite achieving very little in his career to-date, Mendy gave a solid performance on his Chelsea debut against their fierce London rivals.
Confident when coming for crosses, quick-off his line, commanding his area and getting down to low driven shots have been something of a rarity when it's comes to watching a Chelsea keeper of late.
Despite hiccups when he overly-eagerly claimed a couple crosses, was beaten by Erik Lamela and didn't make a save in the shoot-out, Chelsea fans we still be delighted to finally see a greater presence in-between the sticks.
Lampard was pleased with the 28 year-olds performance, commenting:
"He was very good. He made a couple of good saves, one particularly good save.

"He came and caught a few balls, even the one where he came and didn't catch, the idea that he wants to be positive is not a bad thing. Very, very pleased with every part of his game."
Exploiting the space afforded by Tottenham new boy Sergio Reguilón, Chelsea's captain seemed to revel in the freedom he was given in the first-half.
He played a major part in putting Chelsea 1-0 up by dispossessing Spurs on the half-way line, cutting in down the flank and driving a low cross towards Werner who shifted to his right and fired an unstoppable strike beyond Hugo Lloris's reach.
Apart from the goal however, Azpilicueta's options were limited in terms of forward runs, meaning he had to resort to playing the ball back to either centre-half.
Scoring his penalty also gives him a bonus point.
The Frenchman found himself back in the Chelsea squad after his omission in Saturday's Premier League clash with West Bromwich Albion.
Zouma's match highlight was his last ditch tackle on Gedson Fernandes, who pinched the ball from under his feet but did extremely well to get his body in-front and blocked the shot.
To be fair to Zouma, he was tested a fair amount in the second-half and did well to keep Spurs' make-shift front two at bay by muscling his way out of any kind of danger.

A solid audition for becoming a mainstay in Chelsea's defence this season, alongside veteran Thiago Silva.
As already alluded to, Chelsea's centre-backs saw a lot of the ball in the opening quarter of an hour and Tomori seemed comfortable when the ball was at his feet.
A few miss-hit clearances and balls in-behind him did cause panic in moments, but a decent performance from a young-defender who has had been the centre of speculation in regards to his Chelsea future.
This was Chilwell's first start in Chelsea blue after his brief cameo after 66 minutes versus Barnsley last week.
Albeit against inferior opposition, the former Leicester City left-back delivered a sumptuous cross for Oliver Giroud to slot home and make it 6-0 to his new club.
However his output wasn't quite the same in this game.
Subbed after an hour played, Chilwell had a free ride up and down the left flank but failed to create any opportunities of note.
We can't criticise the England international too much though, as its evident that he is still recovering for his heel injury that saw him miss the entirety of pre-season training.
His substitution suggests Lampard is saving him for Saturday, when Chelsea take on an inform Crystal Palace side.
It was one of them games for Jorginho, who's performance will split opinion.
The Italian midfielder conducted play and set the tempo in the early stages, directing play with all the time in the world due to Tottenham's absent press.
In support of this, he made more touches (119) and passes (103) than any other player on the pitch.
But some will argue for what gain?
Jorginho and his pivot partner Mateo Kovacic were dribbled past three times each, an extremely high tally for two midfielders, supposedly "protecting" the back four.
This, paired with their safe passing, indicates to why Lampard is chasing West Ham's Declan Rice- someone who will strengthen and improve their defensive output.
Although he instilled a calmness on the ball from kick-off and overturning the ball to keep Chelsea in possession, Kovavic did little more then that.
Sidewards passing wasn't the only problem Chelsea faced in the second-half, as the Croatian gave the ball away cheaply on a couple of occasions and was fortunately bailed out by his full-backs.
As it has been aforementioned, Jorginho and Kovacic can not operate in a pair on their own, as they get overrun time and time again.
Amid all the focus on their leaky defence, Lampard still hasn't got the midfield balance he wants.
That played a key part in Tottenham's comeback and signing a defence midfield before the deadline next month might prove a tougher challenge than the players they have acquire prior.
Reluctant to buy into the Lampard/Mount bias, tonights performance does point to him being indispensable for Chelsea at the moment.
Mount hasn't missed a single minute for Chelsea this season and despite his unquestionable work rate and enthusiasm, it may be time for him to have a rest to avoid any form of burn out.
His poor decision making in the final third which could have put Chelsea two goals to the good, as well as hitting the post when taking the decisive penalty, does detract from his overall performance.
After being the catalyst in Chelsea's comeback at the weekend, Lampard rewarded Hudson-Odoi with his first start of the season.
The English winger, who has also been touted with moves away from Stamford Bridge this summer, looked lively early doors- showcasing his talents with some great footwork and dangerous-looking crosses from the right.
Arguably Chelsea's biggest passing threat in the final third, Odoi only 21 made touches in the first half- partly down to the fact of him playing on the right and lack of quick passing from the midfielders, who saw plenty of "pretty" but ultimately purposeless possession.
Then when the second half came, it seemed as if every time he was given the ball, he would either give it away with a sloppy pass or turn backwards into his own half.
On the back of that performance, does he really look like someone who's desperate for a starting XI spot?
The German will be delighted with this first goal for Chelsea- at a stadium in which he terrorised Spur's defence in Champions League last season- but in terms of the result, not so much.
Granted, he took his goal extremely well and the first half belonged to his superb strike.
In the second half however, he hardly touched the ball.
This isn't completely Werner's fault of course, as a lack of service in central areas will take the blunt of the blame, but when the ball did fall to him late on in the second half, he fired it straight at Hugo Lloris.
Chances you have to take if Chelsea are aiming for silverware this season.

He also avoided stepping up to the spot after 90 minutes, with Lampard confirmed he had cramp.
One benefit of Giroud leading the line is his contribution to build-up play.
Something he did to great effect in parts, both dropping deep to play a quick pass or pressing the opposition centre half to then receive a long ball from Jorginho.
But it just didn't quite work for him tonight, with a lack of service to blame once more.
Subsitutions
Emerson Palmieri (Chilwell, 66') (3)
In spite of scoring his penalty in the shootout, Emerson was at fault for Erik Lamala's goal.
Weak defending at the back post allowed the Argentine to run in-behind Emerson and score an equaliser.
N'golo Kante (Kovacic, 70') (5)
Kante gave Chelsea fresh legs and a from of protection when he was subbed on with 20 minutes left to play.
Although his appearance was brief, his quality on the ball and in defensive showcased why he is still the best midfielder at the club.
Tammy Abraham (Giroud, 76') (5)
After becoming Chelsea's youngest ever player to reach 20 goals in all competitions (22 years, 260 days) when he scored in the 93rd minute against West Brom, Abraham was brought on to provide some energy up-top.
But with only 14 minutes left to play, he has unable to make an impact in normal time.
He did score his penalty, mind you- something he failed to do in last years Super Cup final versus Liverpool.
Verdict
Tonights defeat was a damning one for Chelsea all-round.
So much so, its difficult to pick a player who covered themselves in glory - even when Chelsea lead for the majority of the game.
With Palace the visitors on Saturday, it will be a much tougher game than the compromised Tottenham outfit they faced tonight.
If Chelsea play like they did tonight there will be more sharp criticism coming Lampard's way.