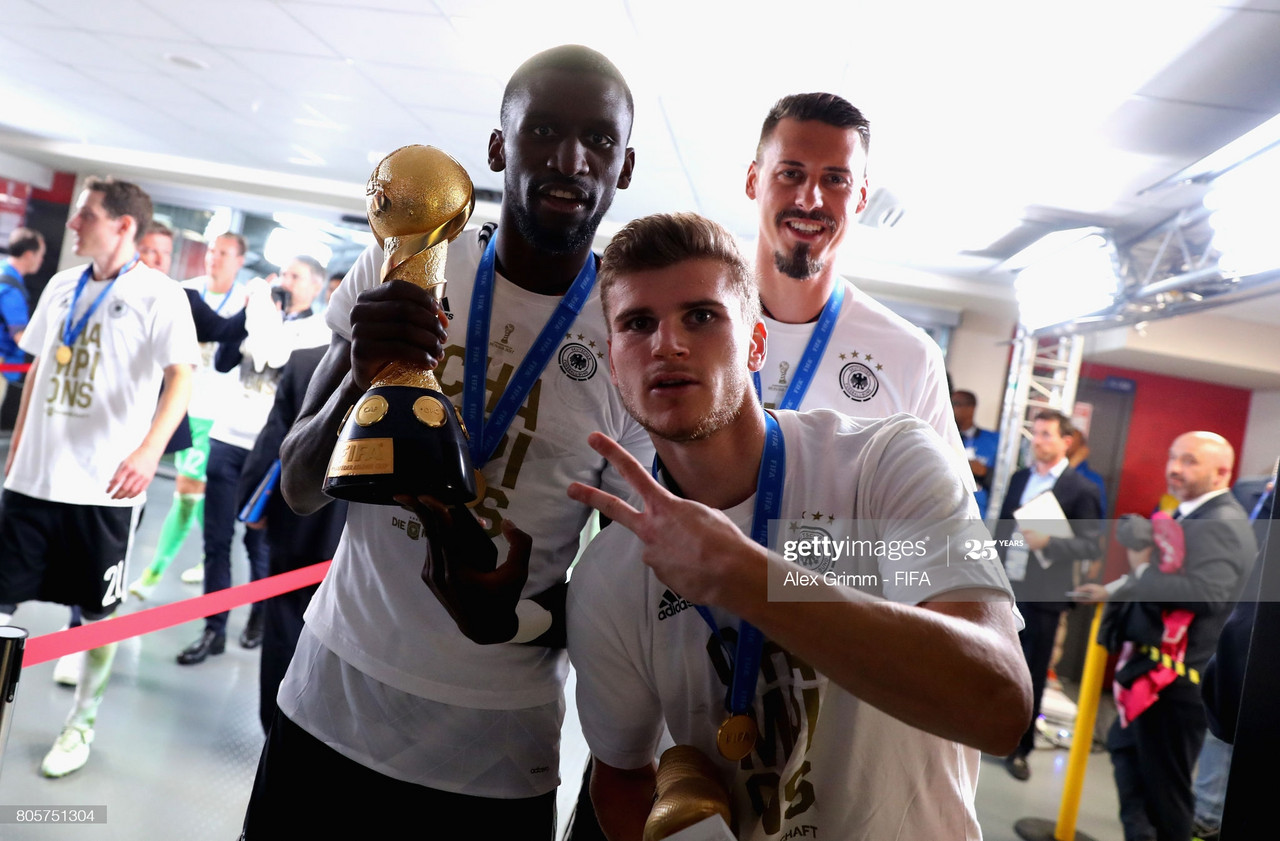 Chelsea are coming to the end of their football season after accomplishing top four against Wolverhampton Wanderers on Sunday. The Blues can still improve their season with an F.A. Cup final approaching on Saturday against Arsenal.
A good season could be turned into historic season if Frank Lampard's side can overturn Bayern Munich in the Champions League on the 8th August. Unfortunately, Chelsea trail 3-0 heading to the Allianz Arena and it would be a miracle if they overturn the score line and proceed to the quarter final.
It has come to that point of the year where the main focus is transfer news. After already adding Hakim Ziyech and Timo Werner to the squad for next season, Kai Havertz is the latest player to be 'on the verge' of signing for Chelsea.
'Agent Rudiger'
Antonio Rudiger has recently been given the nickname: 'AgentRudiger' on social media. A humorous topic that originated from when the number two played his part in convincing Werner to join the Bridge.
He said: "My friends told me about the nickname, I just try and help out because everyone knows that we play together.
"There is a bond between us two [Werner] and I am happy he has taken the step to the United Kingdom. it is a good sign if you can get players like him to the club. He has showed he scores goal and I hope he can do it here too."
"Speaking on their time at Stuttgart together, Rudiger stated: "It was not easy for him at the start because he was only 17. He first came into the squad and he was just a kid. But over time, I think he went to the gym because now he is bigger!
"It is easy to see how good he is, just look at the stats. He scores more goals every year and this is his quality. I am hoping he can do that for us and most importantly, that he can stay healthy and adapt to different things.
"I was one that helped him make the switch to come here, it will also be my job to help him settle in. We speak the same language and he speaks very good English too. The thing is, with this job, and as a team, we all have to help him."
Hailing Giroud
Speaking ahead of the F.A. Cup final on Saturday afternoon, Rudiger gave his opinion on Olivier Giroud, who is likely to start the final. He was full of praise for 'Oli'.
"He is 100% a leader. He is always someone who speaks up, he won the World Cup and he is a very confident guy. But he is not arrogant.
"He is a good guy on the pitch and off it. Everyone looks up to him. He always keeps his cool and stays professional. He has worked hard to get back on the pitch.
"Of course, I am happy for him, it was a difficult season for him at the start. He wasn't there at the start and there were rumours about his future. In the end, he stayed and now he is showing what he can do.
"When he was on the bench, he was always supporting the team, doing his bit. There was nothing you can say negative about him."
Speaking of another German, it is rumoured that Havertz is on his way to West London. The central defender has had his say on the link with the Bayer Leverkusen forward. Rudiger has played with Havertz for Germany, will the defender play a part in luring the 21-year-old to Stamford Bridge?
A smirking Rudiger told Goal: "He is a great talent. He has had a very good season and he is young too. Let's see what happens in the future."