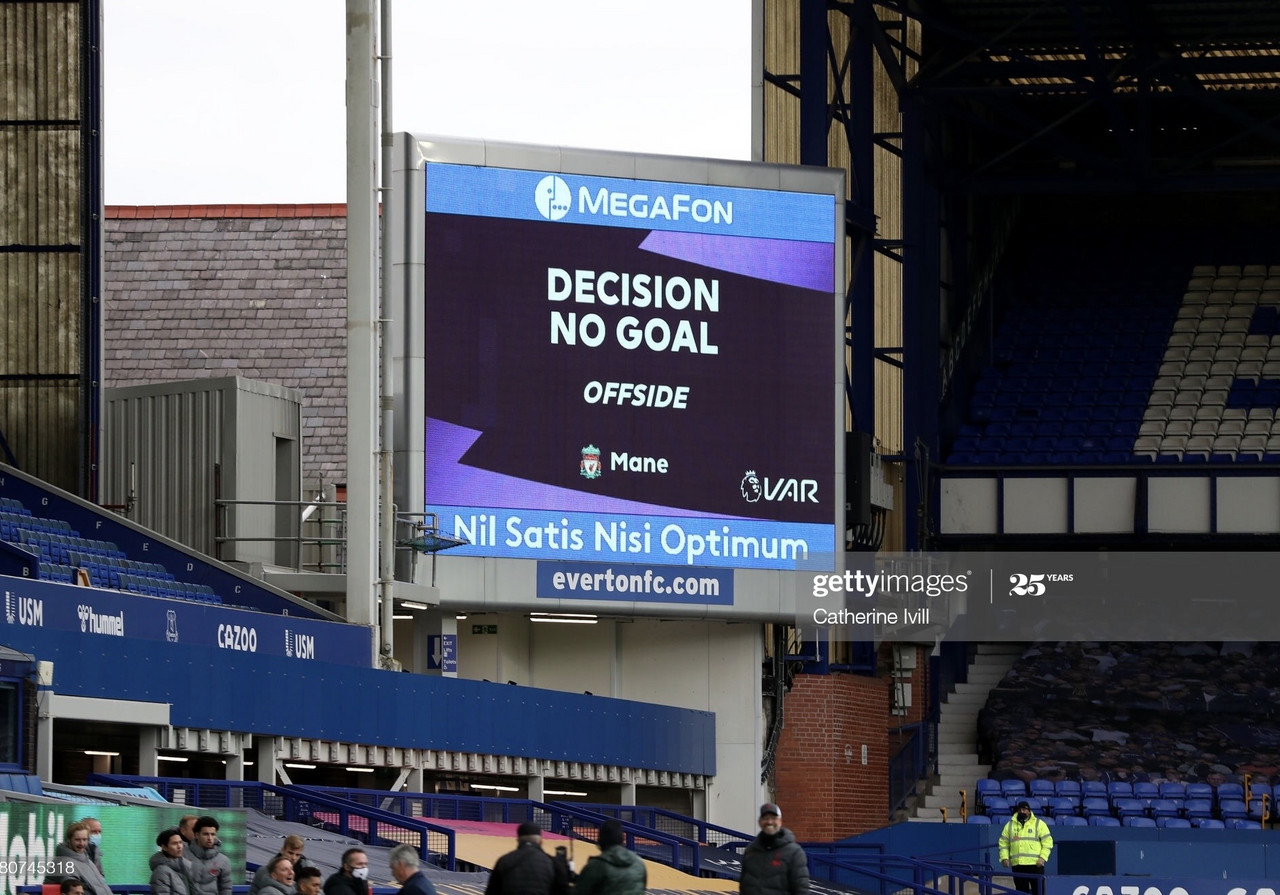 A Merseyside derby at Goodison Park is historically and nationally renowned for producing some of the most incredible moments in English football: Luis Suarez's cheeky celebration in-front of a bewildered David Moyes, Mikel Arteta's powerful strike from outside the box and, more recently, Sadio Mane's last-minute winner which caused for an array of unforgettable red smoke. These are just a few instances in an endless list.
Moments like these is what makes the Premier League the best division in the world. A combination of tribalism, heartbreak and ecstasy aligning to create unforgettable memories that will be boasted by the victors for years to come.
Saturday's Merseyside derby produced yet another one of these precious spectacles, as Liverpool captain Jordan Henderson scored a stoppage-time winner to secure a well-earned victory. Or so everyone thought.
Just as the Liverpool players had finished their illustrious celebrations, the dreaded 'VAR – checking for offside' flashed up on the flat-screen that overlooked the pitch. Replays suggested that the boys in red had nothing to worry about. Mane, the suspected wrongdoer, seemed to perfectly align with Everton's last defender Ben Godfrey. A given goal seemed imminent.
Well, it wasn't. VAR decided to strike yet again and disallowed the goal for offside.
The match ended 2-2, a result which may not affect the final placings come to the end of the season, but one that many see as a further detriment to the integrity of modern football.
VAR – the bad, the good, and the bad again.
VAR was introduced to the Premier League at the start of the 2019/20 season. The exciting modern machinery, which was previously tested at the 2018 World Cup, arrived in England with the job of accomplishing just two things - make the game fairer and make decisions clearer. Just over a year on and football is the most confusing it has ever been.
One of the first times VAR decided to showcase its incredible clarity was when Premier League newcomers Sheffield United travelled to Tottenham Hotspurs.
As David McGoldrick equalised in the 63rd minute, Blades fans burst into a state of pure euphoria, a moment they would have only dreamt of years ago when they were stuck in League One had actually come to fruition.
On a personal note, McGoldrick had scored in the Premier League, something that he had never achieved before. All this was ripped away as somebody's toe was judged to be offside in the build-up play.
This was the first of many 'offside' decisions; Roberto Firmino away at Aston Villa, Jack Grealish away at Burnley, Teemu Pukki against Spurs, all of these decisions, to the naked eye, seemed onside.
These verdicts are concluded with VAR's genius idea of putting two lines (that, in these scenarios, overlap each other) next to one another to show the outsider who is offside. This is accompanied by a dotted line going from the ground to the suspected culprits' body to show why this person may be offside. This is something that, on many occasions, has not cleared up why one person is behind the other.
A simple way of stopping this may be to say 'if these lines do not clearly show who is offside, stick with the original decision,' but no, VAR tends to enjoy taking situations which show a certain scenario and twisting them to try and make it look like it's something else.
There have been occasions where VAR has come in handy and prevented a clear and obvious mistake from the linesman. Pierre-Emerick Aubameyang's goal at Old Trafford was flagged offside despite Harry Maguire clearly playing the striker onside. Good use of technology was shown in reversing this decision.
However, these positive situations are heavily outweighed by the negative ones and, for a piece of technology that is supposed to make the game clearer, doing the exact opposite can hardly be viewed as a good thing.
Offside does not seem to be the only issue with VAR. The handball law has been adjusted to try and make the machines transition into football easier. This has also failed as on many occasions this rule has proven to be ridiculously strict. Several times now a ball has struck a defender's arm in a completely natural position but a penalty has still been awarded. It is almost as if the rule wants players to remove their arms before the game.
All these reasons have left the majority of fans fed up with VAR, and that is forgetting to mention a result that was quite literally changed after full time because of an incident that happened before the whistle at the Amex Stadium.
A relationship that, for many, started with so much hope has been battered and tarnished beyond repair.
Is VAR's time over or can it be saved?
Anyone or anything can change, we all know someone who isn't quite the same person they used to be – and hopefully, that can be the same for VAR.
The idea of VAR, or something that irons out inconsistencies in football, is something that many fans would probably welcome. People are quick to forget that without technology goals such as Frank Lampard versus Germany would still be circulating throughout the game.
But frankly, what VAR has achieved in the Premier League so far is nothing short of inadequate and until a different approach is taken, it is hard to see a future where the Premier League and VAR live happily ever after.
It is a sad reality, but moments like Henderson's winner at Goodison becoming erased just seems like something that fans will have to get used to.