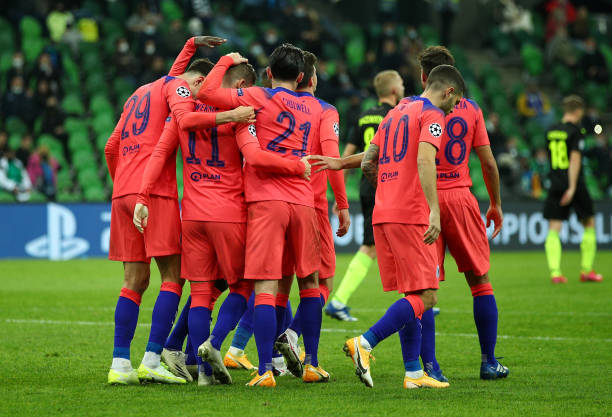 Chelsea restored their goalscoring form and maintain their newly found defensive solidity to claim all three points away to Russian new-boys Krasnodar.

It was Hakim Ziyech's performance on his first start for the club that caught the eye of 10,554 spectators inside the Krasnodar stadium- including a certain Roman Abramovic.
Four points from two games is a start Frank Lampard would have wanted going into his second Champions League campaign as Chelsea boss and despite their recent run of draws, the Blues have now lost just once in 10 games this term.
1. Lampard should be praised for his tactical change
With all the talk of Chelsea defensive solidity in the past week, tonight's victory was settled by the exact opposite. Lampard's decision to bring on more 'attack-minded' players and go for the host's throats instead of sitting off paid off- with three goals coming in the last 20 minutes.
The triple introduction of Christian Pulisic, Mason Mount and N'golo Kante notched Chelsea up a gear and finished deserved winners in the end. Frank will surely board the four and a half hour flight back to London confident in deploying the 4-3-3 against Burnely on Saturday from the get-go.
2. Ziyech impressed in first Chelsea start
Considering that the Morrocan international has not featured in a competitive fixture for seven months, it remains easy to see why the 27-year-old is nicknamed the "Wizard".
Ziyech's tidy 79th-minute bottom corner finish meant that he has now been directly involved in 13 goals in his last 15 starts in the Champions League, scoring six goals and assisting a further seven. His slick link-up play with Callum Hudson-Odoi and Kai Havertz caused havoc for the Russian's defence throughout the game and his eye for a pass proved a constant threat. This dazzling debut display was capped off in style when he was rightfully named man of the match after he was substituted with ten minutes left to play.

3. Hudson-Odoi took his chance
A Kepa-like calamity from Krasnodar keeper Matvei Safonov gifted Hudson-Odoi a well-needed confidence boost. However fortunate the goal may have been, it was another sign that there is an understanding building between Havertz and Callum, with the German finding the Englishman just like he did away at West Bromwich Albion. His opener, minutes after Jorginho hit the post from the penalty shot, made him just the second teenager to score for Chelsea in the Champions League after Reece James did so against Ajax last season.
4. Another Edouard Mendy clean sheet
It would be unfair to say the scoreline flattered Chelsea but the result was a little hard on Krasnodar, who was in the game until a harsh penalty decision killed them off. The Blues finally got the balance right tonight; solid at the back and clinical going forward. After keeping his fourth clean sheet in a row, Mendy has got as many for Chelsea in October as Kepa has got since the 12th January.
Though it is not just the fact he has saved plenty of good shots, it is the security he offers on crosses and set pieces. There can be no denying the fact Chelsea has markedly improved at defending their own box recently - Mendy is a huge reason why.
5. Midfield pivot pairings proving to be problem
Chelsea's poor first-half performance coincided with how poor Jorginho and Mateo Kovacic were in midfield. Neither player showed for the pass- making it tough for Kurt Zouma and Antonio Rudiger to progress the ball forward- nor did they play the correct pass with the correct weight. Sadly, it has become a regular occurrence in which a good performance from the pair- including Kante this season- says more about the opponent than themselves. It was no coincidence that when Lampard moved to a 4-3-3 with Kante, Mount and Havertz in midfield, Chelsea played so much better- especially with Mount in the number 8 role.