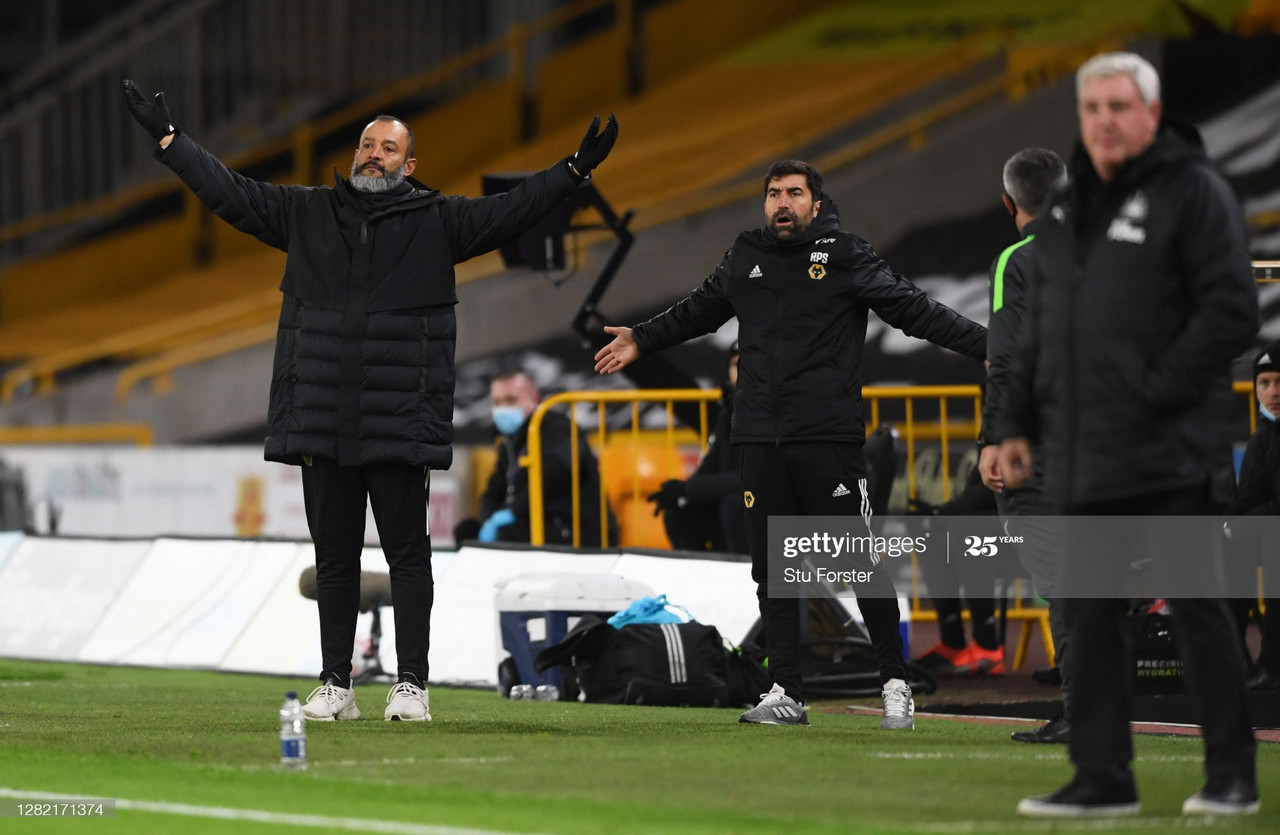 Wolverhampton Wanderers face Leicester City at the King Power Stadium this weekend as they look to continue their impressive start to the Premier League season.
After an unbeaten October, Wolves sit in sixth in the table with a win on Sunday possibly lifting them level on points with league leaders Liverpool.
Manager Nuno Espirito Santo gave his thoughts on his team's current form, Leicester, and returning to action.
On his team's form:
Despite being unbeaten for a month, Espirito Santo was fairly critical of his team and is aiming for an improvement from his squad.
He said: "The team is not in great form, the team has a lot of things to improve. The beginning of the season has been hard for every team and we've been able to reproduce good performances, but to say the team is in great form is not correct.
"This is the reality," he continued. "It was a very quick turnaround for all the teams, and you can see that football has changed, the dynamics have changed a lot, even in the Champions League you're seeing crazy results, so you cannot think that you are already there because you are not.
On lessons learned:
Before their four-game unbeaten run, Wolves were heavily defeated by West Ham. Espirito Santo revealed that the 4-0 loss gave his team a reality check and allowed them to work out where they were going wrong.
"The West Ham game really showed us," Nuno said. "It was our main focus after that and you can see an improvement in our organisation; more compact, more solid, not allowing too many chances and things that are part of us.
"But the West Ham game was a big moment for us in terms of what we quickly need to improve. You cannot be in the game if you are not strong enough in defense and you cannot think about competing well. The starting point was obvious."
On the reality of Wolves' season so far:
Continuing his theme of assessing the campaign so far, the Wanderers boss spoke about his player's attitudes and how they are not happy with how things have gone.
Espirito Santo said: "We knew what the problems were, and we knew that the solutions were inside of us. Knowing that, let's work, and we still have to work. Honestly, it's not even in our minds that we are already ok. We are not. There are a lot of things that we must improve."
On coming up against Leicester:
Wolves travel across to the East Midlands to face Leicester who are also enjoying some good form. The Foxes are five games unbeaten in all competitions, leaving them second in the Premier League and on top of their Europa League group.
Nuno praised Sunday's opponents and spoke of what they can expect. He said: "Leicester is a fantastic team and you can see in their previous games, even yesterday against Braga, how well they played. Brendan Rodgers is an amazing manager and they are really doing well. We expect a very tough match on Sunday, a very tough match, but we want to play, we want to compete.
"Last season, we faced a calendar like Leicester, with only three days between games, it's really hard, but you consider how well Leicester are doing, and yesterday, you can see a team that has competed very well with a lot of talented players."
On looking forward to getting back into action:
Between their win against Crystal Palace last Friday and Sunday's game, Leicester will have played and won two games. Espirito Santo is wary of this and is keen for the squad to get back into action and onto the pitch.
He said: "We played our last game Friday, it's been a week now, it's long ago, so we are delighted to go back and compete."