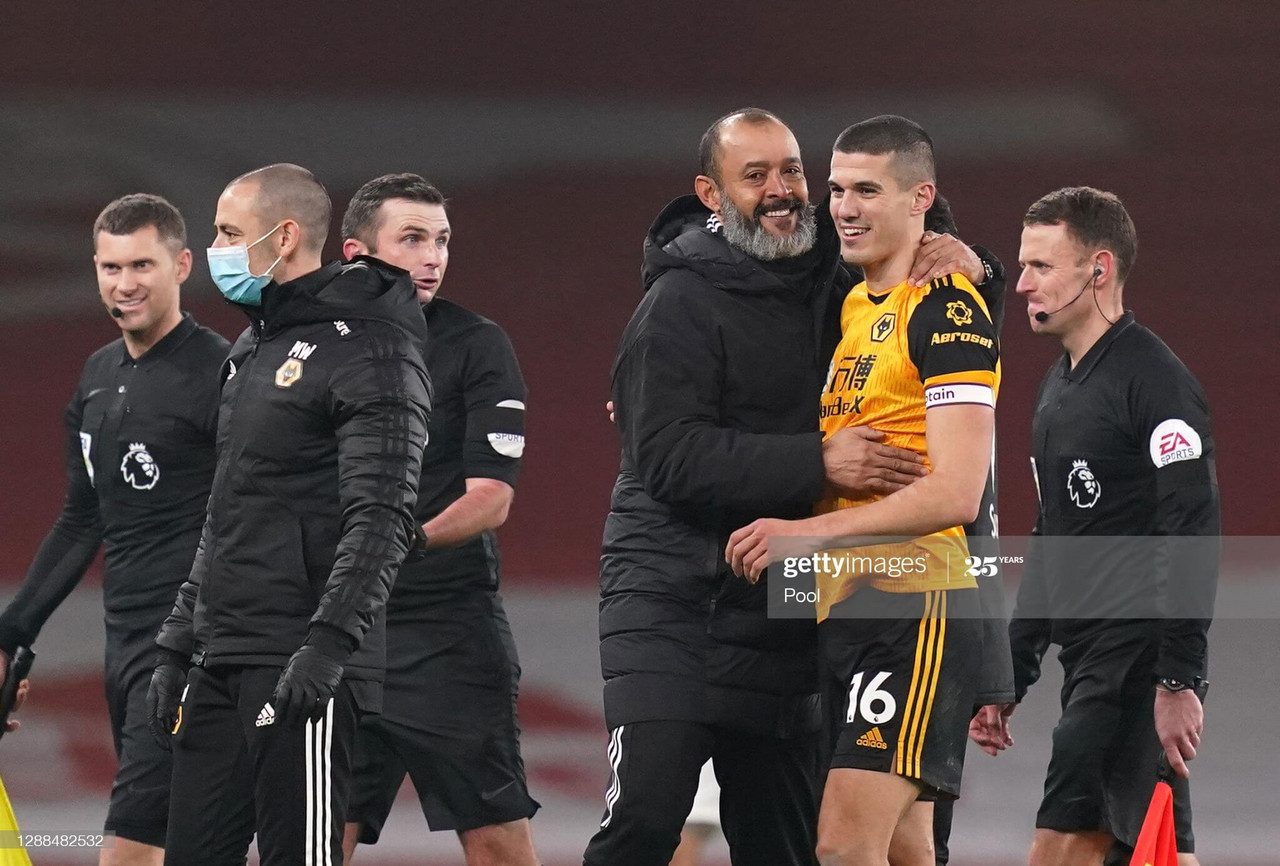 Wolverhampton Wanderers picked up their first win at Arsenal since 1979 as they beat the Gunners 2-1 on Sunday night.
Goals from Pedro Neto and Daniel Podence came either side of a Gabriel header to give Wolves the three points, but the game was overshadowed by a sickening clash of heads between Raul Jimenez and David Luiz that left the Mexican needing surgery on a fractured skull.
Conor Coady spoke to wolves.co.uk after the game to discuss the win, performance and, most importantly, the wellbeing of his teammate.
The game was just five minutes old when Luiz and Jimenez clashed heads at a corner, leaving the Mexican stricken on the ground.
A club statement on Monday morning confirmed Jimenez had had surgery on a fractured skull, and Coady said all of his teammates were thinking of him.
"We were massively worried when it happened, you knew straight away it was serious. We hope David Luiz is OK as well. It was a horrible clash of heads, this happens in football, but you don't like to see it.
"It's horrible to see with not just one of your teammates, but one of your friends, because that's what we all are. He's with the right people, which is the most important thing, but we just hope and pray that everything's OK, because he's the one we're thinking about right now."
Coady was directly behind Luiz and Jimenez at the set-piece, and said it was a horrible incident to see.
"I was at the front, just behind him, so I jumped, and you heard it. As they dropped, he was on his side, and it was important we kept him on his side and got the doctors on. When you see them drop and they're not really responding, it becomes horrible to see. Player health comes into question and comes before any sort of performance.
"It's something we never want to see, especially with one of our teammates, or with anybody in the Premier League. We got a fantastic result, but the one thing that matters is making sure Raul and David Luiz are both OK."
On the dressing room at half-time
Coady and his teammates played admirably for the remaining 40 minutes of the half without knowing the condition of their teammate, but the Wolves captain said it was the first thing the team asked about when they got in the dressing room at the break.
"The first question we asked when we went in was, 'How's Raul?' because people's health, with heads and bodies, come to the forefront in these situations, so it's important we get Raul sorted because it's a massive collision he had."
With 85 minutes of the game to be played after Wolves lost their talisman, Coady said they used the incident as motivation to earn the win for Jimenez.
"You've got to [refocus]. We had 80 minutes left of the game, so you've got to. You go and play and hope you get the win for Raul. We had to do it for him, he's a massive part of this football club, he's a massive friend to every single one of us in that changing room.
"We had a job to do, we needed to be professional. He was at the forefront of all our minds, and at the same time we knew we had to do a job to come to a tough place like this and get a result."
Wolves put in one of their best performances of the season to come away from the Emirates with three points, with their captain describing their display as 'fantastic'.
"We're trying to get better, trying to evolve, and I think you can see that. You can see the club try and move in the right direction and it's something we need to move along with as players. We're enjoying playing, we're learning new things from our manager.
"To come here and win is no mean feat, it's a fantastic result, because when you come to the Emirates you don't often get results, not many teams come here and get results, so it's huge for us, it's something we can take forward. Looking at the performance, I feel like we did quite well.
"I thought the lads were fantastic from start to finish. We had to dig in at the end, but we knew we were going to have to with a goal advantage. The result and performance were fantastic, we're made up with it, but let's just hope Raul's alright."