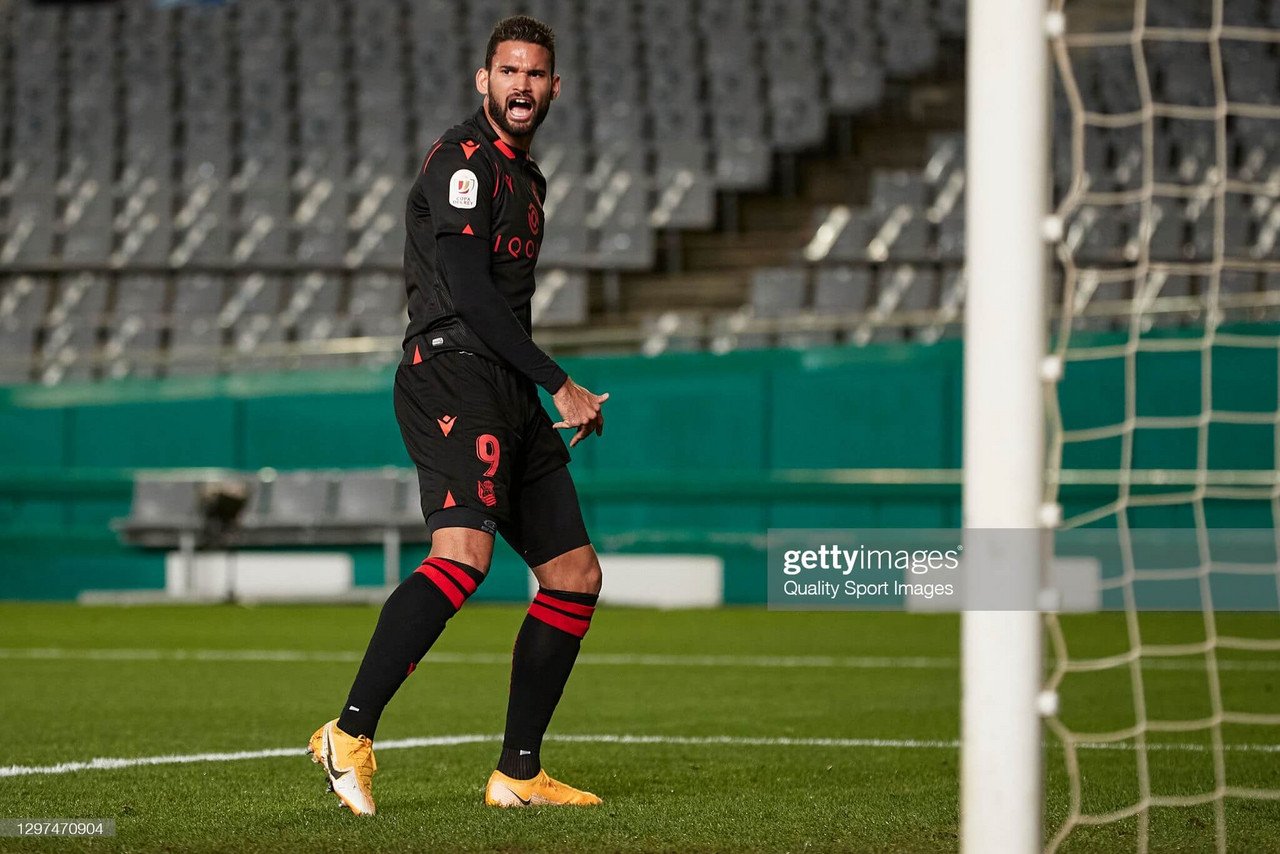 Wolverhampton Wanderers have opened talks to bring in Real Sociedad striker Willian José on loan with an option to buy.
The 29-year-old has been with the La Liga outfit since the summer of 2016 and since then he has bagged 60 goals in 149 appearances.
Nuno Espirito Santo will be hoping that this addition strengthens his frontline options as due to the long term absence of Raul Jimenez, 18-year-old Fabio Silva and recently returned loanee Patrick Cutrone are the club's only out and out strikers.
Supporters have been asking for a new striker this window due to the lack of final product being churned out at the club. Their wish could come true here.
Who is Willian Jose?
The Brazilian began his senior career in 2008 when he joined Grêmio Barueri, a club in which he played 28 games for, scoring six goals.
In 2011, he joined Uruguay side, Deportivo Maldonado, a team that José was at for five years, but he failed to make a single appearance.
Instead, he had loan spells at six different clubs which were Sao Paulo, Gremio, Santos, Real Madrid, Real Zaragoza and Las Palmas with the latter being his best period at a club in this time as he netted ten times in only 34 appearances.
Then in 2016, he signed a five-year contract with Sociedad, where he has been the most successful at.
In the four and a half seasons that he has been at the club, he obtains a very impressive goalscoring record with his best season coming in the 2017/18 campaign when he bagged a decent 15 goals.
However, this season Jose has been slightly out of favour at Sociedad, as he has only started eight games in La Liga with Alexander Isak being opted to start more for the outfit positioned sixth in the top flight of Spanish football.
Key attributes
The forward tends to like to drop deep in midfield so he can hold up the ball and play quick layoffs to midfielders advancing forward.
This is something that would suit Wolves because since losing Jimenez through injury they have not really had a focal point due to how Silva likes to play off the shoulders of the last defender, as he is always looking to be slipped in behind opposition defences.
With the signing of Jose, it will give the likes of Ruben Neves and Joao Moutinho someone to play the ball into which then likely will provide more space in dangerous areas for wingers like Pedro Neto, Adama Traore and Daniel Podence.
The former Brazilian Under 20 international further has a deadly finish, particularly inside the area, something that will certainly please the Pack considering that scoring on a consistent basis has become somewhat of a struggle this season.
Only five teams in the Premier League, four of which occupy the bottom four places in the league have scored less than the Wanderers, something which at this stage of the season will be a cause of concern for Nuno.
The Portuguese boss will be hoping that with this addition, that he can become a decent replacement for Jimenez whose length of absence remains unknown.
Could he be a hit for Wolves?
With Wolves' current struggle of goals starting to become an issue, it is clear that during this transfer window that Santo needed to recruit a goalscorer.
By signing someone who has the ability to find the back of the net is something that could help the club rise up the table in the second half of the campaign.
So, this could be seen as a positive move for the club, but he will have immediate pressure to start scoring from his very first game, so he will have to ensure that he hits the ground running.
If he fails to do this Jose's spell could prove to become dry very quickly.