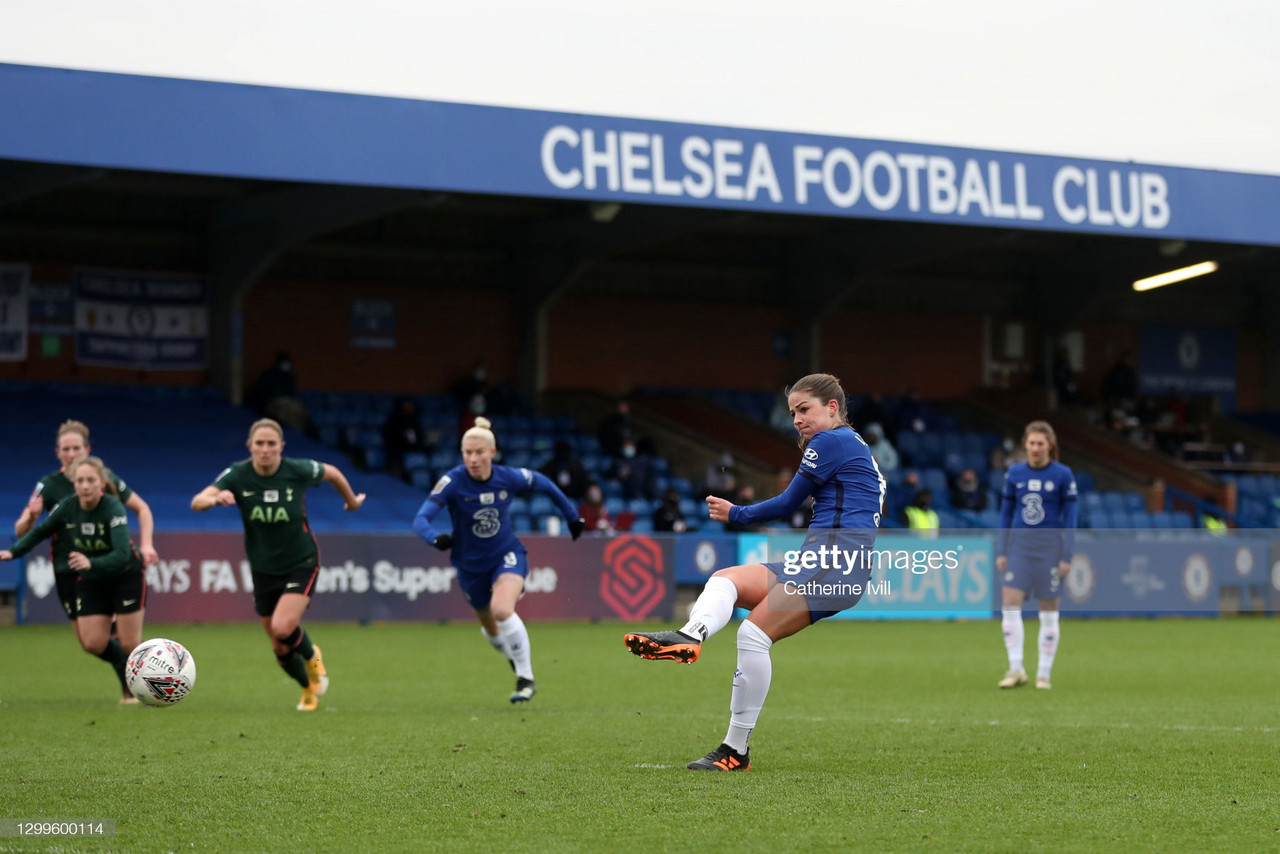 Chelsea hosted Tottenham at Kingsmeadow seeking to stay top the league. While the Spurs have won their last three games, the Blues have been unbeaten in 32. That match would have originally been played before the Christmas break but was postponed due to a Covid-19 outbreak among the host.
The match started with Tottenham on fire trying to open the scoreboard, however, Ann Katrin Berger defended safely. Five minutes later, Chelsea decided to show who owns the house with three shots from Sam Kerr, two out and one in offside. After this, Spurs tried arriving with more danger at Chelsea defence. The first one was disarmed by Millie Bright and the other two were shot by Allana Kennedy wide of the target.
Tottenham came close to taking the lead as Ria Percival hit the post with a long-range effort and, three minutes later, Kit Graham shot, but Berger caught it. On the other hand, Chelsea had trouble to infiltrate Spurs defence in this first 20 minutes.
At 21 minutes, Pernille Harder, Guro Reiten and Fran Kirby started to shine. A minute later, Reiten tried to volley and Harder shot, but Aurora Mikalsen defended. Melanie Leupolz received the ball from Ji So Yun before turning and unleashing a great strike into the bottom corner, opening the scoreboard for the Blues.
Soon after, Kirby found Harder in the box and the Danish scored the second for Chelsea. Two minutes later, Ji tried to shoot from outside the area and Kirby found Kerr in the area, but the Australian became unbalanced and failed to hit the target. At 37 minutes, another cross from Kirby to Kerr without any success. Harder found Kerr with a pin-point cross and the forward headed their third goal at the break of half.
In the second half, the Blues remained dominant in the match. They started after a shot by Harder from a cross and at 64 minutes, Leupolz scored her second of the match from a penalty after a Spurs defender handled the ball in the box.
Fran Kirby has been unstoppable as of late and she showed that again today. Despite not having scored today, she was very important for the construction of plays and left Harder and Kerr several times in front of the goal.
Mikalsen and Ashleigh Neville did a great job preventing Chelsea from arriving with more danger in the plays. However, the goals came mainly due to technical and tactical superiority over the Tottenham team.
Melanie Leupolz is the highlight of this match after scoring that terrific goal outside the area e and the second from penalty. She always show her importance in Chelsea midfield with Ji and it is great to see her continuity in the starting lineup.