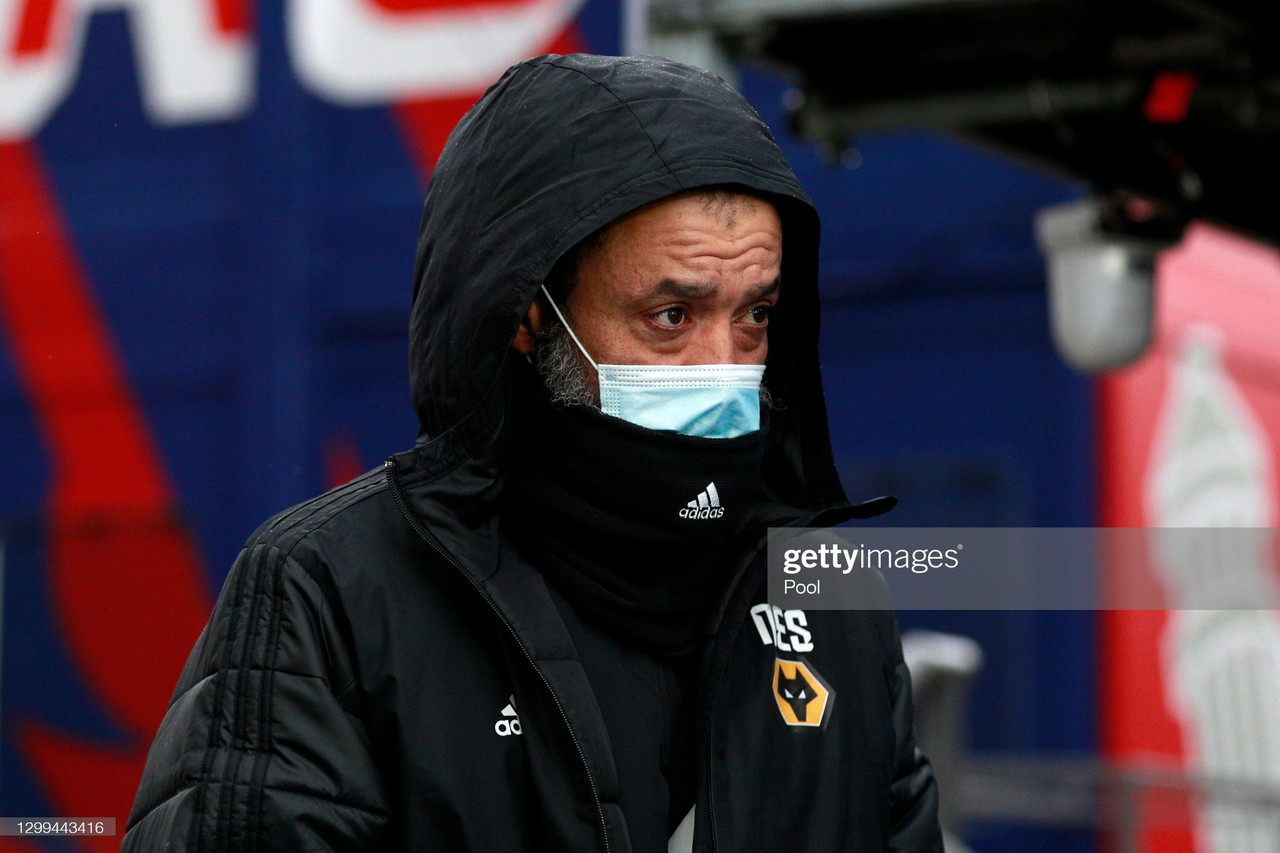 Wolverhampton Wanderers boss Nuno Espirito Santo believes his side have a 'big chance to react' from the disappointing display at Crystal Palace on Saturday.
They host Arsenal on Tuesday in the Premier League, looking to earn their first league victory in eight games, a run that has seen them plummet down to 14th in the league table.
Despite holding Chelsea to a 0-0 draw on last Wednesday, Wolves are back to square one after suffering defeat against a side they had already beat twice this season.
Following two days of reflection, Espirito Santo confirmed his side must work together to find solutions ahead of the visit of Mikel Arteta's side.
The 47-year-old said, "Feeling sorry for yourself, that sadness doesn't help you. Okay, you had a big blow, three days ago, let's react. Tomorrow we have a big chance to react, let's do it better.
"We have to be strong. Feeling bad only delays your reaction. Address your mistakes and problems, face them and put into action what you think and what you feel."
Wolves meet Arsenal two days after their last game, with Arteta's side playing on Saturday evening in the 0-0 draw with Manchester United.
"It's about facing them, realising what we have to improve. Not too much time on the training ground, a short time between games, but addressing the problems and trying to find better solutions.
"It's a common feeling that everybody must improve. It had to start individually, then after that, improve as a team. Always, the dialogue is positive, sharing feelings, and we have to transform that into actions. That's what we want to do tomorrow, transform the feelings, the words into actions.
"I'm disappointed, worried, it's something we have to improve [defensive errors]. We are conceding goals where we have responsibility. When an opponent scores a goal, when it's something you cannot avoid, a fantastic goal, a fantastic action, you move forward.
"Unfortunately, we've been making mistakes, and it's one of the things we have to improve on. More focus at the beginning of the game, the beginning of the second half, it's happening to us too many times. We want to improve that aspect."
Quick turnaround for players
Wolves are currently in the middle of a busy schedule, with Arsenal, Leicester City and Southampton their opponents in nine days. Alongside the current crop of players out injured, the Wanderers manager discussed the busy time period for the club.
"We're playing games in three days, that requires management on fitness levels and issues that we have. But it's not about the senior players, it's about players that can deliver their tasks the best way in this moment."
Jonny and Marcal have been out for some time now, with Rayan Ait-Nouri joining the list of left-backs now on the sidelines and Nuno provided good news on Jonny and Marcal.
"He went Spain and saw the specialist that operate him. All the signs are good. He's rejoined us yesterday, trained yesterday and today, he's getting closer. He's getting to better to be in the squad.
"Marcal made a small surgery in the abdominal area. Now he's recovering. Like you said, we have problems on that side of the defence with the players who are able to perform there.
"Marcal, Jonny and Rayan, we don't have them now. Marcal's getting better, I think some time to go and re-join the group. Now we have to find a solution. It's not about being disappointed. We find the best ones to deliver."
Reacting to the recent disappointments
Going into the meeting with the Gunners, who are in top-form themselves, in poor form, Nuno elaborated on what his squad are doing to improve.
The Portuguese manager said, "I think we have dealt well as a group. It's a tough period, but I think as a club, we deal with that well. The arrival of Willian gives us a very good option that we truly needed. But more than that is raising the standard, improving our players is what we have to focus on now.
"It's about trusting and helping each other. What we can't lose is the spirit of the pack. That's why I say the solutions are here with us. Let's forget about what happened, let's start strong."
Like always, Nuno continued to express his feelings towards supporters not being allowed inside stadiums. Speaking about the Wolves fans', Nuno said: "I believe the fans are the most fair judge on your performance because they are there and feel it.
"They are sincere and honest during, after, they are honest. They share their feelings. When you go and play good, you celebrate together. When you play good and don't win, they are fair to you because they see all the games and actions of players. This is what we miss."