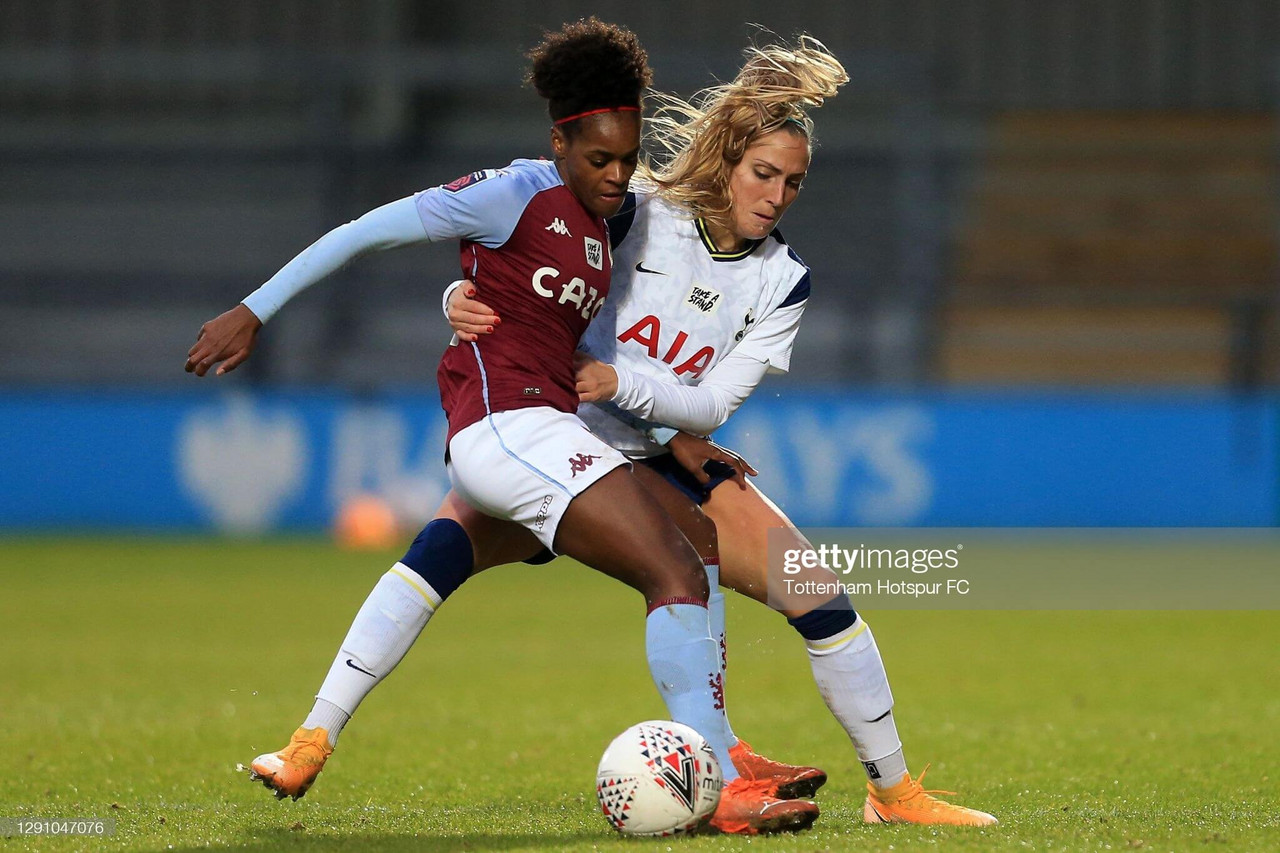 Tottenham Hotspur will be looking to get back to winning ways after their seven game unbeaten run came to an end against Chelsea last week after losing 4-0. They travel to Aston Villa, who's game against Arsenal last week was postponed due to a waterlogged pitch.
Villa remain winless at home in the league this season, losing five out of the six matches and failing to score in any of those defeats. They will hoping to turn this around on Saturday.
A win for the home side would see them widen the gap between Bristol City who sit at the bottom of the table but have gained momentum after beating Brighton and Hove Albion 3-0 last week.
This match opens the Women's Super League fixtures for the weekend, kicking off on Saturday 6 February at 12:30 GMT.
Team news
This will only be the second game for Villa's new interim manager, Marcus Bignot who has only been in the position for 10 days. Despite his first game in charge ending in a 4-0 defeat against Chelsea, he was encouraged by the teams performance.
Bignot spoke to the Aston Villa media team about his hopes for the rest of the season and ultimately there is one goal, he said:
"Obviously the remit now is to make sure we maintain WSL status, you know, let's not put all that hard work in for us to take a massive step backwards."
Tottenham manager, Rehanne Skinner talked to the Spurs media team about her expectations of the upcoming game in her post-match interview after their defeat against Chelsea. She said:
"Well obviously they've got a new manager, so they've already had a game under Marcus, so in terms of what they did in that game, we expect them to be really organised and to be obviously battling for points, the same as we are.
"So again it will be another tough test for us and we've got to carry on applying the things that we've been doing in this game and the games previous to try and get back on winning ways."
Predicted line-ups
Aston Villa: Weiss (GK), Ale, N'dow, Asante, Haigh, Iwabuchi, Larsen, Hanssen, Haywood, Ewers, Siems
Tottenham: Mikalsen (GK), Neville, Zadorsky, Harrop, Davison, Percival, Addison, Graham, Naz, Kennedy, McManus
Ones to watch
Aston Villa's Mana Iwabuchi hasn't been playing in the WSL long, but she has had a huge impact on the team's performances already. She made her debut in their home draw against Reading just two weeks ago. Her versatility on the pitch brings a different element for oppositions to think about, especially with her quality of transitioning the ball from midfield to attack.
For the away side, defender Ashleigh Neville is one of just two Tottenham players to have scored twice this season. The 11 goals this season have been scored by nine different players with Neville and Alex Morgan the only two who have scored more than once. She was awarded with Player of the Season after her first season with Spurs in 2017/18 and has continued to be a reliable, solid asset to their team.
Previous meetings
The only other WSL meeting between these two teams was in December at the Hive Stadium where Tottenham won 3-1. Morgan scored from the spot before Villa equalised through Nadine Hanssen. However, an own goal from Caroline Siems and the third by Rosella Ayane was more than enough to see Spurs get the win.
How to watch
The match kicks off at 12:30 GMT at Bank's Stadium on Saturday 6 February.
The match will be broadcasted on the FA Player worldwide.