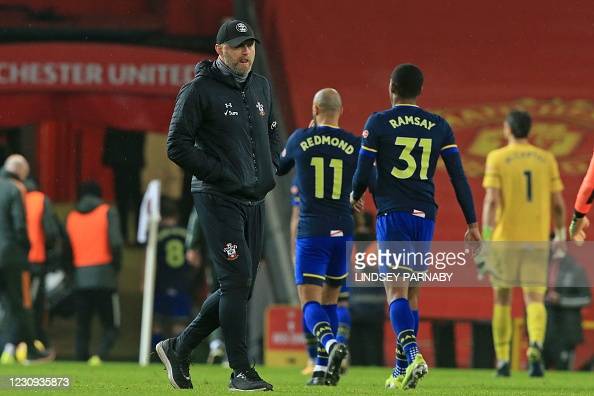 Southampton boss Ralph Hasenhuttl showed his thanks to the club's supporters after a number of messages he's received in the wake of the heavy defeat at Manchester United.
Saints lost 9-0 for the second time in two seasons on Tuesday night, but rather than get calls for the sack he was sent plenty of messages of encouragement, and thanks from supporters on the south coast.
The Saints boss was speaking ahead of Saturday's trip to Newcastle United, and he thanked supporters and echoed his determination to put things right on the pitch at St. James' Park.
'Unbelievable' support
"Because of this result, I received unbelievable messages from fans," he said. "All around this club, it definitely has a big impact on lifting me and lifting the players.
"I want to say a big, big thank you. We didn't deserve to get so much lift to be honest as we didn't do a good job at all.
"The support that I have seen from the outside, I must say I have never had such a thing in my managing career. Although it's a tough situation I enjoy my job here and thank you for your support."
'Now it's on us'
"I must say, I was very proud of what I have read and never conceded such a positive reaction after the game, even the biggest win I've had as a manager was not that emotional like this behaviour – thanks a lot, I'll say it again.
"When you see the reaction of the fans in this moment, that gives me such a feeling of being at an absolutely committed club and even at the moment they are not in the stadium, they have a massive role to play now.
"Now it's on us to give them a lift with playing a better game. We will not win all the next games, we will sometimes go through difficult times and then wonderful times like we've had in the past, but this is what football life is about and this is why we enjoy doing this together and being committed to this fantastic football club."
Bednarek boost
The Saints go into the game at Tyneside with a mixed bag of team news, with a number of key personnel likely to feature, but also a fresh injury concern.
Jan Bednarek's red card at Old Trafford has been overturned thanks to a successful appeal, whilst Jannik Vestergaard may also be nearing a return to full fitness. There may also be a first chance to see new signing Takumi Minamino after his deadline day signing.
Oriol Romeu and Kyle Walker-Peters are on track to also feature in the near future, but Stuart Armstrong will miss Saturday's Premier League match. The Scot has picked up a muscle problem in the aftermath of the Old Trafford loss.
Speaking about Bednarek's situation, Hasenhuttl commented: "Jan was not guilty for the foul, having seen the scenes after the game so that was the only possible decision for me.
"It's a pity that this decision was not made during the game, maybe the result and the drama wouldn't be like it then has to be.
"One other thing I don't understand is the player who makes the foul - but was not a foul - and the player who has been 'fouled' have both said it's not a foul but why does the referee then decide to give a red card in this moment."
Bounce back
The Saints will be eager to bounce back after that 9-0 defeat on Tuesday night, but are yet to win a Premier League match at St. James' Park.
"The squad feeling is that we've made this experience once and what happened afterwards was a reaction that everyone wanted to show," Hasenhuttl added.
"Games like this happen from time to time where you get punished, but it's up to us to show what team we are, to show we can have a reaction. The good thing is that after setback you see a new hope.
When you see players coming back from injury, new additions, it gives us all a lift, an emotional lift. It's a tough situation after losing four times in a row, but its time to show we can do better."
Minamino debut?
And Minamino could play from the start against Newcastle, the manager has confirmed.
Although the 26-year old attacking midfielder has only had a short opportunity to train with his new team mates, Hasenhuttl is not disregarding him as an option to start.
"It should be possible," he said. "I know he didn't play so much in the past, but he's fit. He knows a little bit about the pressing football we want to play.
"I am sure he will fit to our game, because he knows all the habits we need, and that means we need to bring him to the position where he can help us the most and he must help us then with good decision-making, with good passes, with good dribbling and hopefully he scores a few goals for us, that would be helpful.
"He is a good guy, and you see immediately the quality he has on the ball."