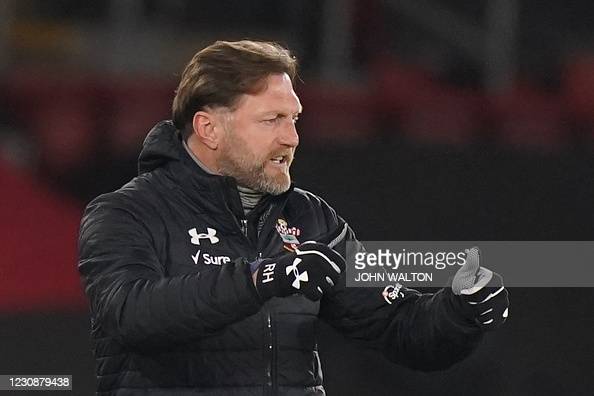 Southampton boss Ralph Hasenhuttl is hoping his physios and doctors help Saints recover in time for tonight's trip to Manchester United.
The St Mary's side could go into the clash at Old Trafford without nine players due to injury, after Ibrahima Diallo, Theo Walcott and Oriol Romeu all limped off against Aston Villa on Saturday night.
And with the likelihood of some of the club's academy stars occupying spots on the bench, the Saints boss insisted recovery could be key for the battle with the Red Devils.
Injury worries
"It's not interesting for us, how they play. We know that we can do our pressing against every opponent," he said after Saturday's 1-0 defeat to Villa.
"My bigger issue is that we have only two days before the game, so this is a tough time.
"I hope that my physios do a good job, my doctors do a good job and that the guys are eating well and sleeping well.
"I don't have a lot of players left. A few young lads can fill the bench.
'Things can change quickly'
"We always like to go there, it's always tough but if we can show a brave performance again, why not.
"Things can change quickly in football, especially when you have injuries like we have. This is definitely tough now.
"On the other side we have 29 points already. When we had no injuries we had a very good run now we are struggling a little bit but it is still enjoyable to watch the team fighting."
The Saints boss gave a Premier League debut to young midfielder Alex Jankewitz against Villa on Saturday.
The Switzerland under-21 international could also feature against Ole Gunnar Solskjaer's side.
"It's possible for everyone to play now," said Hasenhuttl. "He was brave, he stepped up. He was good."
Armstrong belief
Despite that, Stuart Armstrong believes threadbare Saints "will have the belief" to put in a fighting performance against title-chasing Man. United.
Looking ahead to the United clash, Armstrong told the Daily Echo: "It's a huge game. We always know it's going to be a tough game going away to Manchester.
"We know we have put in good performances before. We always have belief against the so-called bigger teams.
"We will have the belief again, knowing we can do it."