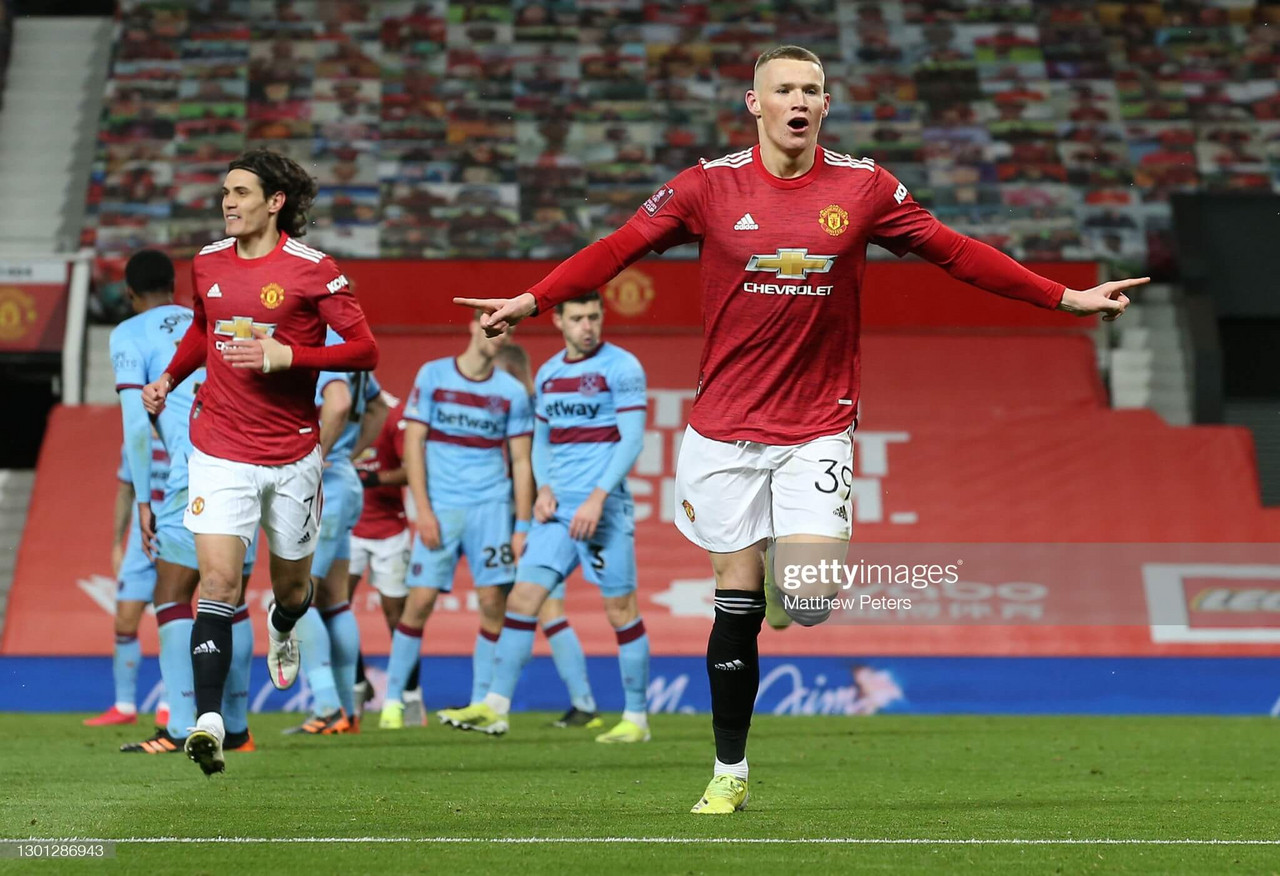 There was not too much to glean from this rather dour FA Cup fifth round match. Manchester United progressing to a record seventh successive quarter-final in the competition being the most obvious. But look a little deeper and there was at least something to note about this 1-0 game.
Scott McTominay scored United's single goal in the seventh minute of extra time. It was a ruthless strike, hit first time, that broke the deadlock after over 90 minutes of mere tedium. West Ham United sat deep and defended, Ole Gunnar Solskjaer's side lacked urgency and a killer pass to get beyond them.
The way McTominay struck his goal was in contrast to United's play during the rest of the match. This was a shot that was destined for Lucasz Fabianski's goal before the 24-year-old had even fully drawn-back his right peg. When McTominay runs on to a ball that is asking to be hit, he often does so.
McTominay in the goals
This was the United midfielder's third goal in as many games; he scored in the rout against Southampton and put United ahead again after Everton had pegged them back in the league match on Saturday. McTominay's goal-tally is now seven for the season, including a quick-fire brace against Leeds United in December.
McTominay's goalscoring instinct for a defensive midfielder should not be surprising because he was a striker in his youth. Then the tall Scot was used more as a talisman whereas now he is sat in midfield but more than willing to arrive in the area from deep.
He didn't even start this game against West Ham, instead coming off the bench in the 73rd minute to replace Nemanja Matic. It was only then that United's best midfield pairing was on display. Matic playing alongside Fred is too defensive for United, and Solskjaer should have realised that against obdurate West Ham.
United need the box-to-box energy of McTominay. He has started 21 of United's games this season and so may have been in need of a rest but the pair of Fred and McTominay complement each other rather well. Fred is naturally more defensive and McTominay is given greater license to progress into the final third of the pitch.
It was when Solskjaer sent on McTominay along with Bruno Fernandes that United began to assert themselves to a greater extent against David Moyes's team. Luke Shaw, who also came off the bench, brought added impetus down the left and all three of the substitutes played a part in the winning goal.
Van de Beek doesn't take chance
The nondescript play that United mustered prior to this didn't bode well for Donny van de Beek, Mason Greenwood and Anthony Martial. Even Marcus Rashford was quiet on the left where he normally flourishes when drifting in.
United's attacking players were poor on the night - no doubt fatigued given the unrelenting season, but that cannot be afforded to Van de Beek who was making only his eleventh start of his United career having spent so much of it on the substitutes bench. This could, and should, have been the evening when the Dutch midfielder had more of a say and tried to push himself into Solskjaer's starting XI for league games. But instead he failed to take the opportunity.
He was quiet and struggled to find space. In fact, Van de Beek was more effective when he dropped a little deeper and tried to play balls over West Ham's block. Yet barring a few neat touches and the odd quick link-up with Greenwood, this was a subdued performance.
It only highlighted how vital the likes of Fernandes, Shaw and McTominay are to Solskjaer's side at the moment - especially the former. United without Fernandes is like a different team to when he is present. Too reliant, one might say.
However, on this cold February evening all that really mattered was progression into the quarter-finals. That they achieved thanks to McTominay's continuing flush of goalscoring nouse.