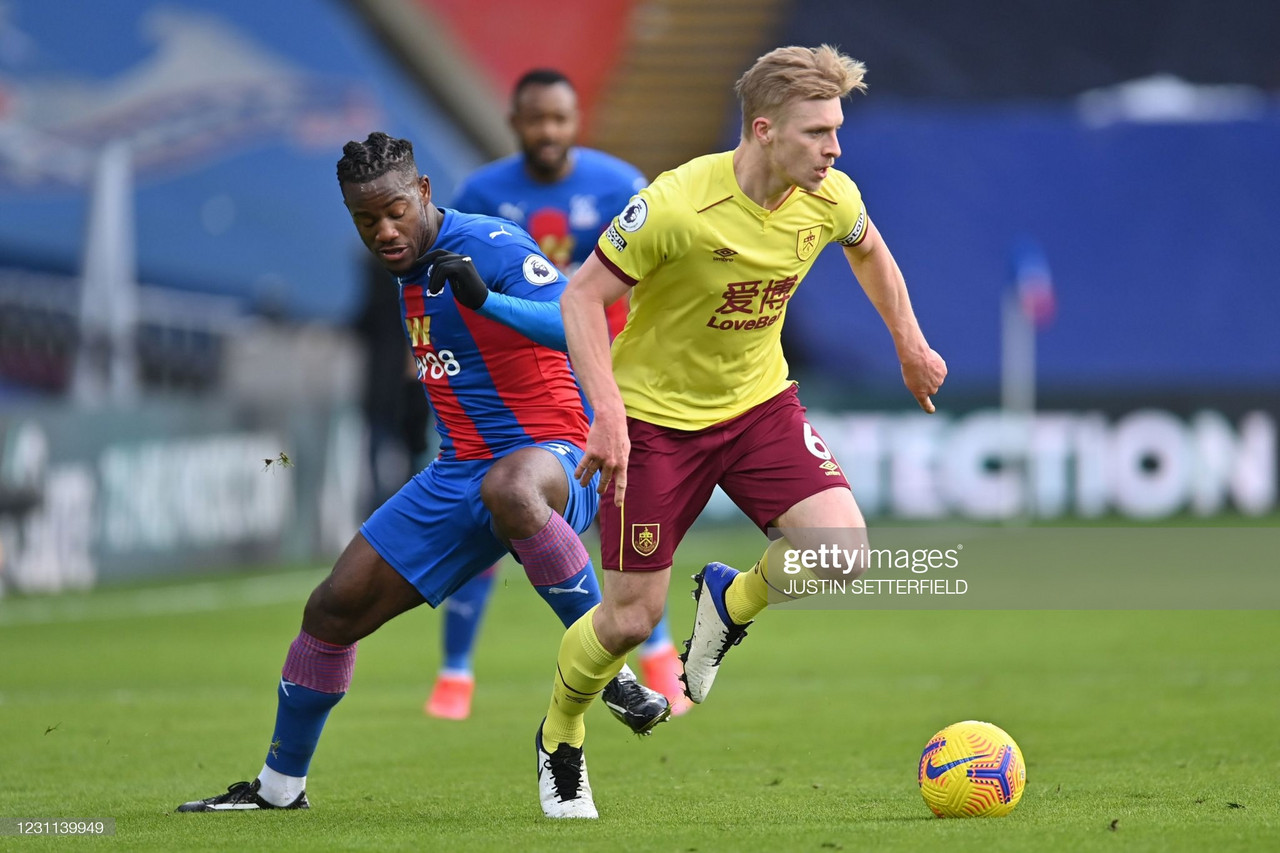 Ben Mee will miss Burnley's game against Fulham because of concussion protocols after a collision against Crystal Palace.
The Clarets captain's head hit against Jordan Ayew's shoulder late on in the 0-3 win at Selhurst Park and was stretchered off the pitch.
Sean Dyche provided an update on Mee, saying: "He's fine, but we still have to follow the protocols, the medical protocols, so he won't be available.
"He's fine in himself, but we understand why they are there to safeguard the players."
The Premier League concussion protocols say that any player who became unconscious has to miss the next six days, with footage of the incident concluding Mee had been knocked out, even though the defender wasn't sure himself.
It is another major blow for Dyche's side ahead of the game with Fulham, with Erik Pieters being withdrawn just minutes later with a tight groin.
Charlie Taylor is back in contention, though, and Chris Wood could also be back in the squad, but Dyche conceded that would be a risk.
"We have to be on the safe side of the risks because we keep losing players," Dyche said.
Since returning to the starting line-up at Brighton and Hove Albion in November, Mee has lead the Clarets from bottom of the table to 16th and eight points clear of The Cottagers ahead of Wednesday's clash.
According to statistics from premierleague.com, Mee has made 85 clearances, only 10 fewer than partner James Tarkowski in four less games but has made more blocks.
The two goals Mee has scored leaves him as the club's joint highest scorer this season, and they have been big goals too.
He scored the winner against Sheffield United and got his side back into the game against Aston Villa, which Burnley eventually won 3-2.
His presence is something that can't be measured.
When he plays, The Clarets have an assurance at the back, everyone knows their roles and the unit works in sync for 90 minutes.
When he doesn't, the lead defender title shifts to Tarkowski who isn't the most natural of leaders.
A great centre half, probably even better than Mee, but he doesn't command the back-line as well as his teammate.
And with Kevin Long likely to come into the side to replace Mee, Tarkowski has to take the reins and lead by example, as well as being the one to cover if Long does make a mistake.
As a pair, they are barely breached, with Burnley keeping six of their eight clean sheets this season with both Mee and Tarkowski on the field.
If you take one out, you have problems, which has been proved time and time again.
Missing Mee causes disasters
Mee's importance to this side is second to none, he is the one player you never want to lose to injury or suspension.
In the first six games of this season, Burnley were hopeless going forward and at the back.
Five defeats from six and 12 goals conceded was very un-Burnleylike and the team was in disarray.
Mee's return was a catalyst for an upturn in form, and – despite the annual 5-0 defeat at the Etihad against Manchester City ­– Burnley conceded just 17 in their next 17 games.
Last season, Mee missed just six games, and the Clarets kept 13 clean sheets with Mee and Tarkowski at the back together - when Mee was out, Burnley kept just two clean sheets.
And the fear Mee alongside Tarkowski and Wood and Ashley Barnes put into opposition defences from set pieces is something statistics also can not show.
Every set piece pumped into the box; it is fully expected Burnley will get a chance to score from knock-down back across the area.
And in the defensive area, Mee rises highest more times than not to clear the ball and, when he isn't winning the ball, he does just enough to stop his man from getting a clear shot on goal.
He is calm on the ball and is able to play a pass into midfield or even over the defence if it is needed.
Mee's experience to know when it is best to play and when it is best to go long is so important to have and his midfielders will know they have the time to turn if they get the ball from him.
Not having that assurance causes major disruption to Burnley's play and the somewhat shamed long ball tactic comes to fruition.
Mee expected to be back at the weekend
Burnley will have to hope Mee's condition remains unchanged and he can be back in the squad for the visit of West Bromwich Albion on Saturday.
Burnley vs Fulham is live at 6PM GMT, on Sky Sports Premier League.