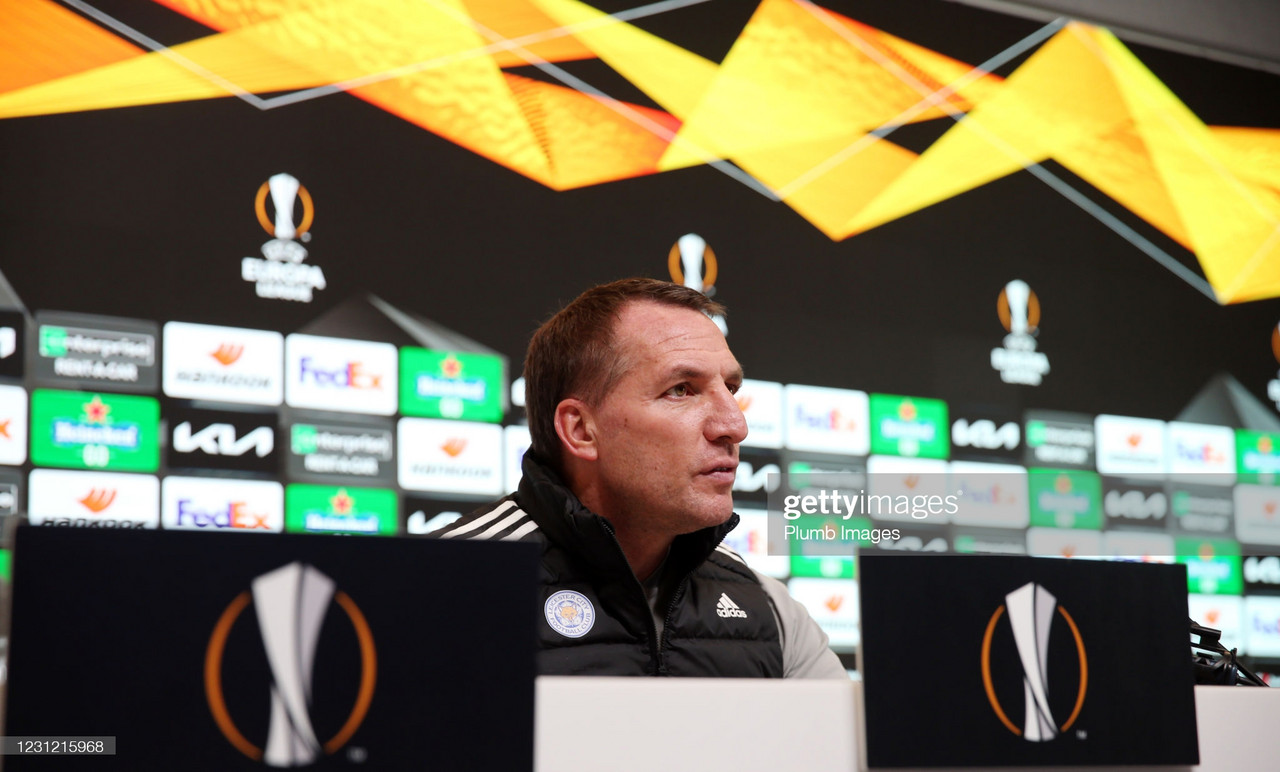 Leicester City return to action in the Europa League on Thursday after emphatically dispatching Premier League champions Liverpool at the weekend.
The Foxes now travel abroad to challenge Slavia Prague – champions of the Czech Republic – with hopes of establishing a formidable run towards European glory.
Leicester topped their group with relative ease on their return to continental football, whilst Prague qualified second, behind German outfit Bayer Leverkusen.
City's manager Brendan Rodgers covered the key points during his Wednesday morning press conference as his side prepare for a crucial period of football.
Leicester have been plighted by a number of significant setbacks to influential players, but this has scarcely affected a season that has seen surging efforts both domestically and continentally.
However, the problems remain, and with the season entering a pivotal moment, the importance of maintaining fitness and vigour will be paramount for Rodgers.
The boss gave his thoughts on the topic, and the absences of figures such as Ayoze Perez and Ricardo Pereira.
"Ricardo won't be involved as he's coming back from a long-term injury and needs that protection."
"Ayo will be out for a couple of weeks. Ricardo, having been out for such a long time, you've got to be really careful with the loading.
"He's coming back from a long injury and as much as we would like him to play every minute. He should be fine for the game at the weekend. He can stay here and do some recovery work."
The boss also shed some light on the situation concerning James Justin, who has agonisingly saw an exemplary season ended prematurely after he damaged his anterior cruciate ligament against Brighton & Hove Albion.
"His operation is on Thursday, and then he will begin his recovery."
Qualification to the Champions League for next season is undoubtedly the overwhelming priority for Rodgers and his side as the campaign enters the latter stages.
Securing a place in the coveted competition would appear most plausibly achieved through the league with the club sitting four points above fifth placed West Ham United.
However, the Europa League represents a great opportunity to challenge for a major honour, and the pursuit of a separate route to Europe's most esteemed competition.
Prague will prove testing opposition for Leicester, and Rodgers credited a side currently undefeated domestically this season.
"They have confidence from winning. They are used to winning. They have good pace in the team. The wingers are fast and dynamic.
"Playing in the Premier League, you're playing against different styles, so it won't be anything different to what we've faced before. It's going to be a diffiicult game for us. We've got to be up to the challenge."
Leicester understand that they have potential to succeed across both competitions, but with much extensive football yet to be played, finding the right balance will be a task in itself.
"You're managing the energy levels and the players have ne brilliant in that, with that phsyciality.
"We had a really tough game in the midweek and then we had 12.30 kick-off.
"There's no way you can play the same players. You have to look at each game and what that game may need."
Leicester are no longer a team who would be observed as 'overachieving' in their endeavours, and over the past few seasons, Rodgers has been successful in orchestrating the rise of a side who now compete as one of the countries' elite outfits.
A plethora of gifted and flourishing individuals have helped shape the successes and exuberance that has left Foxes fans around the world in awe, and none more so than the rising Harvey Barnes.
The 23-year-old has dazzled for the club to date – with 12 goals and three assists this season – and Rodgers heaped the praise for a forward who continues to surpass expectations.
He said, "He's been incredible in his consistency. The area of the game we wanted to develop was his tactical idea which we felt would get him into more positions to score.
"He wants to get better and you're seeing the threat he has in every game. He's only going to get better.
Barnes has been in fine form in recent times with four goals since the turn of the year, and the excellent run continued as Barnes secured the scintillating victory over Liverpool in the last fixture.
"At the weekend you saw his directness but also how hard he works in the game. He is showing an intelligence in his game. At the highest level, you've got to have the ability to play out of different systems.
"I'm delighted. He knows there is more to come from him. He's a huge asset for us."