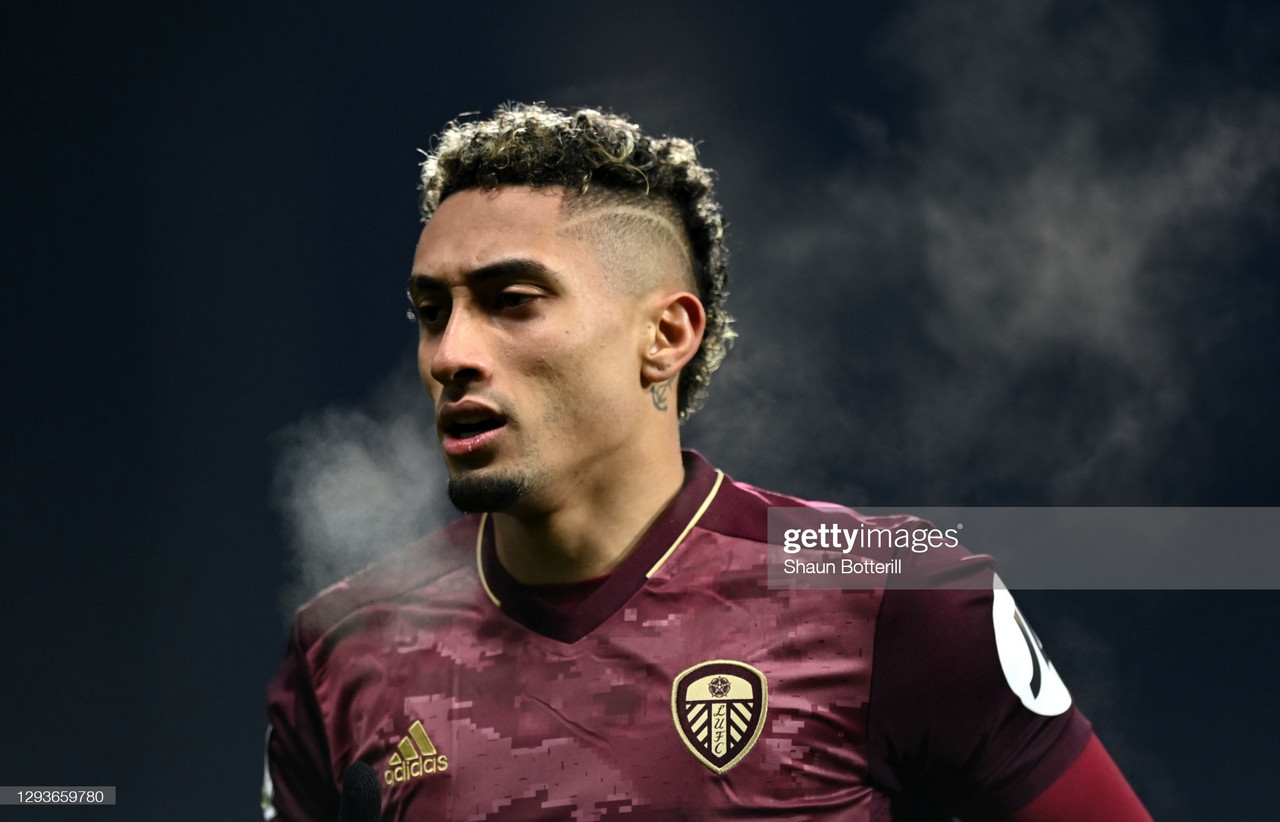 Brazilian winger Raphinha was born in Porto Alegre, and just like many Brazilians started his football career on the streets, before at the age of 18 signing his first professional contract at Brazilian second division side Avaí FC.
Before making an appearance for the Brazilian side, he jumped ship to Portuguese outfit Vitória de Guimarães where Raphinha played a total of 73 games for their B team and the senior side, scoring a total of 23 goals.
This hot form earned his move to the big giants in Portugal of Sporting Lisbon, where he developed a close relationship with Bruno Fernandes, now a rival across the Pennines.
For the Portuguese giants, Raphinha scored a total of six goals in 28 appearances before moving overseas to French Ligue 1 team Stade Rennes.
Raphinha's year at Rennes saw him hit the best form of his career. Rennes as a club ended up being the real surprise package of Ligue 1 last season, getting Champions League football for the first time in the club's history.
After an impressive season from Raphinha, there was interest from Europe's biggest clubs with Barcelona a possible destination for the Brazilian before Rennes shut down the speculation as they were reluctant to sell the 23-year-old.
However, later on in the window, the availability of the Brazilian winger changed, with Raphinha out of favour with Rennes manager Julian Stephan and it was Leeds United who pounced first for the Brazilian's signature, signing him on a four-year deal for 17 million pounds.
Leeds United: The Story so Far
A lot of excitement surrounded the signing of Raphinha and the first real glimpse of him was against Everton in November when he gave the Whites all three points with his solo strike at Goodison Park.
Raphinha's name is on the tip of every Leeds fans tongue because he is one of the most exciting players on the pitch, his dribbling skills and his ability to beat a man leaving fans on the edge of their seat and it feels like he is just getting better as each game comes.
Raphinha's hot form has alerted other clubs in the division like Liverpool and Manchester United.
Leeds will struggle to keep the Brazilian at Elland Road next season, however, if they are able to keep him, they will be able to build around the Brazilian.
A left-back and new player to play in Mateusz Klich's role in midfield next season could enable Leeds to push on from a successful first season back in the topflight.
French Financial Failure
Ligue 1 clubs will be going into a financial abyss in recent times due to their tv rights deal collapsing, a deal which will see Ligue 1 clubs being paid £3.25 billion over four seasons.
French clubs thought that they were going to be revitalised this season after a refreshing new television deal worth up to £1.15 billion a year, with this deal being the second best in Europe. However, the mirage disappeared leaving the French division staring into financial turmoil.
So that is the cause of what could be disastrous for French football, because now due to this, it could be a hot sale if you are not Paris Saint Germain, as most clubs will simply not be able to afford their star players' wages.
The first example of this would be Olympique Lyonnais not being able to give star play Memphis Depay a new deal so the Netherlands forward will be leaving them on a free this summer.
But with a bidding war about to occur this summer in France who, like Raphinha, could Leeds look to bring in?
Who Can Leeds Look to bring in?
Leeds have had links with a few players already ahead of next season, especially in the left-back position, due to utility man Stuart Dallas being tied up in other positions for Marcelo Bielsa's side.
But here's a shortlist of players VAVEL feels that Leeds could move for in the summer:
Jordan Amavi:
The highly rated Marseille and left-back, Jordan Amavi, has been linked with a move to Elland Road from early January.
However, Leeds refrained from making the move due to Bielsa being reluctant to bring a fresh face in midway through the season.
With Amavi only playing in 9 games for the French side this season, it could be a cheaper option for Leeds. The former Aston Villa fullback will be able to provide the Whites a much-needed specialist at left-back - rather than squeezing the square peg of Dallas into the round hole that is left-back.
In 9 appearances this season Amavi has scored 1 goal, but with attack always being on his mind it could be a honeymoon signing for Bielsa if he can work his magic once again.
Romain Perraud:
Stade Brest and former French U20s left-back, Romain Perraud, is another option for Victor Orta.
Perraud is an athletic modern fullback with 3 goals and 5 assists this season, playing every minute he's been available, making him a top-level potential asset for Marcelo Bielsa.
Like Amavi, this man has one thing on his mind and that is to attack. Despite not being a household name, he could be another hot steal for the Whites, and with youth on his side at the age of 23, he is only going to get better.
With Bielsa, this signing could be a match made in heaven.
Julian Draxler:
Another position that Marcelo Bielsa could be looking to improve next season is the role of Polish international Mateusz Klich and PSG man Julian Draxler could be the perfect fit. With him only starting a total of four games all season, if Leeds can guarantee him game time it might just entice the Germans signature to Elland Road next season.
The FIFA World Cup winner has, in 13 appearances, scored 3 goals with 1 assist. It has to be noted that he is a regular on the bench in this campaign, making his goal contribution appear to be a measly return.
A player of Draxler's caliber will bolster the Leeds United ranks incredibly and will show a real sign of intent from the heart and brunt of Yorkshire.
Aged 27, Draxler will be coming towards his prime, and for him to reach his full potential he will need consistent minutes. He has previously been linked with a loan move to Leeds in January, but it was questioned to whether or not he would suit Bielsa's regime.
It would be no surprise however, if Leeds did take another look into the attacking midfielder this summer.
Rafinha Alcantara:
Lastly, another potential move to West Yorkshire in the summer could be Rafinha Alcantara, the Brazilian midfielder. Just like Julian Draxler, Rafinha, as he is more widely known, has been out of favor at PSG this season - only making 12 appearances for the French giants this season.
He is very much like Klich in being very energetic, being able to run up and down the pitch all game long.
However, at 28, he is a year older than his counterpart Draxler, so he might be looking out of the Parc Des Princes this summer in a bid to get his career back on track.
A player of Rafinha's ability will be a perfect match for the relentless press of Bielsa's side if you take away the injuries he has had in his time in the French capital.
It is worth mentioning his brother, Thiago Alcantara, recently made the switch to the English game recently, moving to champions Liverpool in the summer. Could it be likely Rafinha will join him on pastures new?