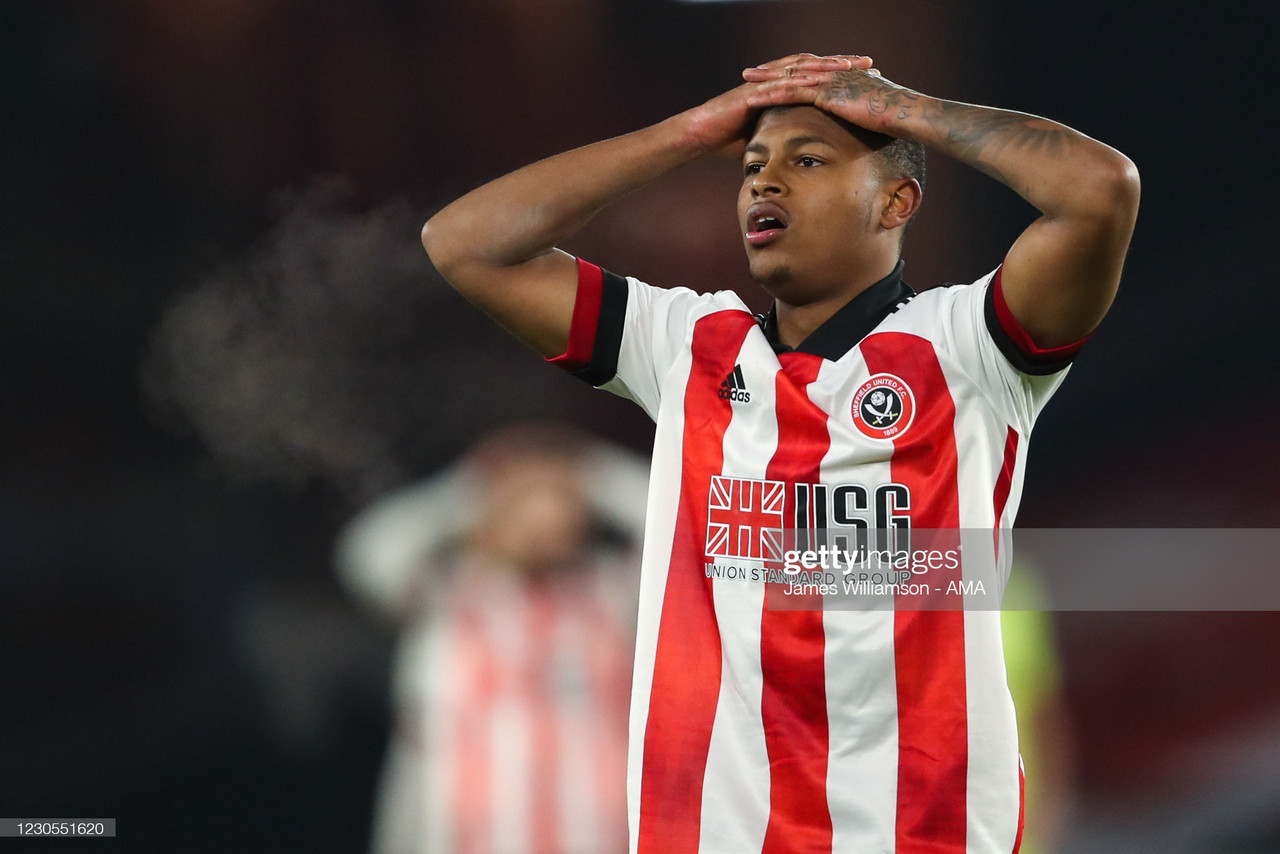 Kolkata, India, 28th October 2017. Rhian Brewster had just scored his eighth goal of the FIFA U-17 World Cup tournament - this time in the final - to give the Young Lions a microscopic chance of turning around their half-time deficit against Spain.
Little over an hour after Brewster had found the net, Steve Cooper's men were jubilant as the gold-plated medals were delicately being placed over their adolescent faces.
Phil Foden, Callum Hudson-Odoi and Jadon Sancho were just a few of the Brewster's co-stars in the World Cup success. The team was full of superstars in the making, they had already been stamped as the new 'golden generation'. After all, these teenagers had achieved something no England side had done since the days of Bobby Charlton, Bobby Moore and Sir Geoff Hurst in 1966, in winning a World Cup.
England's three main stars of the 2017 tournament have all gone about their careers via contrasting paths: Sancho sought a new challenge abroad in the summer of 2017, after becoming frustrated with his opportunities (or lack of them) at Manchester City. Foden stayed put at the Etihad and has been reaping the rewards over the previous 18 months under the supervision of Pep Guardiola. That leaves Brewster, the tournaments Golden Boot winner. After becoming Sheffield United's record signing in October 2020 he's struggled to reach the heights he once looked so destined to reach.
Brewster's move to Bramall Lane seemed like a perfect move for all involved in the deal: Sheffield United needed goals and Brewster had just returned from his hot streak at Swansea City. Liverpool needed one of their most promising academy graduates to kick on and gain vital minutes in the Premier League, something they would've struggled to offer the 20-year-old if he had opted to stay at Anfield.
So what has it gone so wrong at Bramall Lane so far?
The Blades' supply line
There's no getting away from the fact Chris Wilder's side massively over-achieved in their return to the Premier League last season. A quirky style of play - that heavily relied on the mobility of the Blades' centre halves bombing forward - saw them finish their comeback season in a remarkable 9th place. Although their final league standing didn't tell the full story of the campaign, as they flirted with the European places for large parts.
Is it really fair to call United's form this season a monumental drop off? Or was last season a rarity?
Sadly, the stats seem to point us in the direction of last season being an anomaly.
However, this season's form didn't come without amber warnings in the months prior to the big kick off in September. Wilder's men have majorly struggled since footballs resumption back in June 2020, having only won 6 of their 33 league games since. The kind of output that mirrors relegation form.
According to FBRef United have created significantly less chances per 90 minutes than they did last season, with a massive drop off from the 1.55 to the 0.83 chances they are creating per game this season. And as a result, Brewster has only been able to muster up 14 shots in 18 games in the league this season. However, 4 of those have been on target, giving him a 'shot on target rate' of 28%. A percentage that was significantly better than last seasons top goal scorer, Lys Mousett (25%).
There's a whole list of reasons why Sheffield United are struggling to create as many chances as last year, with the formation being the obvious suggestion. As United burst back onto the Premier League scene with their expansion 5-3-2 style, it left many scratching their heads at the thought of nullifying the setup, even one of the worlds greatest coaches, Guardiola.
"I'm incredibly impressed. When people say you can improve watching other games, other teams, other managers, this is the one.
"I never saw some movements they are doing. That's the reason why they are in the position they are. I'm really impressed. I admire them, honestly. I admire how they play and what they are doing''. The Manchester boss revealed prior to their encounter at Bramall Lane last season
Maybe a slight tweak in formation could be the saviour for Wilder and co.
Positioning
During his time as a Swan, Brewster found himself operating as the lone striker in a 4-2-3-1. 70% of his league goals in the regular season came whilst he was deployed in the lone role.
Swansea manager Steve Cooper switched to a 3-4-3 in the final weeks of the season, a formation that is a closer replication to Wilder's preferred system, a formation Brewster didn't enjoy as much success in.
And that raises another question for those at Sheffield United, is the formation getting the best out of their record signing? According to his SofaScore heat map, it doesn't suggest so.
When comparing the positions he takes up in both seasons, it indicates that he's spending far less time in those dangerous box areas this term. With most of his time as a Blade spent 18+ yards away from goal, as he looks to solve United's chance creation problems by himself.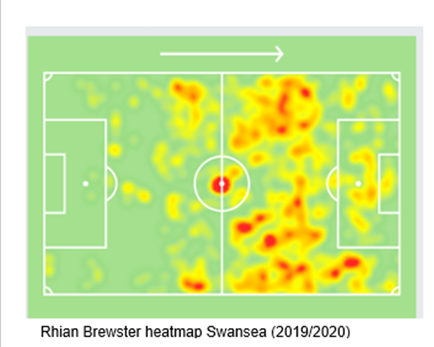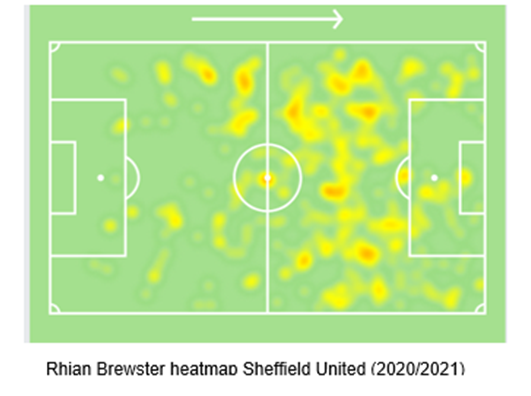 Patience
Patience, a lot of it, is what is going to be required in Brewster's case. This is a player who's had glowing recommendations from all those who've worked with him. As Jurgen Klopp paid tribute to the England youth international after he made his switch to Yorkshire.
"It would not be possible for me to understate my love, respect and admiration for Rhi. Such a special guy on and off the pitch. I'm not going to lie, agreeing to that transfer was really hard.
''He is a natural-born goalscorer. It's in his DNA. He is a coach's dream as he is so eager to learn but also a beacon of positive energy.
Wilder too, has been quick to ease any media pressure on the 20-year old, as he's pointed out that Brewster has been thrown into the deep end - more often than he and his coaching team would've liked - due to the injury crisis at Shirecliffe.
"We believe we brought some good players in, but it's difficult for the young players, of course, when the team is not playing well.
"I envisaged Rhian coming on to the pitch and easing him into the team at the right time when the team is playing well, instead of just chucking him in, which we have had to do at times.'' Wilder said in his press conference last month.