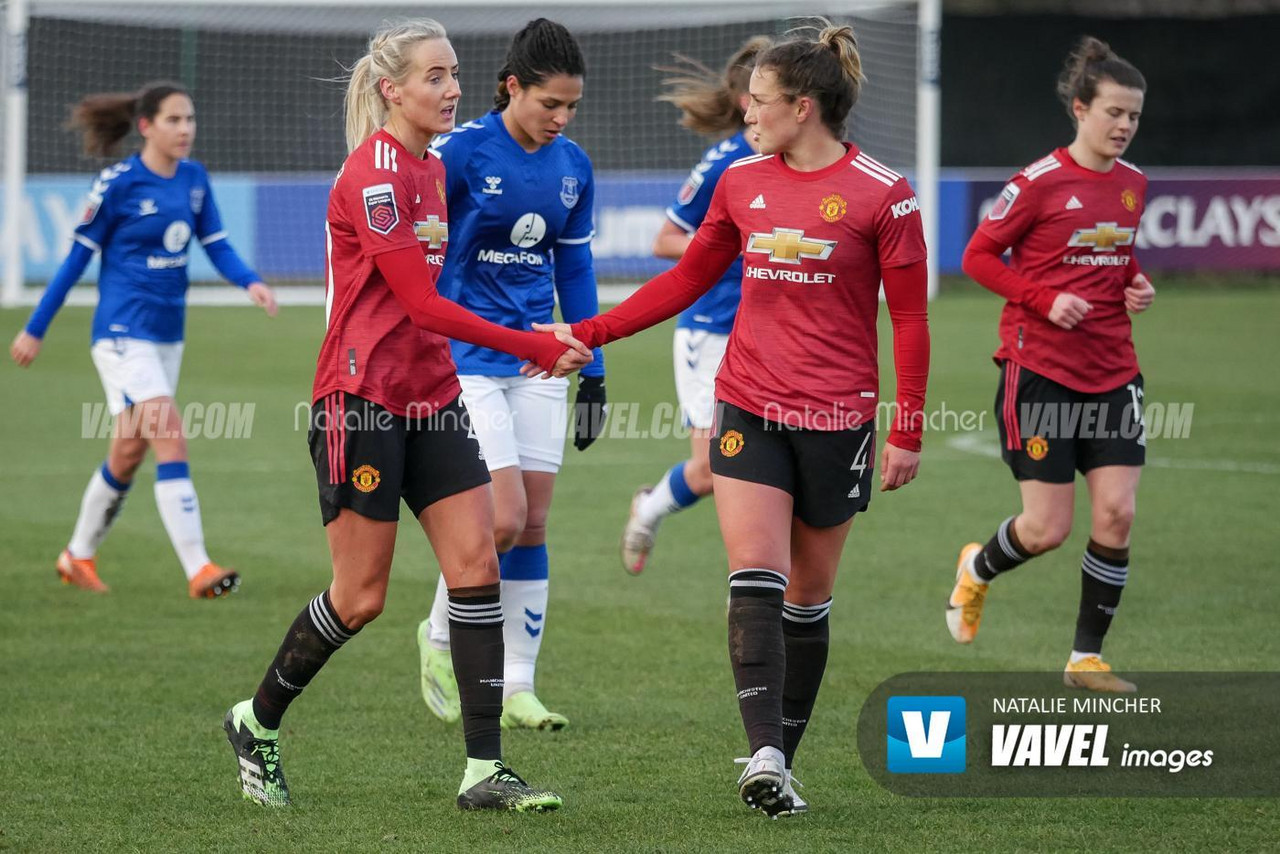 1-0, min. 7, Hanson, 2-0, min. 42, Sigsworth, 3-0, min. 72, Zelem
In a display of total dominance at Leigh Sports Village, Manchester United were able to completely shut down Aston Villa and come away with a 3-0 victory at home. It is a first win for Casey Stoney's team in three matches, whereas Marcus Bignot's Aston Villa have now lost six of their last seven games.
Despite injuries keeping Christen Press and Leah Galton out of the starting XI, Lucy Staniforth made her Women's Super League debut since joining from Birmingham City, along with 17-year-old substitute Carrie Jones who also played her first minutes for the club.
Aston Villa have yet to register a win against Manchester United in any contest and they were once again stifled by their opponents.
As debutante Lucy Staniforth got things underway at Leigh Sports Village, there was an early injury concern for Amy Turner after pressure from Stine Larsen. Quick to her feet after receiving some brief treatment, United began settled into their eventual entire match chokehold over a cagey looking Aston Villa.
A second early corner for United in the seventh minute saw Lisa Weiss get her gloves to a chance from A. Turner. The fast-paced run of Kirsty Hanson down the left hand side exposed a number of weaknesses in the Villa back line, registering a number of cut backs throughout the first half.
Villa's lack of a press allowed the United back line to gain ground and pen them into their own defensive half. Hanson capitalised on this for the first goal at the eleventh minute mark, cutting out a pass from Chloe Arthur and bouncing it in off the crossbar and behind Weiss.
Elisha N'Dow worked incredibly hard in the first half to deny chances and a number of impressive runs made by Martha Harris. Villa's ongoing issues with passing accuracy though meant a number of well-timed N'Dow challenges were not converted into anything worthwhile.
After a tense spell of fouls, a free kick awarded to United in the 42nd minute saw Lucy Staniforth's ball in find the powerful head of Jess Sigsworth to net goal number two for the home side. A subsequent challenge on Mana Iwabuchi from Staniforth saw her enter the referee's book with a yellow card.
The second half began with a promising surge from Emma Follis for Aston Villa, the midfielder subbed in for Shania Hayles at the break making an instant impact. A challenge from Harris though saw Aston Villa's only potential shot of the game closed down before it was able to build into anything dangerous.
N'Dow was unlucky to pick up a knock late into the second half, having to be replaced by Caro Seims, but not before being awarded a yellow card for a late challenge on Jackie Groenen.
Hayley Ladd barrelled down the right hand side of the pitch to launch a powerful cross into the Villa box, with captain Katie Zelem's head finding both the ball and the back of the net to secure the third and final goal of the game at the 72nd minute mark.
Despite a full complement of substitution's made by manager Marcus Bignot, Aston Villa did not register any shots on target throughout the match. Their lack of possession negated the hard work of N'Dow and Anita Asante, who were instrumental in the team conceding only three goals.
Manchester United: Earps (GK), Harris, A. Turner (Thorisdottir), M. Turner, Batlle, Zelem( C ), Groenen (Ross), Staniforth (Ladd), Toone (Fuso), Hanson, Sigsworth (Jones).
Aston Villa: Weiss (GK), Ale, N'Dow (Siems), Asante, Haigh (Hanssen), Hutton, Ewers ( C ), Arthur (Syme), Iwabuchi, Hayles (Follis), Larsen.
Aston Villa notched up a lacklustre 27% possession and struggled to connect passes both when defending and their rare attempts at attacking. It is a recurring issue for the team and any commitment to their ongoing relegation fight will need to address these ongoing issues.
Manchester United looked confident throughout and the presence of Lucy Staniforth in the squad allowed for more speed and precision across the board. That said, there were some messy defensive clearances that Casey Stoney will no doubt want mopping up as they head into the closing portion of the Women's Super League.
Praise must be given to Elisha N'Dow of Aston Villa, her cover across the penalty area and beyond was a true saving grace and was instrumental in halting more goals being conceded.
Lucy Staniforth of Manchester United also proved to be a real lynchpin in the midfield. Kirsty Hanson's speed down the wing was also a cause for celebration and highlights that there is more depth to Casey Stoney's team than meets the eye.