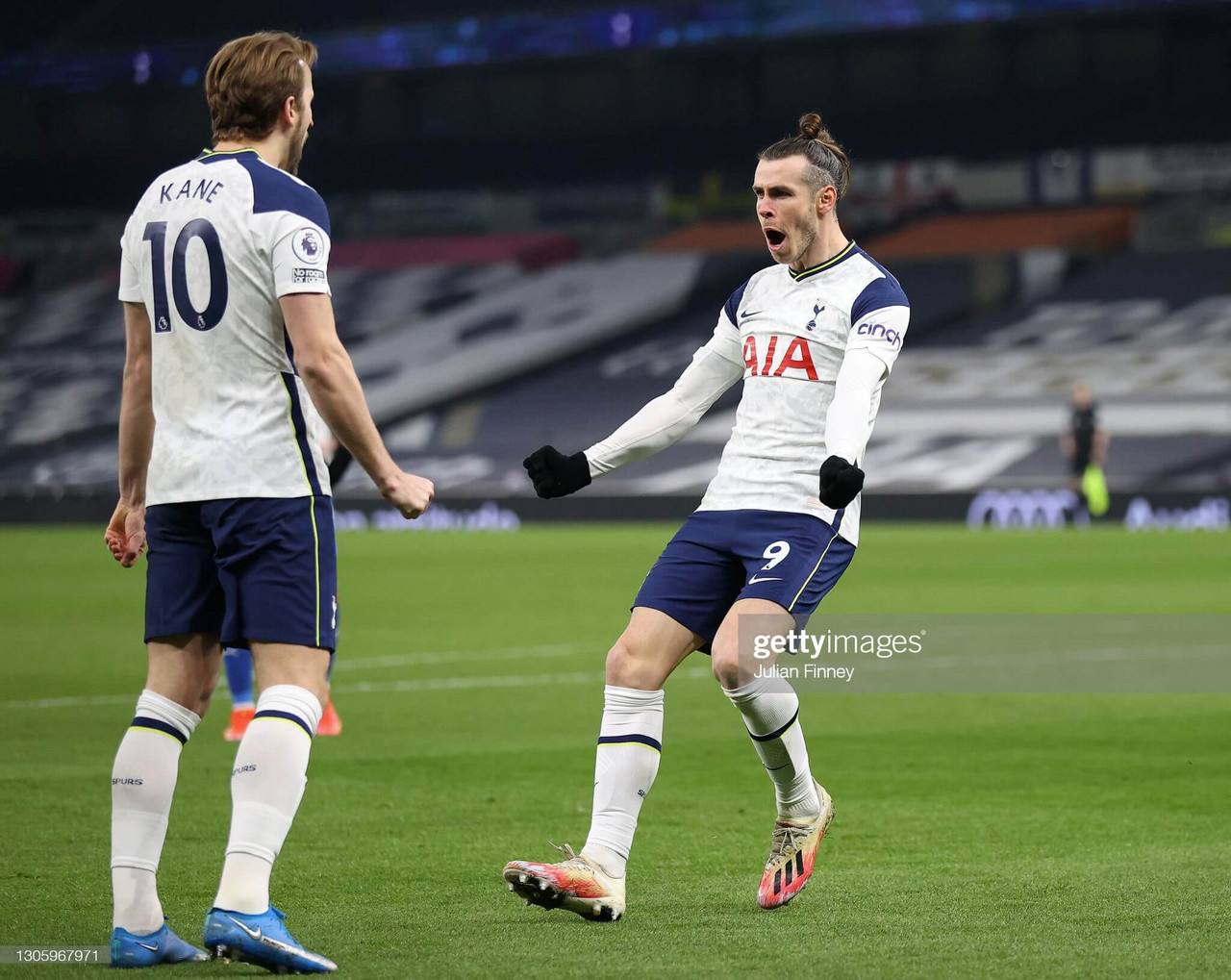 Tottenham Hotspur did look like they were in a state of no return.
After the disappointing 2-1 loss to close rivals West Ham United, Jose Mourinho's season appeared to be heading down a dark tunnel.
They were nine points off top four, nine points off West Ham themselves and ninth in the Premier League.
Spurs were closer to 14th place Southampton than they were a Champions League spot.
But in a campaign where their form can only be defined as mixed, it appears they are back now in an upwards trajectory.
Albeit the three wins a row being against Burnley, Fulham, and Crystal Palace - all teams in the bottom half - one player has stepped into the limelight and given this Spurs side a new lease of life: Gareth Bale 2.0.
After the sensational return in the summer, the move up to now failed to kick on.
He wasn't getting in the starting Premier League teams and wasn't impressing in the Europa League - he looked fragile and one-paced.
But something has changed.
In his last four games, he's grabbed four goals, three assists and a whole load of fresh air.
So much fresh air in fact that it could potentially be the catalyst for a positive end to a strange season.
Player analysis
The most surprising thing about the resurgence of Bale is that it is not a tactical shift or a slight change of role that is the catalyst.
Nothing has changed in that regard.
Placed on the right-hand side primarily, he's first of all doing some great things in build-up play - specifically when faced up against low blocks against Palace and Burnley.
He was constantly shifting the ball to the opposite with flank with good intensity - a key competent in breaking down a side sitting deep.
Yes, goals, sure...

But, what about the 𝙥𝙖𝙨𝙨𝙞𝙣𝙜? 🎯#THFC ⚪️ #COYS pic.twitter.com/8rcPBA3M6o

— Tottenham Hotspur (@SpursOfficial) March 9, 2021
It forces the opponent to move, and potentially opens spaces on the pitch that can be exploited.
Take Bale's second goal against Palace. He picks up the ball, and then shifts it across well to the flying Sergio Regulion on the left-hand side.
Suddenly, the game is wide open and stretched.
The left-back puts in a good deep cross to Harry Kane, who's header back across goal was met by Bale who put Spurs 2-1 up.
And there is the other part of Bale's game that has impressed: a clinical edge in the box.
His position on the right-hand side is one you would associate with trying to get one on one with the opposition full-back, but his role often sees him take up other positions.
Bale is more like an inside forward now, and specifically one that plays beyond Kane or alongside him.
He is, in essence, a shadow striker: always on the last line of defence, being in the right place at the right time, and a physical presence.
Everyone knew he wouldn't be the same player as before but this transformation into more of a cultured, street smart forward is working.
Both of his goals at Palace are examples of this - the first a good run around the back and the second a good leaping header where he was quicker to the ball than Cheikhou Kouyaté.
And his first against Burnley is about as striker as you can get: the Welshman drifted inside, beat the offside trap, and tapped home.
When Bale drifts inside like this, it also allows the right-back - whether that's Matt Doherty or Serge Aurier - more space on the right-hand side.
And then his second against Burnley was nothing more than a timely reminder that his left foot is a genuine wand.
Bale 2.0: it's a yes from me.
Son and Kane can breath
The reliance on Kane and Son-Heung Min was, as proved, not sustainable.
Tottenham were crying out for another goal source other than the duo. Tanguy Ndombele has many great assets - but consistent goal scoring is not one.
Steven Bergwijn, Lucas Moura, and Erik Lamela haven't stepped up, although, Moura and Lamela are providing good energy at the moment.
So, when Kane and Son aren't firing, or they have been nullified by an opponent, what happens? Welcome to the party: Bale 2.0
This now gives opponents a whole different problem. Stopping a duo is obviously a lot easier than stopping a trio. If one is nullified (Kane) then other (Son) struggles.
But a good front three is a problem.
Because if Son isn't performing, Bale can. If Kane isn't, Son can. If Bale isn't, Kane can. You get the point.
Kane and Son's double act is now record breaking, with the 14 combined goals the most ever in a single season.
But Bale's resurgence may just be the best thing that has ever happened to them.