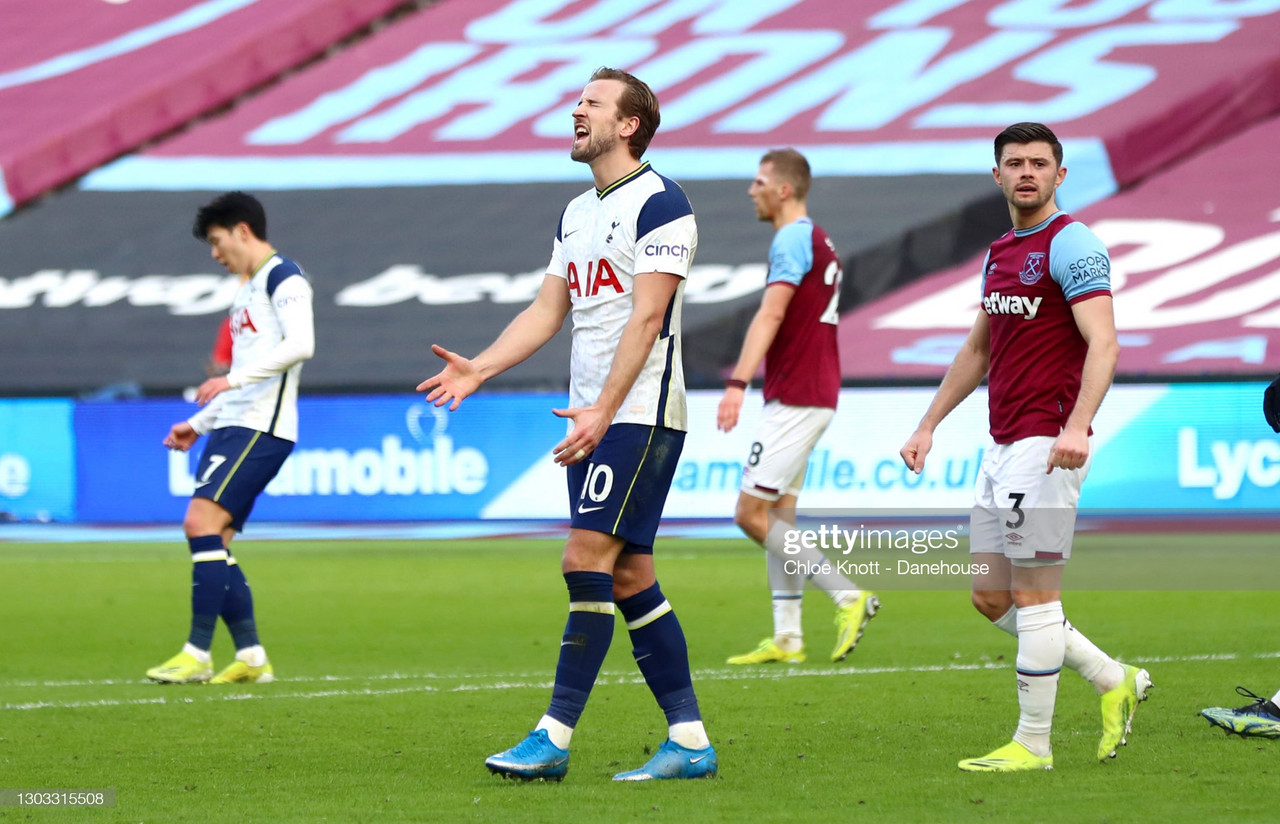 West Ham United piled more misery on Jose Mourinho as they summoned Tottenham Hotspur to a fourth defeat in five Premier League games.
And once again, it was all of the making from individuals' errors in the Spurs defence.
The hosts took an early lead in the first half as Michail Antonio re-bound on his initial effort, which was saved by Hugo Lloris to poke home from six yards out.
Then, it was pretty straight forward for The Hammers in the first half as Spurs struggled to break down their stubborn defence, managing their first shot on target in the 42nd minute.
Mourinho introduced Gareth Bale and Matt Doherty at half-time, replacing Erik Lamela and Japhet Tanganga. While the Welshman certainly made a difference going forward, Spurs defence crumbled once again.
Jesse Lingard breezed through Eric Dier and Davinson Sanchez before thumping home with his left-foot just two minutes after the restart.
Spurs began to grow into the game, specifically through Bale, as Spurs cut deficit when the Welshman's corner was nodded in by Lucas Moura in the 64th minute.
However, David Moyes' men managed to keep Spurs at bay, despite Bale striking the crossbar and Heung-Min Son hitting the post in injury-time, as West Ham hanged onto three points to send them into the Champions League places.
Now, the pressure builds on Mourinho, four defeats in five, ninth in the Premier League, nine points behind West Ham.
Is Mourinho's time up?
Defensive errors continue to cost Spurs
It's mistake, after mistake, after mistake for Spurs. They have conceded 10 goals in their last five Premier League games, 11 in all competitions, and most of them were preventable.
Yesterday was no different.
It all started from a lack of energy to close down the cross, as Son and Pierre Emile-Hojbjerg were too busy appealing for a free-kick, allowing Jarred Bowen acres of time to pick out Antonino inside the box.
Next, Lloris and Dier both misjudged the ball, with the former not coming out to collect it and the latter letting it sail over his head, gifting Antonino the opportunity to poke home.
That passage of play summed up Spurs defence. We have no leaders.
None command the box, none forced players to close down, none had calmness or composure whenever the ball arrived inside the area.
Instead, you can see the fear and dread when the opposition goes forward and defenders tremble with fear.
It's hard to point the finger at. Mourinho continues to pick the same players that make mistakes week in, week out, leaving out Joe Rodon, who's arguably been Spurs best defender in the past month.
But these are errors that Premier League players should not make, portraying that most of Spurs squad is not good enough to fight for the top four.
It's evident that Spurs doesn't only need just one centre-back, but two or even three in the summer.
Jesse Lingard rejuvenated
Moyes has entirely changed this West Ham side, going from near-relegation last season to potential Champions League contenders.
Not only are The Hammers been rejuvenated, but Lingard has re-discover the form that saw him shine at Manchester United. Since signing for West Ham in January, Lingard has started every Premier League game, notching two goals and one assist in that time.
And he added another goal to his tally after scoring early in the second half to continue his fine form for The Hammers.
The England international is definitely eyeing a spot in Gareth Southgate's Euro 2020 squad this summer. Although he will have to fight against a place with Jack Grealish, James Maddison and Phil Foden, who have all been in terrific form so far this season.
However, it has been terrific to see the old Lingard enjoying his football once again after months of being left in the dark at Manchester United.
Gareth Bale can still make an impact at Spurs
Bale shined in Spurs Europa League tie on Thursday, and many hoped that the Welshman will finally get his long-awaited start in the Premier League.
But Bale was back on the bench before being subbed on at the break to try and save Spurs. Although he couldn't rescue three points for Mourinho, his performance was the only positive of the afternoon.
The 31-year-old added a breath of energy in Spurs attacking play and ultimately got the visitors back in the game as his corner was nodded in by Moura. He also struck the crossbar with a powerful half-volley in the final 10 minutes.
His performance showed that Bale still has that hunger and quality everyone was questioning, adding further confusion on why he wasn't chosen to start the game.
He was intelligent in finding space in-between West Ham's midfield and defence, and every time he received the ball, he always looked to go forward, something that was missed hugely in the first half.
After the match, Mourinho said that it would have been a risk to start Bale yesterday, adding that the Welshman is gaining more confidence.
"To start today would be too much for him and a risk. He is more confident. He is starting to be more intense. He was good in the second half." (Via Football.London)
Spurs are falling into a crisis and need some magic to get them back on track, and that player can be Bale if Mourinho hands him more game time in Premier League over the coming weeks, instead of just the Europa League.