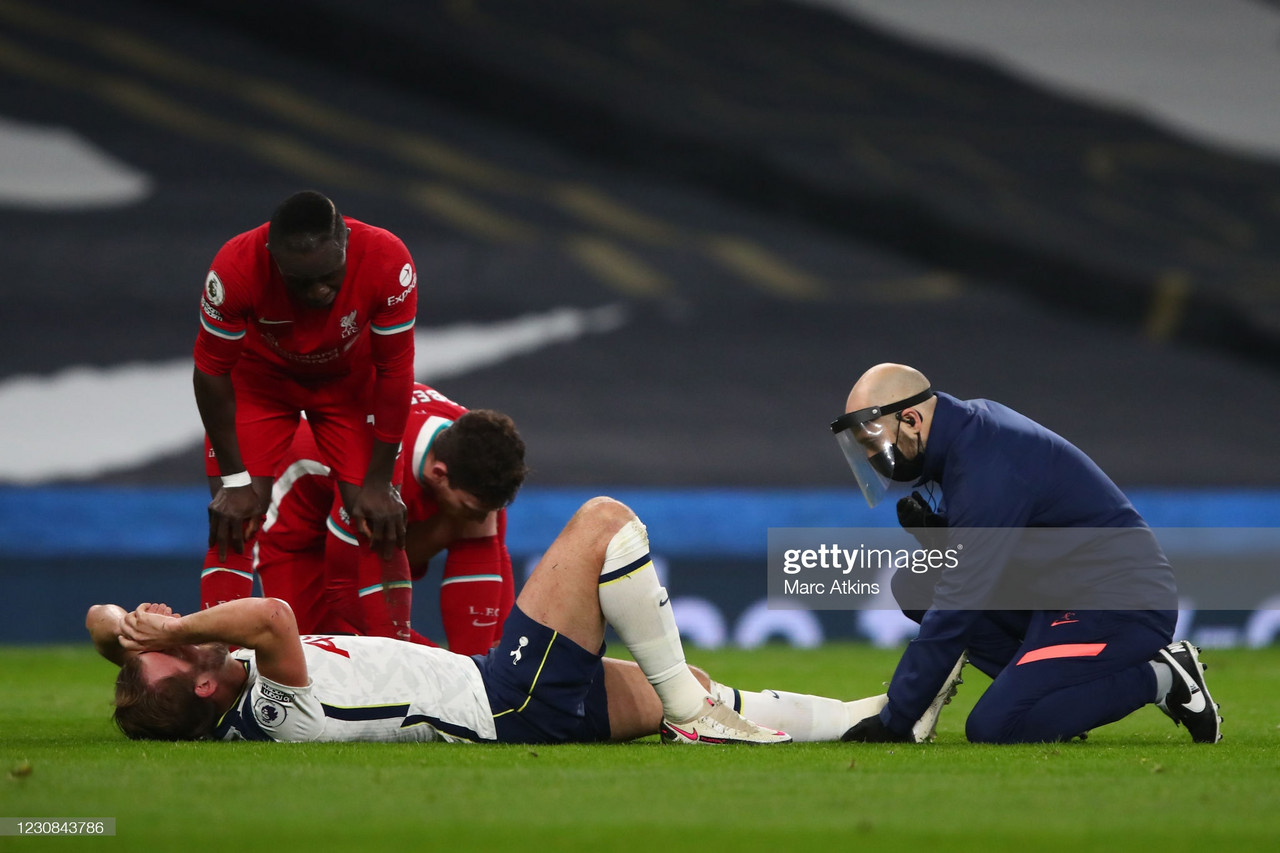 Tottenham Hotspur striker Harry Kane was subbed off at half time against Liverpool FC midweek after two challenges on both of his ankles meant he couldn't continue the game.
The star man has been a crucial part of the Tottenham squad this season appearing 29 times with 19 goals and 14 assists in all competitions. Kane has also been pivotal in tracking back to help his team defend with eight interceptions, six blocks, 11 tackles and 28 clearances.
Spurs will miss the England National player for atleast a couple of weeks, but now manager Jose Mourinho needs to find a suitable replacement for him.
#thfc striker Harry Kane will be out for a few weeks after suffering knocks to both ankles. | @alibruceball

— Daily Hotspur (@Daily_Hotspur) January 28, 2021
The left winger has been the perfect partner for Kane up front this season with 16 goals and 10 assists coming in his 29 appearances in all competitions so far.
The South Korean will be apart of the team even without Kane. Mourinho needs to decide if he will be played in the same position as he did or change it slightly to adapt with who is up front with him.
The team will need Son's form to continue for how ever long Kane is injured.
Bale has been in North London since September and is still struggling for fitness. But after getting 90 minutes against Wycombe Wanderers and 10 minutes against Liverpool, Bale may finally be finding his feet.
In his 14 appearances so far this season Bale has scored four goals. He is the only player to score in all competitions for Spurs. He has a lot of potential; however, he needs to stay fit in order to be the player to help replace Kane during his second spell at the club.
Steven Bergwijn has been a big part of Mourinho's plans this season, appearing on the right next to Kane and Son. Bergwijn has helped the team with six assists during 21 appearances this season.
The Dutch winger helps the team tracking back to help defend when necessary. He would not be a suitable replacement for Kane long term but can offer some assists and goals to the team.
Moura has provided a lot of great goals for Spurs, including a hattrick that fired the team into the final of the Champions League in 2019.
The right winger has made 28 appearances in all competitions so far this season with six goals and four assists. Having relied on him in previous seasons, Mourinho can use Moura to his advantage.
He is a centre forward who is still proving his worth as part of Mouriho's team. In all competitions this season, the CF has made 12 appearances with six goals and three assists.
Despite Kane going off injured at half time during the midweek game against Liverpool, Mourinho failed to bring on Vinicius as a like-for-like replacement.
Vinicius could be the best replacement up front for Spurs while Kane is out injured and there is no better time like the present for him to prove himself.