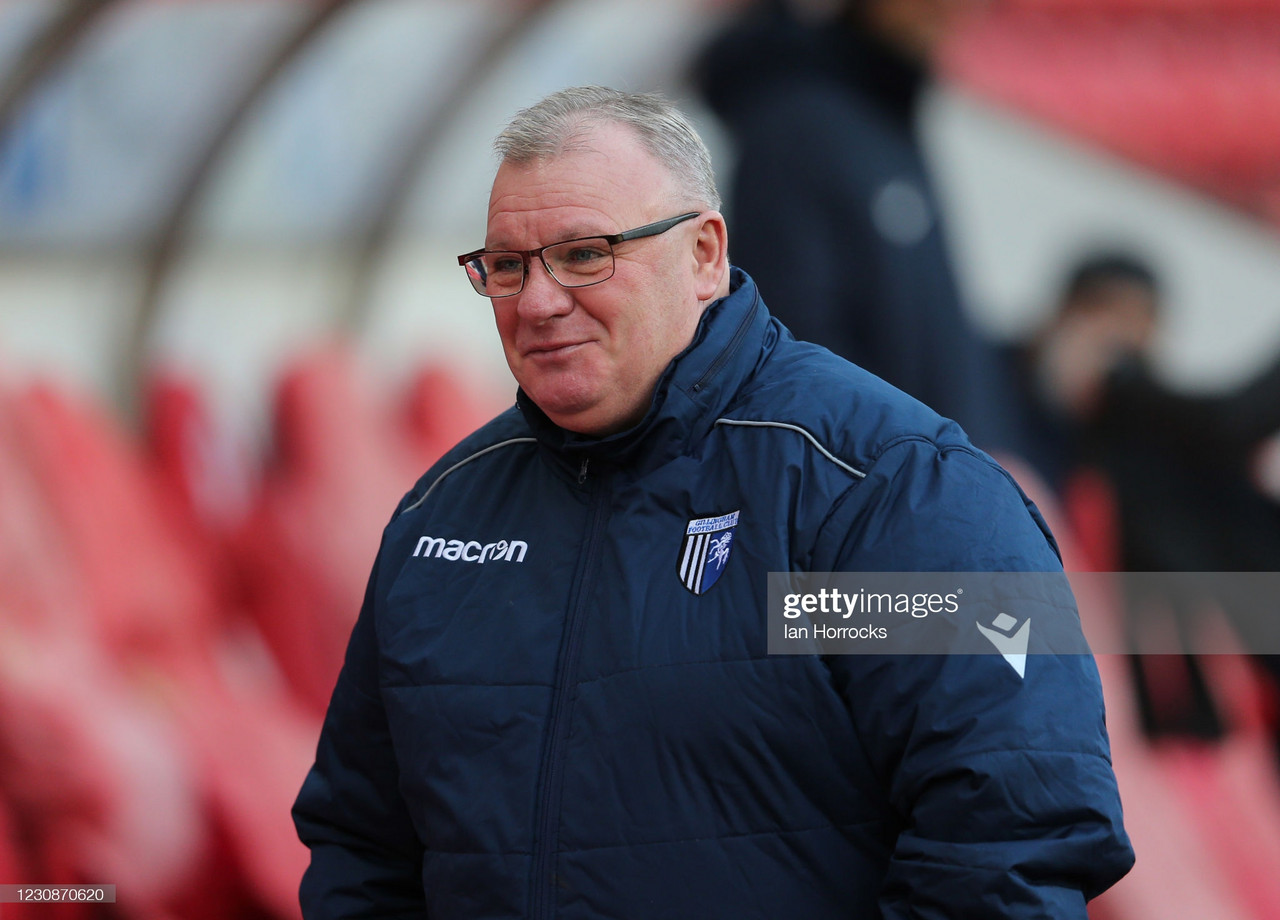 Gillingham will host Shrewsbury Town on Saturday with the knowledge that only a win will do if they are to keep their slim play-off hopes alive.
The Gills were in fine form and moved into the top six after beating Wigan Athletic 1-0 before Easter, but a heavy 4-1 defeat at play-off rivals Blackpool on Easter Monday put a huge dent in their aspirations to leave them four points off Lincoln City in sixth having played three games more.
Ahead of the match, Gillingham manager Steve Evans spoke to the press. Here are five of his key quotes.
On the defeat at Blackpool
"When the players first walked back in the door they were hugely disappointed, but three or four days later that disappointment has to go. We have kept our training ground very level – never too high or too low. Training has been really bright and purposeful, and we are ready for Saturday.
"It was quiet. We knew we had all let ourselves down – the coaching staff included. We lead the troops into battle, and we are the generals. But hopefully we have all learnt something from it."
Gillingham's defeat at Blackpool was disappointing and it clearly hit the squad relatively hard. It has halted their form and losing to a play-off rival won't help things. Hope is not lost, though Saturday will be huge.
On if his team can still make the play-offs
"There is no doubt the players are capable as a squad. In my time at Rotherham, we had to win our last six and we did. Sometimes it was not always the prettiest, but the desire and hunger was there, and we have the same here.
"The players have the opportunity to fight for a wonderful prize. When you have been in promotion campaigns and you get adverse results, it is easy to look for blame, but experience tells me the best thing to do is go forward with a calm head and make some decisions.
"We have slipped back but if we can beat Shrewsbury then a return of six from nine is fine. We have to make sure we deal with Saturday and then if we take six out of nine from the next three it is absolutely game on."
Gillingham may be outsiders for the play-offs once again but, as aforementioned, all hope is not lost. They will probably need to win five of their last six games, but the Blues can only focus on themselves, and a win on Saturday would be a step back in the right direction.
On the 'Manager of the Month' award
"Every time you get a 'Manager of the Month' award – and I have had several over the years – it is a testament to your players and staff. To receive that award, you have to be winning games, scoring goals, attractive, and doing something that is really positive. For the last few weeks our group has been absolutely fantastic.
"It is a recognition of the players; they are the people that earn the result. It matters because you would rather have them or not – everyone talks about them. It means you are winning games.
"It is not something you focus on, but it is nice if the nominees come out and your name is on there."
Speaking before he won the award on Friday, Evans paid tribute to his staff and players following his nomination. Now confirmed as the winner of League One's 'Manager of the Month' for March, Evans' efforts and the team's efforts – forward Vadaine Oliver won the 'Player of the Month' award – have been noticed.
The Gills notched up five wins, two draws and one defeat in March to drag themselves into the play-off race.
On Steve Cotterill
"Steve Cotterill is an outstanding guy – I am closer to him than I am a lot of managers around the country. When I heard the news that he had COVID, I thought he would be in and out in two days because he could run a marathon backwards, but it shows you how nasty this virus can be.
"I kept in close contact with the people at Shrewsbury with what was going on – he is winning the fight I always though he would win. He will not be here on Saturday, but his team will be here, and it will be great to see his big character in the training ground and in stadiums soon. Steve, you are missed, and come back soon buddy."
Shrewsbury manager Steve Cotterill has been in an out of hospital with COVID-19 issues over the last few months, and his absence from the Town dugout really has shown how some things are bigger than football
Evans paid his tributes in the week, and everyone at VAVEL echoes them.
On Shrewsbury
"I watched the Northampton game, and the Northampton boys had their balaclavas on by the end of it because they robbed it. I know if I was the Shrewsbury manager, I would have come away disappointed. But they comfortably beat Plymouth and they will be a tough opponent.
"They will be set up properly by Steve from a distance and they have some really good footballers, and that squad was put together with reasonably huge investment. If Steve had kept in good health, I think they could be in the play-offs now – they are that good."
Some may argue Shrewsbury are already on the beach. In the back end of the season, placed 17th in the league and 12 points away from relegation, it may look like Town have nothing left to play for. But their 3-0 against Plymouth Argyle earlier on in the week suggests anything but, and this game won't be an easy one for the Gills.