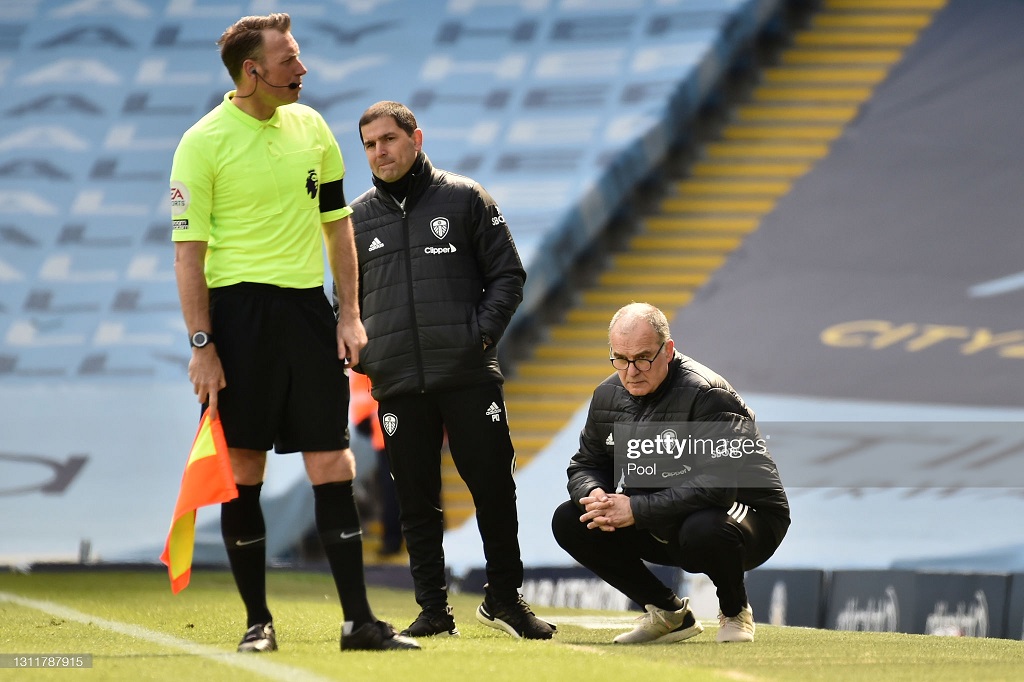 Leeds United claimed a shock win on Saturday afternoon as they stunned champions-elect Manchester City winning 2-1 at the Etihad Stadium.
The victory see the Whites move up to 9th in the Premier League table.
Was that one of your finest performances, tactically as a coach?
A brace from Northern Ireland international Stuart Dallas sealed the win for 10-man Leeds who saw captain Liam Cooper sent off following a challenge on Gabriel Jesus after a VAR review.
Dallas opened the scoring before the red card was shown to Cooper, Ferran Torres then equalised for the Citizens with 14 minutes to go, however, in stoppage time at the end of the second period, Dallas grabbed a winner for the Yorkshire side.
After the game, Bielsa spoke to the media on whether the performance at the Etihad was one of his finest tactically as a coach.
"I think the dominance of the game corresponded to City," the Argentine explained.
"The chances that went in the majority were also in their favour, and with those two arguments, if City had won, it would have been fair.
"But we think that the result that the team obtained was deserved because of the character, the personality, effort, the fortitude from a mental point of view and a physical point of view, and it's a little bit strange to say it would have been fair for City to win, but we deserved to win. I would like to explain that." He continued.
"The reason why I believe we deserved to win was because of the belief of the players, that they could do it."
How are your emotions in beating Pep Guardiola? You've had a long association with him, everyone is aware of your relationship with him, how does it feel to defeat a side of his with a side of yours?
It was the first time that a side managed by Bielsa had beaten a team managed by Guardiola and it's a well known fact that Bielsa is admired by Pep Guardiola for being a top coach in the game.
Bielsa explained how it felt beating a side managed by Guardiola and what his emotions are like: "That Leeds beat Manchester City doesn't mean I imposed myself over their manager," he revealed.
"That Guardiola is the manager of the team that Leeds beat today, I don't consider anything on my part.
What I do give great value to is the players who managed to win such a difficult game, especially given the circumstances of being one man down."
How proud are you of Dallas in particular, but also this side in that they were able to adapt after going down to ten men?
Leeds had to play the entire second half with ten-men following the red card to Cooper following a VAR review, however, the spirit and determination of the side never gave up and secured a big win.
Upon being asked how proud he was of the side and also Dallas in particular Bielsa had this to say: "Inside the spirit of the team is the desire to attack when the situation allowed for it.
"It's difficult to attack when you don't have the possession of the ball to be able to convert it into one. Some passages of the first half we had offensive presence, and in the close of the game we also had offensive presence. But that wasn't constant as we didn't have the ball.
"[And] in that sense, Dallas with his enormous run, Raphinha with his capacity to unbalance, and Helder [Costa] who today made a massive effort, it allowed us to keep the hope of scoring one more goal."
At times, Raphinha was unplayable, especially on the counter-attack. Every time he ran at Man City, they couldn't deal with him. Was that Raphinha's best performance so far in a Leeds United jersey?
Raphinha had a good game this afternoon for the Whites as he helped the team throughout the minutes he was on the field to secure a victory over the champions-elect at the Etihad and some people even thought it was his best performance since he joined the club from Rennes in the summer and his head coach was full of praise.
"I agree with what you said. He played a very unbalancing game. When he received balls where he could try to unbalance, he managed to achieve it. I don't have it clear whether it was his best game or not, but it was a game where he had a very big influence."
Rodrigo wasn't involved today can you provide an update?
Rodrigo wasn't on the bench for Leeds as they took on Man City at the Etihad on Saturday afternoon as he was replaced by Joe Gelhardt on the Whites substitutes bench which left people wondering where he was and if he was injured again.
That proved to be the case as Bielsa revealed: "He had a problem in the last training session. So he wasn't in conditions today to participate." it is hoped that he will be back available for the visit of Liverpool a week on Monday.