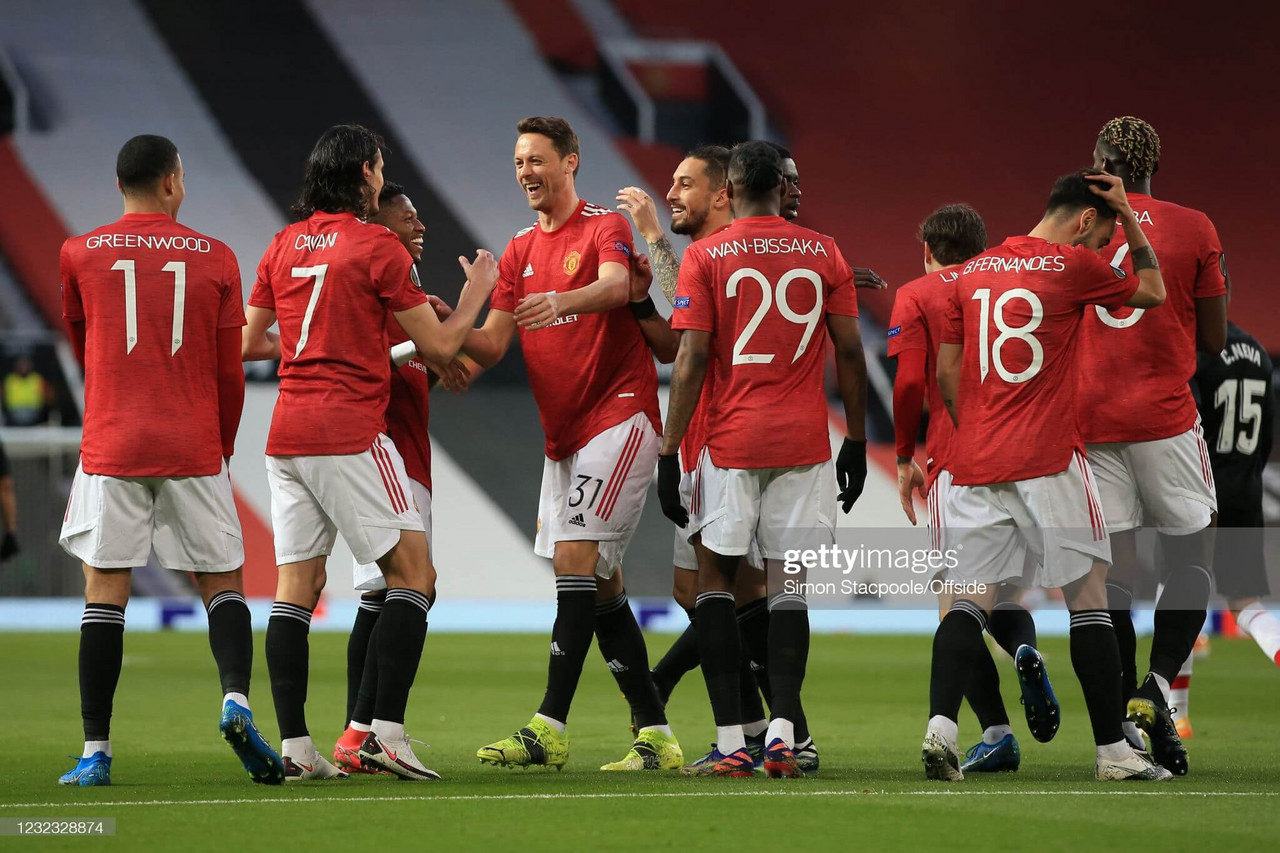 Manchester United have qualified for the Europa League semi-finals after they beat Granada 4-0 on aggregate.
It will be United's fifth semi-final in two seasons and they will face Roma. The Italian side beat Ajax 3-2 on aggregate.
Edinson Cavani opened the scoring at Old Trafford with a neat left-footed volley after a backwards header from Paul Pogba set him up beautifully.
An injury time own-goal by Jesus Vallejo put the cherry on top of the cake for United.
Story of the game
United got off to the perfect start when Cavani put his side ahead after five minutes. It was a superb strike from the Uruguayan striker as he volleyed it with his left foot to score his 50th goal in all European competitions.
For a game that was over after five minutes, tempers flared and the referee's book got busy. Pogba was unfortunate to receive a yellow for using his strength and shrugging off two Granada players who had a hold of him. There was a worry that Solskjaer would have to start making very early substitutions to avoid more suspensions if things didn't calm down.
Bruno Fernandes tried his luck with a ferocious volley after a wonderful ball over the top by Nemanja Matic. The Portuguese international's strike sailed over the bar.
United went into the break with a three goal cushion, Pogba was substituted at half-time for Donny van de Beek. A smart decision by Solskjaer considering Pogba was on a yellow.
Van de Beek found Mason Greenwood unmarked in the box who should have made it back-to-back headed goals at Old Trafford for the 19-year-old.
The Dutchman was doing everything in his power to make an impact as he then let rip from distance which went narrowly wide.
You would not think that the tie was essentially over after five minutes as the tempo remained high throughout the match. Diego Martinez, the Granada manager, protested every decision and those representing the Spanish side in the directors' box followed suit.
De Gea made a superb save in the 90th minute to hold onto a clean sheet. United went up the other end to seal the victory as Vallejo put it into his own net.
Granada over the two legs were poor, they never truly tested United. They tried to be physical and at times play dirty, but nothing came of it. They bow out of their debut season in any European competition.
Fifth time lucky for Solskjaer?
United have now progressed to the semi-final of the Europa League in back-to-back seasons. Solskjaer will be hoping to use last year's disappointing semi-final defeat to Sevilla as motivation to go one further this year.
This is also the fifth time United have advanced to a semi-final of a cup competition under the Norwegian manager. The previous four were all defeats.
Manchester City x2 - Carabao Cup
Sevilla - Europa League
Chelsea - FA Cup
He will be desperate to not only reach a final but find some deserved silverware. Finishing second in the league is what he calls 'progress', but his desire to win a trophy as manager of the club is no joke.
United will be coming up against their former winger, Henrikh Mkhitaryan and rival Edin Dzeko. Mkhitaryan joined the Italian club on a permanent basis in September 2020 after his move to Arsenal ended in a disappointing fashion.
Dzeko will look to make Manchester City fans happy once again as he will want to haunt United. The Bosnian striker managed to score seven times in nine appearances against United - two of which came in the 6-1 thrashing at Old Trafford.
For United, they will look to replicate their 2007 UEFA Champions League quarter-final home tie when they battered the Italian team. Both Michael Carrick and Wayne Rooney got braces that night.