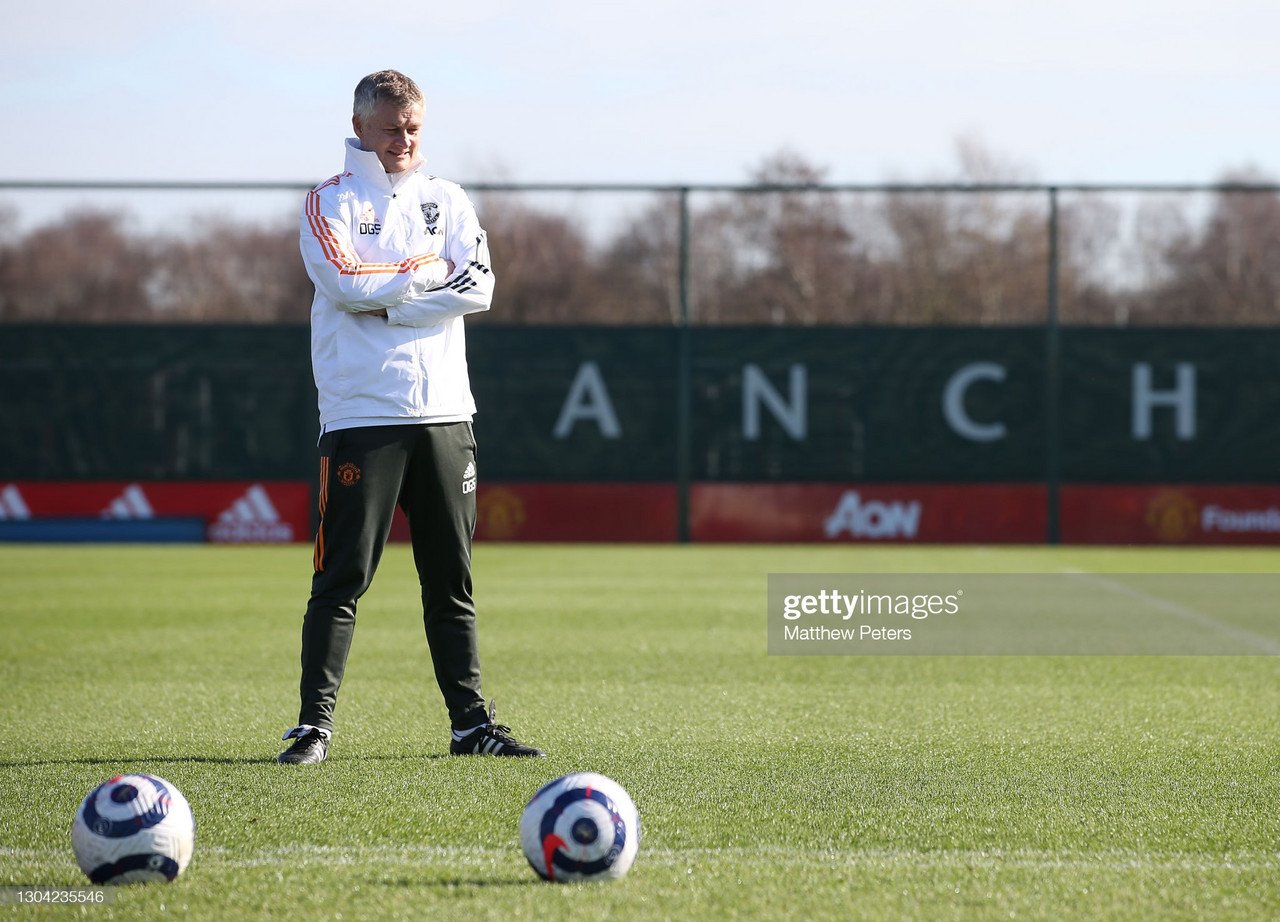 Top goalscorers in the League and a Portuguese maestro at the absolute top of his game.
It does have a "United under Fergie" ring to it when Cristiano Ronaldo was leaving both his critics and admirers in awe at the Theatre of Dreams. However, that one line description is about the Manchester United of 2020/21 wherein they have racked up 53 goals in the league and Bruno Fernandes has been hitting unparalleled levels of consistency in terms of goals and assists. With so many positives to cherish, Ole Gunnar Solskjaer still has some concerns to address before United can be called "successful" in the true essence of the term.
What is considered a success for United?
With Manchester City 13 points ahead in the title race (before United's game v Chelsea), United's aim at the moment seems to be keeping up pace with their neighbours and still retaining an outside chance of taking a real shot at an unprecedented 21st League title. However, taking a realistic estimate of the current situation, Solskjaer would surely take the 2nd spot come the end of the season, however, he'll want the points gap from the top to be something more palatable, say in the range of 6-10 points.
In other competitions, United have a Quarter-Final v Leicester City coming up in the FA Cup and an iconic tie v AC Milan, led by none other than Zlatan Ibrahimovic in the Round of 16 of the Europa League. Either/both of these trophies along with a second-place finish in the Premier League would surely denote significant progress for United under Solskjaer.
United's number 9 doesn't quite have his shooting boots on at the moment. Anthony Martial was United's top-scorer in all competitions last season with 23 goals, however, he has just 7 goals this term and has struggled to find consistency across competitions this season. He does have Solskjaer's backing but needs to find his feet soon with Edinson Cavani really impressing in his short stint at United so far. The Uruguayan hasn't exactly been prolific in front of goal himself, however, his movement off the ball and his work ethic on the pitch in terms of pressing the opposition and recovering the ball is second to none and quite honestly, miles ahead of Martial.
Solskjaer has a real decision to make in terms of his first-choice striker. Cavani is the ideal choice based on current form and striking pedigree, however, considering his age, it really is a short-term fix for United's striking issues. Martial, on the other hand, might have a higher ceiling in terms of development, however, his work ethic on the pitch doesn't seem to be on the same wavelength as United's aims and ambitions this season.
The David and Dean debate. That's what United's goalkeeping department needs to contend with, at the moment. David De Gea has probably been United's most consistent performer for quite some time now, however, over the last two or three seasons, he has seen his stock dip rapidly owing to the high-profile mistakes he has committed on the pitch at important points in the season.
Dean Henderson, on the other hand, surely has done enough to stake a claim to be United's goalkeeping future. Rising from United's youth ranks, he had a really successful loan stint at Sheffield United last season and has been really assured when called upon in the cup competitions this season. Although there might be a debate about the pedigree of opposition faced by Henderson & De Gea due to the gulf in class in the quality of sides in the Premier League versus the lower tiers of English football, it really seems like a case of, "You can only face who is in front of you." and Henderson, to his credit, has hardly put a foot wrong when called upon this season.
And, as per Laurie Whitwell of The Athletic, Henderson isn't too keen on playing back-up to De Gea for one more season and reportedly wants assurances on staking a claim to be United's Number 1. Between the established & talented but now inconsistent Spaniard and the fast-improving and talented Englishman, Solskjaer has a real selection headache on his hands when it comes to United's Numero Uno.
It all boils down to the transfer market
All the major issues at any top club in terms of personnel would finally boil down to the transfer market if they can't be fixed from within. For United, it's not very different. A new striker, a certain right-winger to address the creativity on the right flank, the long unfulfilled requirement for a colossus at centre-back, a luxury signing to support Aaron Wan-Bissaka at right-back or a world-class defensive midfielder? Well, with the financial crisis at most clubs still prevalent, only some of those long-standing requirements would be addressed in the upcoming window at United.
If Martial's stock continues to dip over the remainder of this season, it's quite logical to imagine United diving into the market to get a world-class striker. Although Solskjaer has been quite non-commital about the recent links to his fellow countryman Erling Haaland, United do seem to have a concrete interest in the Norwegian goal-machine. The same can be said of Jadon Sancho with the protracted transfer saga set to resume in the upcoming window.
At centre-back, Jules Kounde of Sevilla is United's Number 1 target, as per Brad Cox of Vavel, although there have been strong links to Nikola Milenkovic of Fiorentina as well.
Don't believe the rumours about Nikola Milenković are concrete, seems like he's been offered to the club rather than the club being interested. He's not United's number one target - that title belongs to Jules Kounde. #MUFC have scouted the Sevilla defender.

— Brad Cox (@BradJCox_) February 25, 2021
With United competing on multiple fronts and still being mathematically involved in a title race with City, the signs of progress are definitely evident, however, it's time for Solskjaer and his squad to really step up and find some consistency and answers to pertinent problems in order to finish the season on a high and be truly successful.