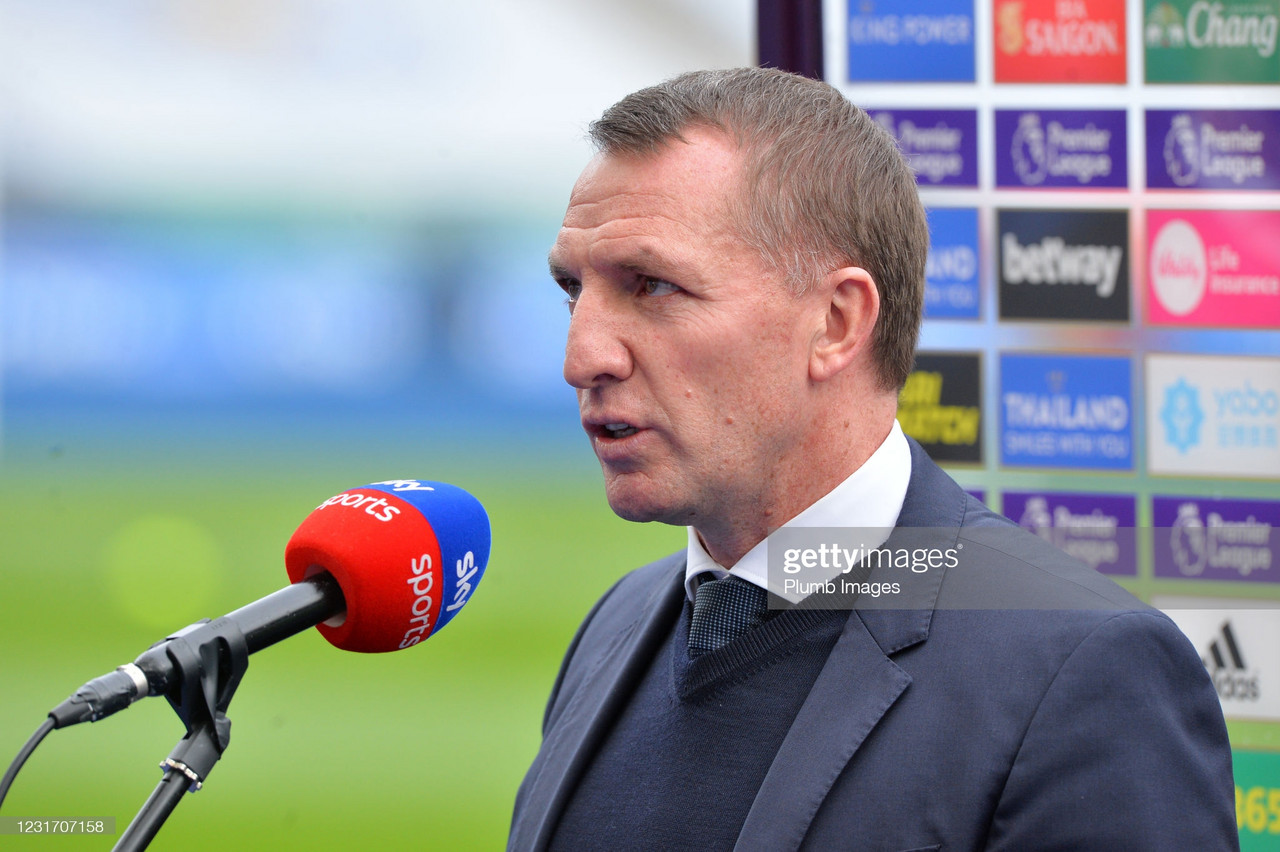 Leicester City strengthened their grip on a place in the Premier League's top four on Thursday evening after beating West Brom 3-0 at the King Power Stadium.
A ruthless first-half performance that included goals from Jamie Vardy, Jonny Evans and Kelechi Iheanacho secured an important three points for the Foxes and further dented the visiting Baggies' survival hopes.
Manager, Brendan Rodgers, spoke to the media after his side's convincing victory.
On the performance
The win moved Leicester four points clear inside the Champions League places as they took advantage of teams below them dropping points.
Despite sealing the win in the first half, the Foxes boss was not pleased with his team's overall performance until after the break.
"First half, I wasn't happy, to be honest," Rodgers said. "Too many loose passes, too many mistakes, giving the ball away too much. But, in terms of the goals, in terms of our press and intensity, that was pleasing.
"Second half, we could control the game better. They obviously changed their shape and really blocked it up."
On controlling the game
This change in style for the Foxes showed their versatility in their system. After attacking at all costs and cutting through West Brom's high line in the first half, the Baggies sat back in the second with Leicester having to control possession.
Since Rodgers joined the club, this style of play has become more of a norm and his side are now well accomplished in possession of the ball. The Northern Irishman was pleased with how his side dealt with having to switch styles.
He said: "We then were able to work the ball side to side and control any threat that they may have. We defended set pieces well to keep a clean sheet, so yes, a good win for us.
"You obviously want to score more goals if you can, but we didn't have to. We could control, we could conserve the ball, keep the positions on the field, pass it, and like I say, they did that very well."
On the goals
All three goals came within a 13 minute period as Leicester burst into action. They easily broke through the West Brom defence, which is the worst in the Premier League, conceding 62 goals.
Vardy, Evans, and Iheanacho all got on the scoresheet and Rodgers was pleased with the quality of the goals scored by the Foxes.
"The goals were excellent," he said. "Two really top-class goals and then Jonny [Evans], anticipating for his header, and that was nice."
On Jamie Vardy
After scoring his first goal since February, Vardy finally ended his drought. The striker has struggled to find form since having surgery and has seemed to take a back seat to Iheanacho, who is now Leicester's top scorer this season.
Throughout the goalless period for Vardy, Rodgers has backed up his forward and maintained the belief that he'll return to his old self. With a goal on Thursday, the Foxes boss may be rewarded for his faith.
"It looked easy but it was a wonderful finish and a wonderful move," he said. "The work rate and intensity he gives the team, I'm never worried when he's not scoring because he creates so much for others."
On Wesley Fofana
Wesley Fofana has been a revelation since joining Leicester in October 2020. The 19-year-old is now a key player in the Foxes system and has taken to the Premier League extremely well.
Fofana was substituted on the hour mark despite impressing and this raised questions as to why he was brought off. Rodgers explained his decision to give the centre-back a rest.
He said: "He's a young player in the middle of Ramadan so hasn't eaten. It's remarkable to think of his performance at the weekend. To still perform to that level was incredible. He finds that strength to train and play. He's a special talent and a big player for us."