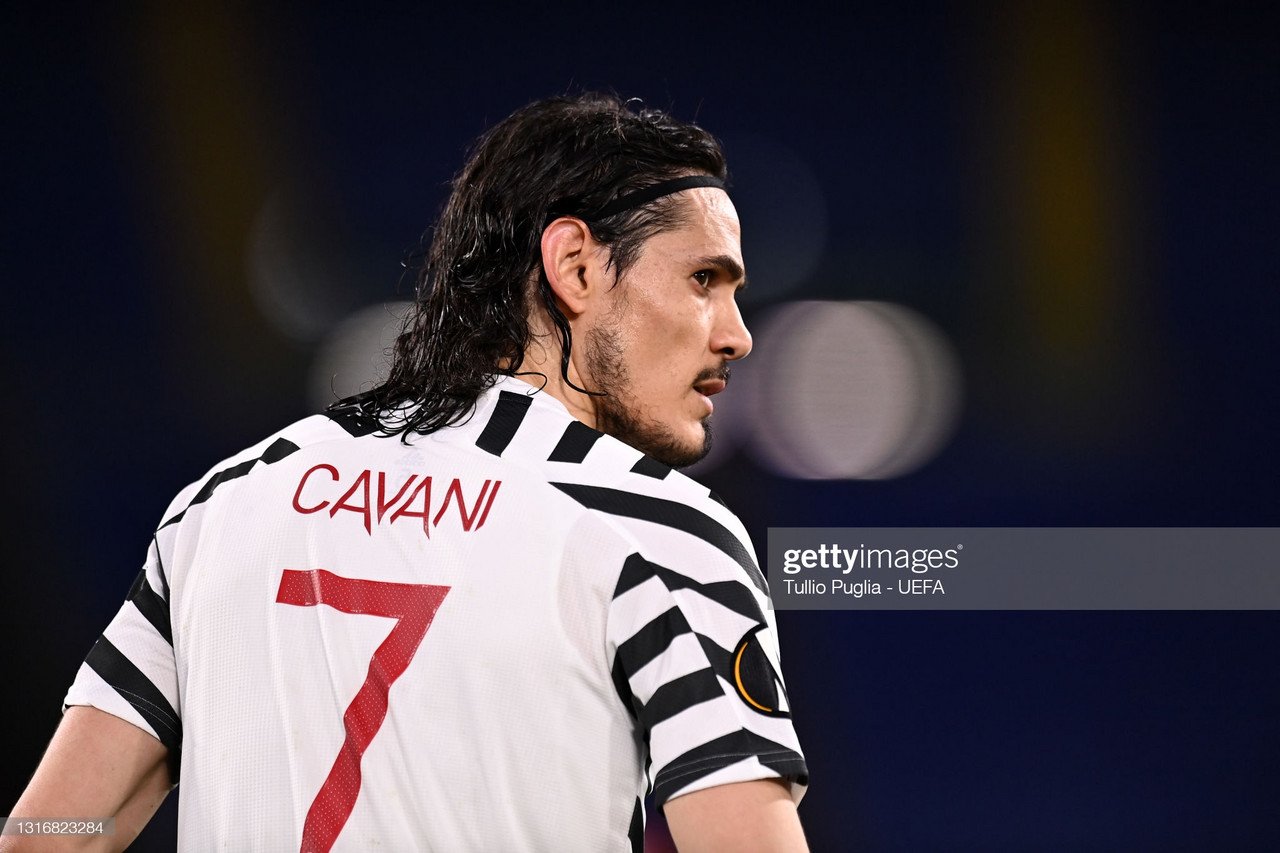 After much talk surrounding Edinson Cavani's future in recent weeks, the Uruguayan striker has finally put pen to paper on a one-year contract extension with Manchester United.
United boss Ole Gunnar Solskjaer had made it very clear in press conferences that he was extremely eager to retain the services of the veteran centre-forward, and he will be ecstatic at the news – as will the entirety of the red half of Manchester.
The 34-year-old has turned down a lucrative deal from Boca Juniors in favour of staying at Old Trafford until the summer of 2022 – a decision that can help United massively in their pursuit of major honours next season.
After joining the Red Devils on a free transfer from Paris Saint-Germain in October, Cavani reportedly took a 35 per cent pay cut. However, the Uruguayan has done more than enough to earn an extended contract, and here's how El Matador can continue to have a huge impact next season:
The continuous goals and assists:
Many people initially doubted the signing of Cavani, and there were a few legitimate reasons to do so.
If PSG were choosing to not offer the forward a contract, did he have much left to give? At 33 years old, (at the time of transfer) were Cavani's best days behind him?
And for those who still believed in the striker's ability, there remained a major doubt looming. It had nothing to do with the man himself, but was instead present due to how previous deadline day signings had gone in recent years for United.
On the contrary to many people's beliefs, Cavani began to take English football by storm.
El Matador gave United fans a glimpse of what he was about after coming off the bench at Goodison Park in November to calmly slot home with a first-time finish.
But it wasn't until later that month, against Southampton, that Cavani would assure everyone that him coming to Manchester was far from a mistake.
Trailing by two goals to nil at the Saint Mary's Stadium, Solskjaer called Cavani onto the pitch – the game was completely turned on its head.
The veteran bagged himself a proper striker's goal as he gambled on a deflected cross to nod the ball home before selflessly feeding Bruno Fernandes to level the scoring.
Any United forward in recent years would have seen that as job done – but not Cavani.
Enter the final minute of the game and the former-Napoli man ghosted past the Saints' back line before pouncing on a Marcus Rashford cross and sending his teammates and United fans into delirium.
This was the afternoon in which Cavani cemented his name into the hearts of everybody associated with Manchester United, and this newly found love has only increased as the season has gone by.
The 34-year-old has continued to impress and has now found the back of the net on 15 occasions in all competitions and has contributed with four assists also.
The Uruguayan has averaged a Premier League goal every 130 minutes, and after almost single-handedly sending his side through to the Europa League final, it would appear that Cavani has unfinished business.
It cannot go unnoticed how vital Cavani's goals and assists have been so far, and if United are going to push on for major honours next season, they will be in a much better position to do so thanks to the veteran centre-forward remaining at Old Trafford.
Playing in front of a packed Old Trafford:
It is rather crazy to think that thousands of fans could be chanting your name for an entire season without you hearing it in person.
Unfortunately, that has been the case for Cavani so far during his time at United.
Although Old Trafford is a beautiful stadium without fans inside , and although Cavani will likely be familiar with the popular "Give it, give it, give it to Edi Cavani" chant created by the United faithful, his experiences of Old Trafford so far will be incomparable to what it will be like next season.
76,000 fans singing your name inside a packed Old Trafford is the stuff that dreams are made of – the thought of this has already given United fans major goosebumps.
Solskjaer himself stated that he wanted Cavani to experience playing in front of United fans as he said:
"This year has been very difficult but I've promised him Old Trafford and Manchester is a different place without fans in the stadium, he must try to get that feeling onside."
"Manchester is a fantastic place to live. We don't have to sell the club to him, it's about the feeling he gets, how he feels coming in every day, the environment we're creating, the team we're creating that he's part of."
"But, as I say, he has to feel scoring those goals in the Stretford End with fans, that's a different feeling. We've got the best fans and, as a goalscorer, there's no better way to celebrate than in front of them."
It seems like the prospect of playing in front of 76,000 rowdy reds has contributed to Cavani's contract extension – if the Uruguayan has performed this well without fans, the thought of him playing in front of a full Old Trafford is an extremely exciting prospect.
Influencing the younger forwards:
Although what Cavani brings on the field is of a massive benefit to United, one of the main advantages of him staying for another year is how much he can help the younger players, particularly forwards, prosper to their full potential.
Solskjaer's side haven't had a "proper centre-forward" since Zlatan Ibrahimovic left to join LA Galaxy, and this has been evident on too many occasions in recent seasons.
The rise of Mason Greenwood has given hope to the future of United's attacking frontline, but it is hard to rely on a teenager to lead the line and get 20+ goals season after season.
That is where Cavani comes in.
One of El Matador's best attributes during his time in Manchester is his continuous mentoring of Greenwood.
Cavani jumped to Greenwood's defence in Rome when the youngster found himself in an altercation – and the veteran forward has been seen bouncing with delight when Greenwood scored against Tottenham last month and against Aston Villa on Sunday.
It has become apparent in recent weeks how much Greenwood is benefitting from having Cavani around the place, and Solskjaer has said:
"Even with Cavani's little English, football is a language everyone understands. Preparation and focus and concentration and professionality is something that everyone understands and they can see it every day when they look at him, which is great for my young team."
Cavani and Greenwood have contributed ten goals between them in United's last five outings – a formidable run of form.
And after a sticky first half of the season, the English teenager owes a lot to the Uruguayan for helping him reach the numbers that reflect this stage of his development.
Greenwood has started to show that he is one of the deadliest right-sided attackers in European football, and having Cavani to learn from for another season could pay dividends in years to come.