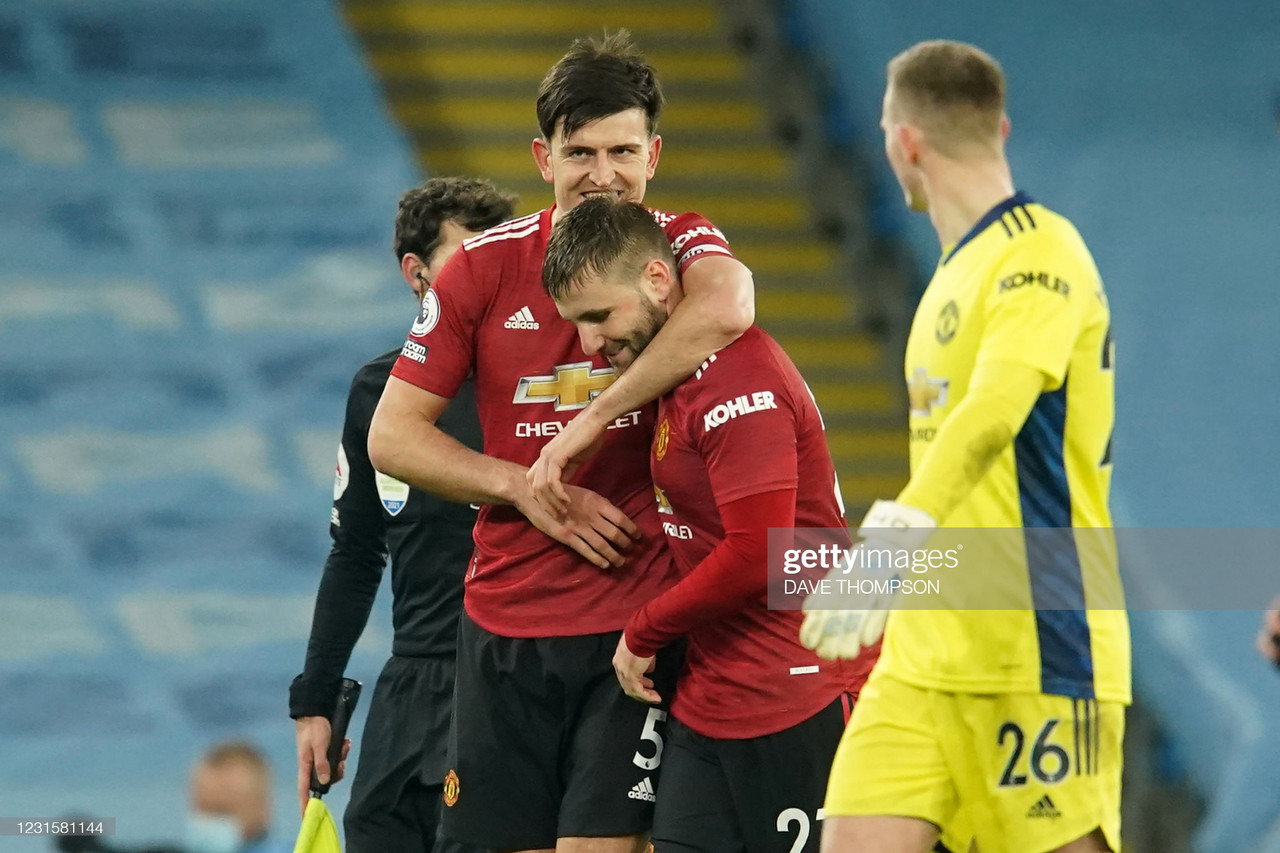 Not many Manchester United fans were expecting their side to pick up a positive result against a currently formidable Manchester City team.
However, within 40 seconds of kick-off, Ole Gunnar Solskjaer and his men were handed a huge boost as Gabriel Jesus clumsily collided with Antony Martial in the penalty area – Bruno Fernandes made no mistake from the 12 yard spot yet again.
The home side then went on to dominate possession during the opening half and looked dangerous throughout. Much to their displeasure, United's back line were resilient.
Luke Shaw gave his side the perfect start to the second half in the 50th minute as he picked up a clever Dean Henderson throw and raced forward with the ball before linking up with Marcus Rashford and cooly slotting the ball into the bottom right corner.
Not only did the Red Devils go on to thwart all of their opponents attacks across the following 40 minute period, but they also played like the better team.
Solskjaer's men moved the ball about confidently and Martial, whose all round game was highly impressive, could've easily grabbed a couple of goals if he had shown that little bit more composure.
United were 2-0 victors come the final whistle and this was a huge step in the right direction for everybody associated with Manchester United.
But what did we learn from this game?
Manchester United might not quite be finished yet:
With City still being 11 points ahead of United, thoughts of winning the league are surely a distant memory.
But that's not to say that they cannot go on to have an amazing season.
Post-January form has seen United drop far too many points with bleak draws and embarrassing defeats, but the performance and result against their rivals can act as a catalyst as the end of the season approaches.
With ten games remaining in the league and currently sitting second in the table, a consistent string of positive results would see United ease the fears of dropping into a top four race – potentially even finishing the season much closer to Pep Guardiola's side than they are now.
Consistency and confidence are also key as Europa League and FA Cup games approach. It is in these matches that this United side can make this season a rememberable one.
Lifting a trophy come the end of the season would be the icing on the cake in a season that has shown that there is evident progress being made both on and off the field at Old Trafford.
If Ole's men can perform like they did against City for the remainder of the season, Sunday's victory could be seen as the pivotal turning point in a great season for Manchester United.
Luke Shaw is becoming everything that Manchester United have wanted him to be
Shaw's United career has thus far been the polar opposite of plain sailing.
After a high profile move to United in June 2014, there were millions of Reds fans expecting to see the same full back that had just had a stellar season at Southampton.
Unfortunately for the fans and Shaw alike, things haven't quite worked out that way. Despite showing real glimpses of the player he could be under Louis van Gaal, a horror injury against PSV Eindhoven ultimately set the young defender back a few years.
The next few seasons must have been a real personal struggle for Shaw and his family as he had lengthy spells on the sidelines and found it difficult to regain form or fitness after recovering from the injury.
Jose Mourinho definitely didn't help the full-back either – not publicly, anyway. The ex-United boss repeatedly criticised Shaw's performances and fitness to the media and, even though he wasn't playing with flying colours, many considered the Portuguese's comments to be harsh and uncalled for.
However, this predicament seemed to create an agenda against the England international as fans seemed to lose patience with Shaw. He had been there for a while now, after all.
Luckily for United and Shaw, this season has highlighted a real development in the defenders game and high-level performances week in week out have become a recurring theme since November.
And despite being a doubt to play in Sunday's derby, the London-born United man showed no signs of slowing down. As well as dealing with everything that came his way defensively, Shaw also posed a great danger on the counter-attack as he raced down the left flank with the ball and pace, (reminiscent of his pre-injury days) and wasn't scared to help out his teammates at both ends of the pitch.
The Englishman's revival has been coming for some time, but his amazing run and well taken goal yesterday merely solidifies the argument that this is well and truly the Luke Shaw that United fans have been waiting to see for the best part of a decade.
Counter-attacking football is still United's strength
Solskjaer and his team had a great record against the 'top 6' last season, and that was largely thanks to their direct, ruthless counter-attacks in the big games.
Unfortunately for the Reds, this season's fixtures against the 'top 6' have proven to be a stark contrast.
The humiliating 6-1 defeat to Tottenham Hotspur earlier in the season has seen United play within themselves against the top sides in the league, with a more pragmatic approach being used.
Before the City game, United had only scored one goal from open play against the top 6 all season, with five fixtures ending in drab goalless draws.
However, yesterday's Manchester derby saw United use the same approach that had worked so efficiently for them the previous season. The away side weren't afraid to sit back and soak up pressure – they haven't been all this season, either. But this time they knew what to do with the ball when they had it.
United's transitions in play were breathtaking. One minute they would have nine men behind the ball, and ten seconds later they would have six players in and around the City penalty area.
This happened countless times and could have easily seen United score more than two – but this was definitely something off the training ground.
Perhaps you could put this season's hectic schedule partly to blame for United's lack of goal threat in the big games, but one thing is for sure; when United execute their counter-attacking game plan to perfection, there is no doubt that this is Solskjaer's most impressive approach to date.
The 2019/2020 season saw Solskjaer earn praise for his counter-attacking tactics in the big games, but ultimately came up short against teams that sit deeper against his side.
But Saturday's derby has highlighted that any manager and any team, (just ask Pep Guardiola!) should fear Manchester United when they have have been working hard to perfect their counter-attacking game.