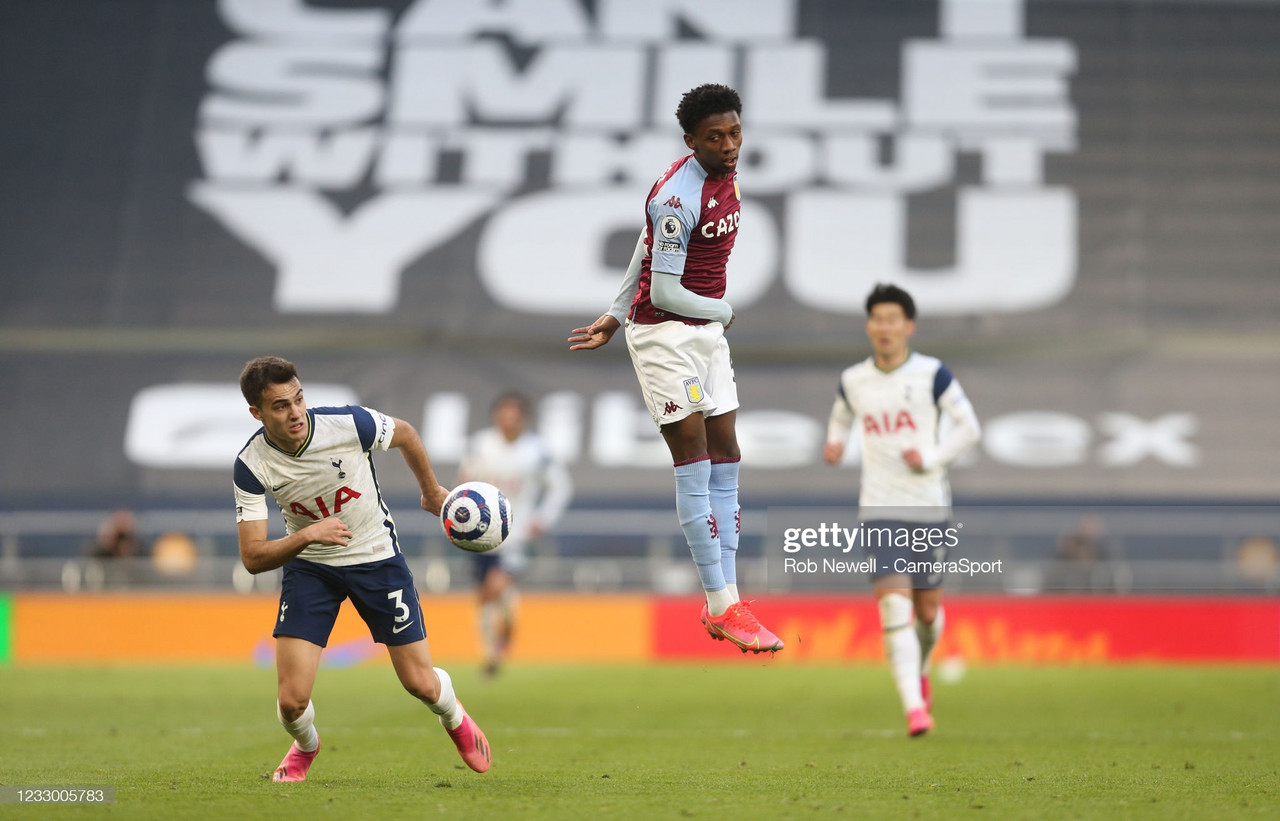 Sergio Reguilon has been the subject of debate amongst Tottenham Hotspur fans as the 2020/21 season has drawn to a close.
The Spaniard signed from Real Madrid in the summer of 2020 for a fee of around £27million and the Spanish giants have an option to activate a buy-back clause as part of the deal that would see Madrid pay an extra £10million on top of the original fee Spurs paid last summer.
It was widely understood that Zinedine Zidane was not a huge fan of the 24-year-old and had no plans to reactivate the clause to bring Reguilon back to the Santiago Bernabeu.
However, with the departure of the Frenchman from his managerial position at the club, there is uncertainty around the Spaniard's future, as new Madrid boss Carlo Ancelotti may have a different stance towards the left-back.
Reguilon has faced a mixed reception from fans at Spurs as the flying fullback has shown promise in particular games but has also been at fault for some goals as part of the regular back four.
It is always wise to reserve judgment on a new signing until after the season has finished. That way you can analyse and consider each and every performance.
When Reguilon joined in the summer, there was real excitement around the player. He had just won the Europa League with Sevilla and had demonstrated regularly that he was full of energy and talent, especially going forward.
Such is the way of the modern game, attacking ability is now essential for any player to have success at the elite level.
During his 27 appearances in the Premier League this season, Reguilon has provided three assists for the 'Lilywhites' and has created four big chances. This is not a bad feat, considering it is his first season in England.
Notably, he has set up Gareth Bale for his goal against Brighton and Hove Albion and also assisted in the 3-3 draw against West Ham United.
His attacking prowess has never been under question from his performances this season, however, his defensive ability is certainly still developing.
Reguilon only has a 53% tackle success rate in the league this season, meaning nearly half of his attempted tackles have ended in failure, and likely his opponent retaining the ball.
Furthermore, the Spaniard has lost 128 duels whilst only winning 117, again highlighting the fact that he loses more than he wins.
Having said that, Reguilon has completed 134 recoveries and helped keep seven clean sheets, which is not a bad return.
His own goal against Aston Villa in the penultimate game of the Premier League season epitomised his shaky defensive displayed that have appeared more frequently than he perhaps would have liked over the course of the year.
Continuously his cross accuracy sits at just 24%, another worryingly low figure. When the left-back gets it right, it is usually right on the money, however, he usually only gets it right once in every four attempts.
Despite these rather worrying stats, Sergio Reguilon has been an asset to Spurs. His ability to fly up and down the left channel has provided the team with an extra avenue of attacking prowess and his pace has caused some real problems for defenders.
Sergio Reguilon is undoubtedly still developing and has not hit his prime.
He has been naive and rash in some of his decision makings, but on the other hand, has also demonstrated superb ability and the prowess that could see him develop into a world-class left-back.
Whilst his game has areas of strength and weakness, there is a reason why Madrid included a buy-back clause and a reason why Manchester United were interested in signing him before he decided to join the north London club.
Should Reguilon sharpen up on his defensive duties, he could well possess the whole package. He does seem slightly reliant on his pace but we have seen the benefits of that before in players like Kyle Walker, who gives himself more room and space going forward and can successfully track back and cover for himself.
One thing is for certain, Reguilon is an exciting player. You never really know where he is going to go and what the result is going to be when he is on the ball.
From the perspective of a Spurs fan, we can hope that as he matures and becomes used to the English game, his patience and decision-making also develop.
Should this be the case, then there is a real bright future for the young Spaniard. Next season will be his second in England, and he will come into it more determined than ever, with a willingness to prove himself after missing out on Spain's Euro 2020 squad.
Let's hope that he does his talking on the pitch, and propels Spurs to success in 2022.