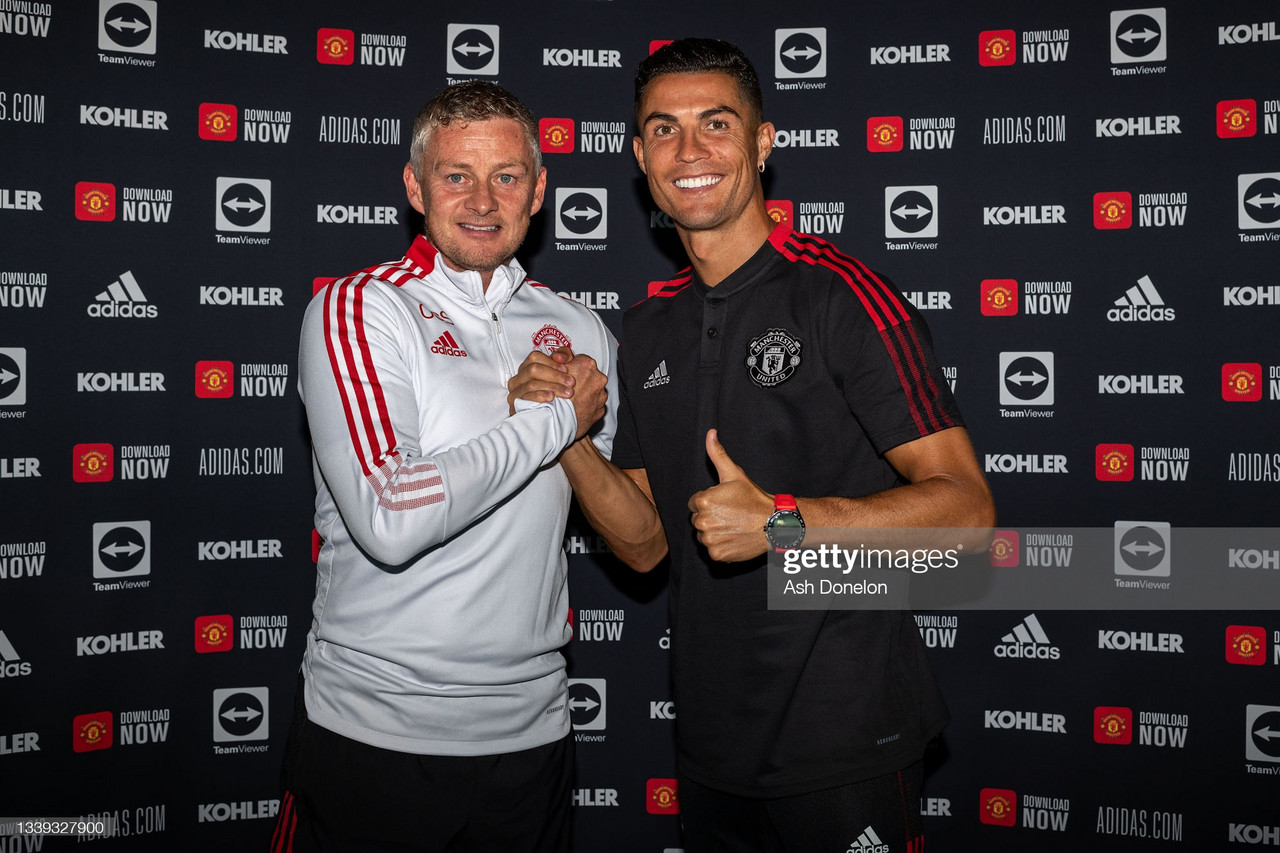 With a Premier League clash with Newcastle United on the horizon, Manchester United manager Ole Gunnar Solskjaer hinted that new arrival Cristiano Ronaldo will play some involvement in their first fixture since the first international break of the campaign.
United will be without Fred after the issues surrounding the recent clash between Brazil and Argentina, with a new pivot in midfield likely to feature - potentially the first appearance of the season for Donny van de Beek.
However, the clash will be surrounded by the return of United's cult hero, whose brief flirtation with cross-town rivals Manchester City has likely been long forgotten.
Back in the camp and training like a professional
The Norwegian was certainly ecstatic to have Ronaldo back in training this week, with mood high in the United camp in preparation to take on the Magpies this weekend.
"He's been good. Of course, we've followed his career from afar since he left here and everyone's very happy to have him back.
"He can speak for himself, but it seems like he's happy to be back as well. The mood has been very good, he's worked well and we're looking forward to Saturday of course."
Ronaldo's work ethic is a part of the psyche that has defined his career, and Solskjaer has assured supporters that there has been no respite for the Portugal international since his return.
"Cristiano coming back in, just the way he's conducted himself this week, he's come in and we know what he's achieved in his career, but he's come in here to achieve more, and he's come in here to put demands [on himself]; that's what he does.
"He's lived his life with the discipline of a top, top professional. Ever since he came here, I remember, he was the first one who did the prep really well.
"Every day, 45 minutes before the training session, you started looking at this kid doing this before training, and he'll have the same effect with these players."
How Solskjaer plans to fit Ronaldo into United's system
After a break in which he broke the men's international scoring record, surpassing Iran's Ali Daei, there have been doubts of how he could fit into United's system. But Solskjaer is confident there will be a place for Ronaldo.
"Of course Cristiano is a different player to the one who left but he's in such good nick still, he'll be looking at the next few years to play as much as he can, score as much as he can.
"He's a threat from direct set plays himself but also to be on the end of crosses. He's adding something extra that we haven't got. His skillsets in the team, the mix of his skillsets, well, no one has [those] really, because he's one of the best players that has ever played the game."
And with Solskjaer becoming the manager of the club since Ronaldo was at the club in his first spell, there may have created an interesting dynamic – but the manager insists there will be no issues with between the two former teammates.
"Well, that's fine, we've got mutual respect for each other, you can't have respect for what he's achieved but he knows I have got to make the decisions when to play him, when not to.
"Any player wants to play as much as possible but it's my job to manage him and get the best out of him. I want to see the best out of Cristiano, of course.
"That comes with communication with him because we have played together, as you said, we spent a few years together at the club and we know each other, so that's no issue."
With some questions over whether Ronaldo will be a similar player to his first spell at the club still lingering, the manager was quick to suggest that this will be the same Ronaldo with a different attitude towards the game.
"I don't think you're going to see 18, 19, 20 stepovers before he goes past you but he still has that stepover, shift and shoot.
"He's developed into one of the most accurate finishers that I've seen. I did see part of that when he was here, of course, and he developed, but what he's developed in these years at Real Madrid impresses us all.
" He's one of the best in the air, his timing, desire to get on the end of crosses is second to none."