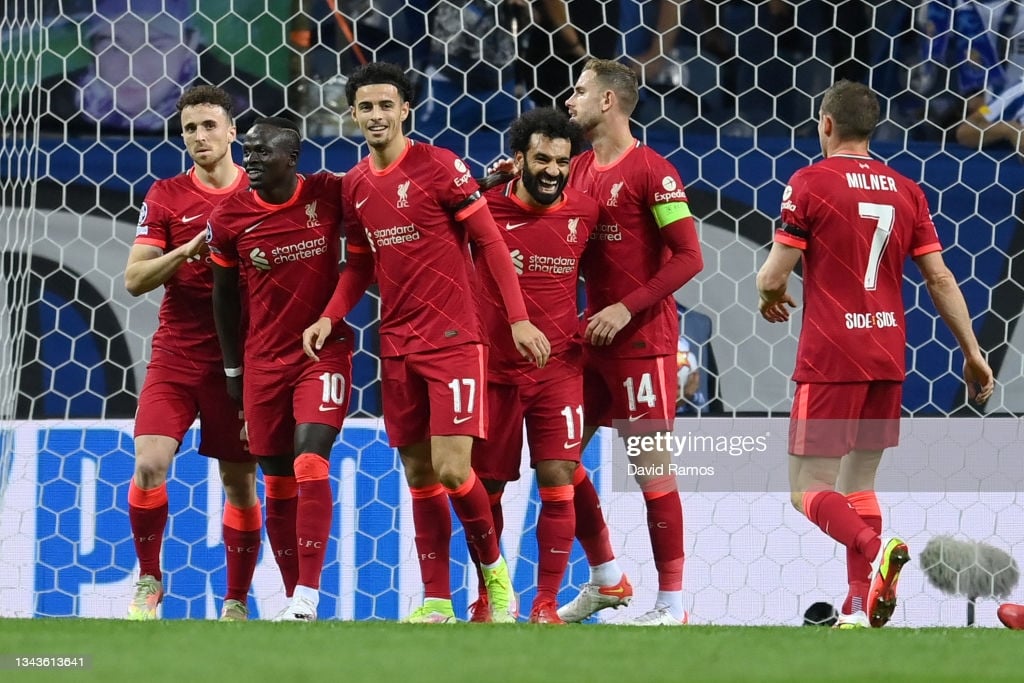 It was an extremely impressive win from Liverpool, who beat Porto 5-1 to further their lead at the top of group B. From start to finish, the Reds controlled the game and did not have to get out of first gear to comfortably beat the Portuguese side.
Their first half performance was not particularly amazing, but were gifted two easy goals.
Mohamed Salah opened the scoring in the 18th minute. Porto's 'keeper, Diogo Costa pushed Curtis Jones' shot into one of his defenders, before it fell to Salah to tap it in. As with most of the goals conceded, Costa should have dealt with the danger better; it was a night to forget for the 22-year-old.
Sadio Mane doubled Liverpool's lead in the 45th minute. An inviting cross from makeshift right back, James Milner was not dealt with by the Porto defenders or goalkeeper and it fell it Mane for a tap-in.
In the first half, despite controlling the game, Liverpool did not look as sharp as they have done in previous games this season. On a number of occasions, Liverpool players overhit long passes and miscontrolled the ball giving away cheap possession.
It was a much better second half performance, with the Reds upping their intensity and looking increasingly threatening with every attack.
Salah scored his second of the night in the 60th minute, finishing off a lovely move. After this substitute, Roberto Firmino scored two to round off the night.
Despite a strong performance from Liverpool, it has to be said that Porto were very poor on the night. They could not deal with Jurgen Klopp's side all night and offered very little in attack.
Curtis Jones won the Man of the Match award last night and was by far Liverpool's best player. He was involved in four of Liverpool's five goals, getting two assists in the game. Jones was dangerous on the ball, constantly picking out his man and producing moments of quality.
This was his best game in a Liverpool shirt and looks a level above what he was last season. It is staggering to think that he is still only 20-years-old.
In the first half, he mainly played the 8 role on the left side of midfield and did a tremendous job in winning the ball back and driving Liverpool up the pitch. It was interesting to see him play this position as it would normally be Jordan Henderson who would. Instead, the captain played the 10 role on the right side on midfield.
Klopp has certainly tweaked his tactics with the midfield for this season, making them more attacking. Harvey Elliott's starts early in the season was a clear indication that he wants more attacking threat from his midfield.
With Jones in the team, Klopp has great versatility to do this. Later in the game, Jones played the 10 role and was just as impressive in that position. This is more of his natural position and he executed it to perfection.
With performances in his last three games, he should expect to continue to play more for Liverpool and could also be considered an upgrade from Georginio Wijnaldum, who was an integral part of the midfield last season.
Jones has an air of confidence about him, he does not panic on the ball and backs his ability.
After this exceptional performance, Jones must be starting against Manchester City at the weekend.
Mr. Reliable impressive again
Another player who had a strong performance was James Milner. He filled in at right back again in place of the injured Trent Alexander-Arnold.
He did a great job in winning his individual battles and was good positionally. Klopp could have very easily played Joe Gomez and Kostas Tsimikas at right back, but instead was confident that Milner could fill in.
Having already played well at right back against Crystal Palace, it was not too much of a surprise to see him repeat this.
Milner was taken off in the 66th minute for Gomez, meaning that he is likely to start at right back against City. This will be a bigger test for him, but we should be confident that he can do well in that game as well.
Liverpool's focus will now turn to the weekend where they face City. It will be the biggest game of the season so far, a win would put a four point cushion between the Reds and the champions.