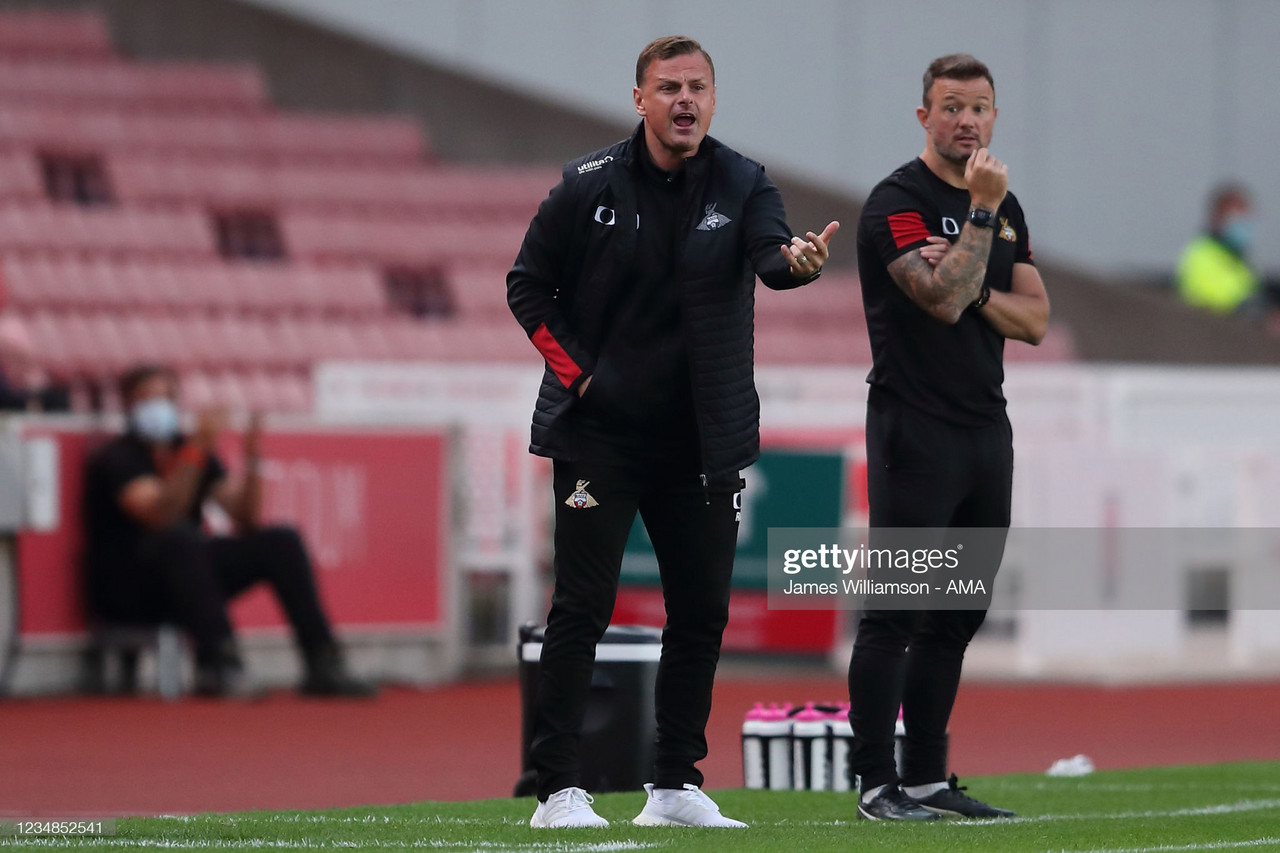 Doncaster Rovers manager Richie Wellens was upbeat about his team's performance following their 0-0 draw against Lincoln City.
The result means Rovers remain in 23rd in Sky Bet League One and are now four points adrift of safety.
Following the match, Wellens addressed the media about the game and the fitness of some of the Rovers players.
"When we got [the ball] and we got our organisation back we got it into the areas we wanted to threaten. It was a really good performance. There was one little negative where we could've got the ball forwards quicker and we could've made the goalkeeper work."
Wellens was asked whether his side would have lost the game if it had been played a couple of months ago, to which he responded that his team would have conceded when they found themselves under pressure just before half time.
The Doncaster manager was pleased that his side dug in to weather the storm in the last ten minutes of the half, something that they had struggled to do earlier on in the season.
On the decision not to send Adam Jackson off
There was a controversial moment in the game shortly after half time when Adam Jackson's high and late challenge on Jon Taylor was only shown a yellow card by referee Robert Lewis.
Rovers fans appealed for Jackson to be dismissed and there was clear discontent amongst the crowd and the bench to only brandish a yellow card and Wellens echoed the disappointment of the fans.
"I think it's a red card. You don't intentionally go studs high just above the knee," he said.
"I thought it was a reckless challenge and I thought it endangered Jon Taylor and therefore I thought it should have been a red card. If you see that in the Premier League it's a red card."
On his side's injury crisis
"We've got ten players missing today who would easily play in our first eleven. We need to first of all stop the injuries and then when we get the injuries work out how we can get them players back in the timescale that they're supposed to be [out injured for].
"It's absolutely scary the amount of injuries that we're getting. If you get four injuries then it's a massive issue, but when you've got ten, it's tough."
With a bench that had an average age of just 18, Wellens lamented the fact that he had no established options to turn to as the injury problems worsen for Doncaster.
John Bostock was forced off injured in the game as well, which Wellens confirmed was because the midfielder jarred his ankle. The severity of his injury remains unknown so far.
On when players could return to the side
Pontus Dahlberg and Ben Close look the most likely to be back for when Rovers face Bolton Wanderers on Tuesday night.
Dahlberg missed out in goal against Lincoln through illness and Close has been out for three weeks with a hamstring problem and was nearly fit to face The Imps.
"We worked on a gameplan [including Close] because Ben Close was close [to being fit for the game], but then he had to drop out.
"Pontus [Dahlberg] we expect to be feeling well. Ben Close will be having an injection on Monday so he will definitely be fit on Saturday but he's 50/50 at the moment [for Tuesday]."
On Lewis Jones' performance
Stand-in goalkeeper Lewis Jones kept a clean sheet for Rovers as he replaced Dahlberg between the sticks for the hosts.
Wellens, who has been at the helm at Rovers since May, was pleased with his keeper's application in training and said that his chance to get minutes in the first team was deserved.
Jones made a terrific stop to deny Lasse Sorenson giving The Imps the lead with a diving header just before the break, a save which particularly impressed his manager.
"Lewis has trained exceptionally well this past week. He's earned his opportunity to play and he pulled off one good save from their counterattack," he said.
"I thought his distribution and decision making was good. Today [Jones] played and he spread the confidence throughout the team and he's still got a lot to improve on, he still has a lot of growth and development to come."