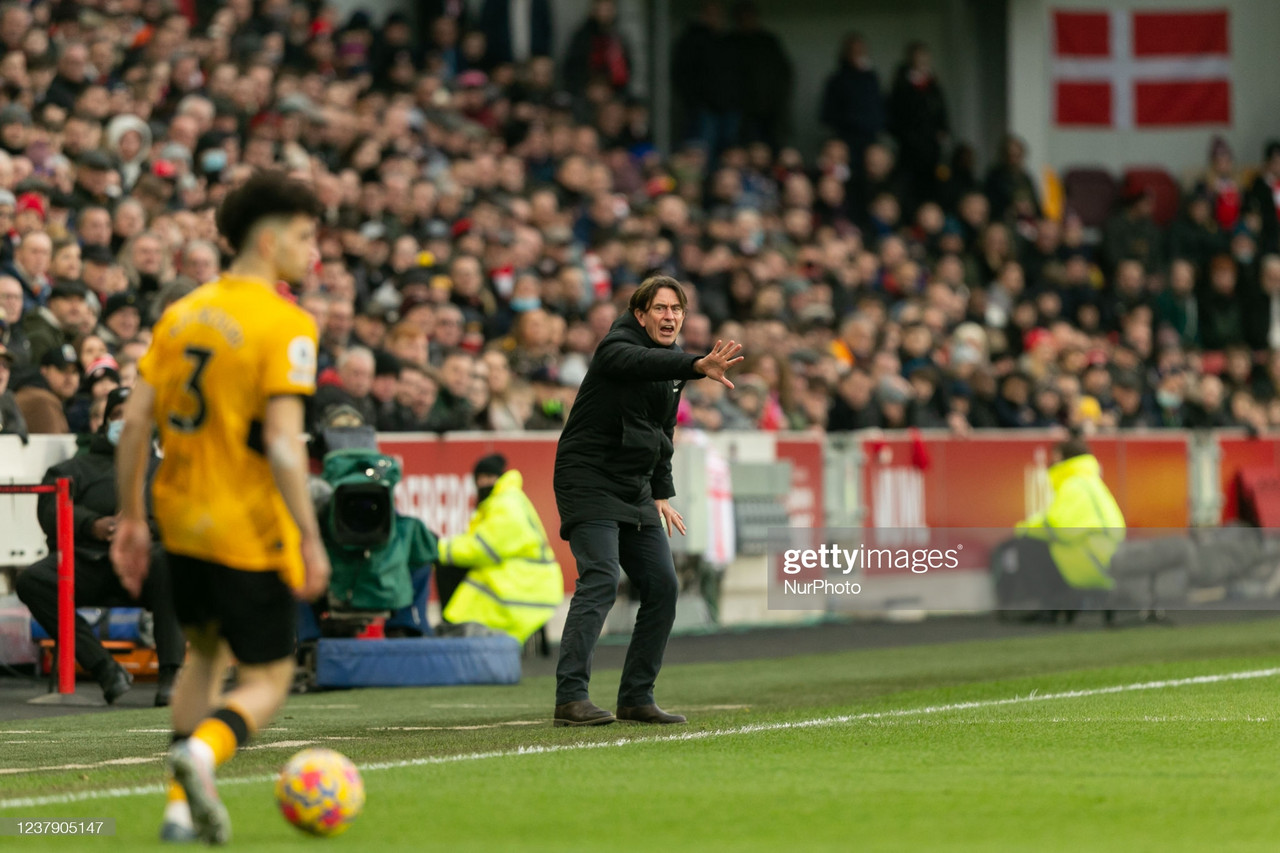 A remarkable day, for various reasons, at the Brentford Community Stadium also produced an intriguing game of football as Wolverhampton Wanderers edged out Brentford in the Premier League.
The match had over 25 minutes worth of stoppages in the first-half alone due to a nasty clash of heads between Bees duo Rico Henry and Mathias Jensen, before a drone was spotted hovering above the ground which resulted in the players being withdrawn from the field as per the division's regulations.
If the first-half was hectic off the pitch but fairly uneventful on it, the second would prove the opposite. Joao Moutinho opened the scoring and set up Ruben Neves for the winner soon after Ivan Toney's equaliser, the Portuguese midfielder inspiring Wolves to victory as they consigned their hosts to a fourth consecutive league defeat.
Brentford head coach Thomas Frank addressed the media after the match — these were his most noteworthy quotes.
On fine margins
This was a tight match in which neither side gave up all to much in the way of clear-cut goalscoring opportunities, with all three strikes ultimately resulting from moments of quality from Moutinho, Toney and then Neves.
But, on balance, Brentford's head coach felt they were the better team, as they mustered 11 shots to the seven of Wolves and, for the most part, had a good grip on the nature of proceedings — he was dejected as he believed the final result didn't do justice to how the Bees had performed.
"If there should have been a winner today I think it should have been us; at least we should have had a draw," asserted Frank. "We gave away two goals that weren't really proper chances, I would say. With Moutinho, that was a quality finish, then the second one we need to do better and Jonas in goal needs to do better as well."
On stoppages
The main talking points from the afternoon probably stemmed not from what went on during the match, but from what momentarily prevented it from carrying on, with two major stoppages in the first-half alone.
First, a coming together in the air between Jensen and Henry caused audible gasps around the ground as the Brentford physios rushed onto the pitch to their attention — thankfully, as Frank revealed, both are well following the incident.
"It was horrible — I saw with that ball they were both running for and I thought 'oh my god, this is bad.' The goods news is that they're both good, Mathias has been cleared of concussion and Rico needs to see over the next days."
Then, the sighting of a drone floating ominously just above the ground caused the game to halt for a further 20 minutes. It was an unwelcome disruption, and Frank hopes that the culprit will be found and penalised.
"I guess if they find the person, he or she will get fined because they're disrupting a match."
On his sending off
As if such an afternoon couldn't get any more bizarre, Frank was then sent off after the final whistle as things heated up between the two contingents. The reason for his dismissal was not immediately clear from the stands, but the head coach shed light on referee Peter Bankes' decision in his press conference.
"I was relatively calm going in there and there was a situation that triggered it," he said. "I got a yellow card after a confrontation with a Wolves player, and then I turned to Peter and said 'you can give me the second one as well.' Apparently I was too aggressive. He said he would look back on it.
"I've always said I want the players to control their emotions so I admit it's disappointing I couldn't control mine better."
On contract negotiations
On the morning of matchday, news broke from The Athletic that Frank is reportedly set to sign a new contract at the Brentford Community Stadium, wedding him to the club until 2025.
The head coach was keen to emphasise that nothing has been finalised as of yet, but confirmed that talks are ongoing and that there is a mutual desire to continue the partnership.
"The club and I are speaking and both parties are pleased, so hopefully we can finalise soon and announce it but it's definitely going in the right direction."
On the winter break
Brentford now have a two-week lay-off from competitive assignments before they return to action in the FA Cup at Everton on 5 February, in what perhaps will be welcome reprise for Frank and his players after a hectic festive period made all the more difficult by covid outbreaks and fitness concerns.
Sure enough, Frank is pleased to have the break to look forward to now, and believes it is a crucial part of the season which benefits the league as a whole by giving players and coaches the opportunity to recharge and return in better form for supporters to enjoy.
"I believe that no matter what, if you have four wins or four losses, a break is a good thing and it comes at a good time. A mental break for everyone is good and I think it's good for the football as well, it might produce better games for the whole competition."