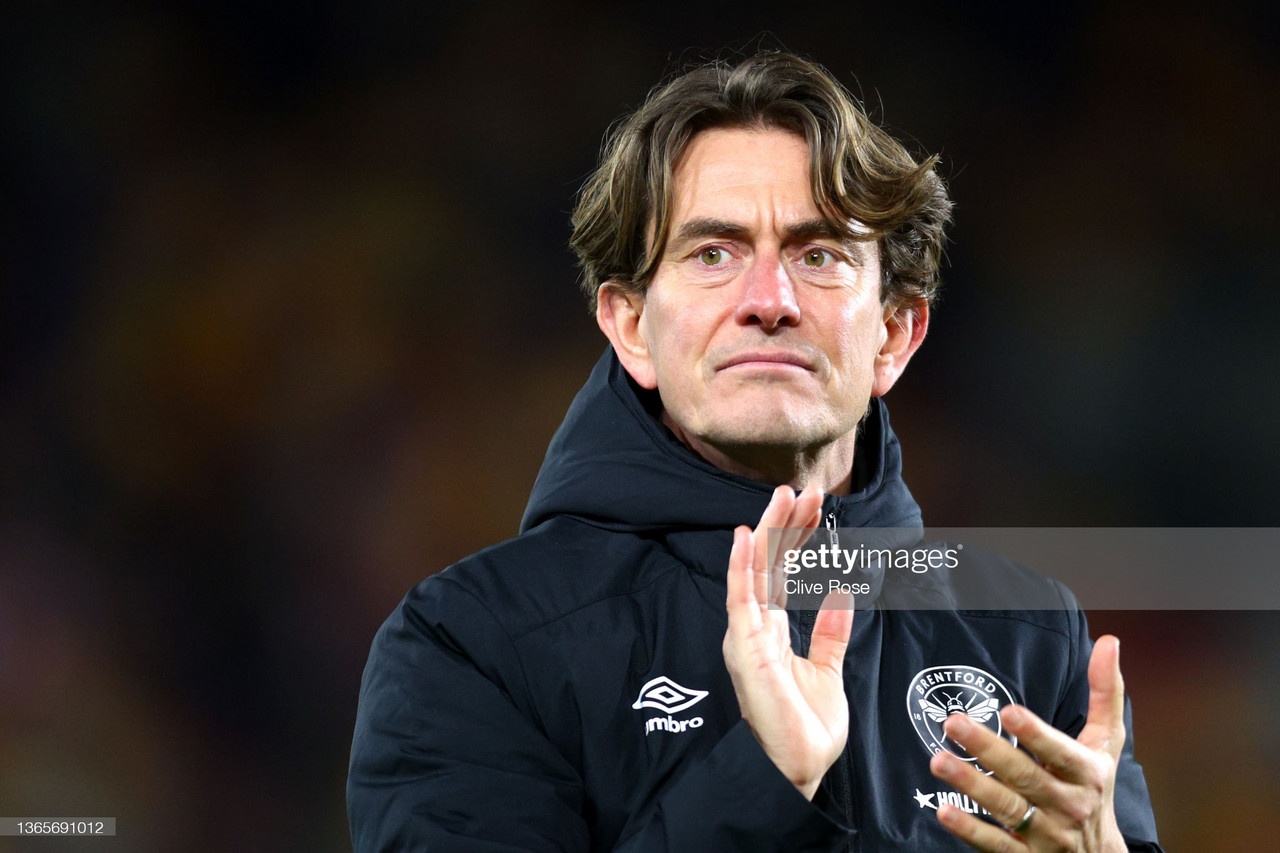 Premier League newcomers Brentford might have had their tails up on Wednesday as another night game against one of the divisions's big guns rolled around, however they were unable to overcome Manchester United on this occasion.
The Bees should have been ahead at half-time having worked a handful of gilt-edged chances to score, but through a combination of fortune and reliance on David de Gea the visitors remained level until goals from Anthony Elanga, Mason Greenwood and Marcus Rashford gave them victory despite a late consolation for Ivan Toney.
Brentford head coach Thomas Frank addressed the media after the match — these were his most noteworthy quotes.
On Brentford's display
A mere 74 years away from England's top-flight hasn't proved enough to faze Brentford when coming up against some of the league's very greatest teams, and this was another spirited performance of the kind seen previously against Arsenal, Liverpool and Chelsea at the Brentford Community Stadium.
Even if the result didn't go their way, Frank was pleased with his side's display and was surprised they weren't able to collect their just rewards.
"If you look at the overall performance I thought there could only be one winner and that was us," he asserted. "The most they deserved was a draw. We destroyed them in the first-half which was very impressive. We played the Brentford way: aggressive, front-footed; it's a miracle they weren't behind at half-time."
On profligacy
Truth be told, this game was there for the taking as far as the Bees were concerned, particularly with United registering a distinctly mediocre performance in the first-half which was when most of Brentford's most clear-cut chances fell.
Mathias Jensen was unleashed through on goal twice at the end of effective counter-attacking moves but de Gea proved one obstacle too many, while Christian Norgaard and Mads Bech Sorensen both went close from set-piece scenarios.
Had those opportunities been capitalised upon, this match might have turned out a whole lot differently for Brentford — but Frank insisted that their ability to carve out those chances in the first place would stand them in good stead.
"I'll give them one-on-one practice with the keeper this week," the head coach joked. "We'll keep working on it, keep working hard on taking those chances, but the most important thing is that if we keep creating like this then we will score more."
On a slump in form
Brentford have now lost five out of their last six Premier League matches and, while three of those have been against the traditional 'top six', it's perhaps a concerning run which is seeing the Bees edge slowly downwards in the standings after a decent run between late November and early December.
Not for Frank, though, who believes there is no cause for concern given that his side's performances have generally remained at a high level and that morale among the group, according to him, remains high.
"These defeats are just snapshots, I don't think the players are affected. Today, especially the first 45 minutes we were unbelievable, and if we play like that for the rest of the season we'll be fine. There is no concern at the margin of defeat for me either."
On looking ahead
Refusing to be disheartened, and with another home assignment to look forward too soon with Wolverhampton Wanderers visiting on Saturday, the head coach stressed that he and his side will endeavour to do better in the next match and reinstated his pride at how Brentford have fared thus far in their maiden Premier League campaign.
"We need to take things game-by-game, that's the only way to do it," said Frank. "I think we should have won today if you look at the whole game and the chances, but it is what it is and we'll learn from it and go again on Saturday. I'm very proud of the performance and of the team and I hope every Brentford fan is as well."