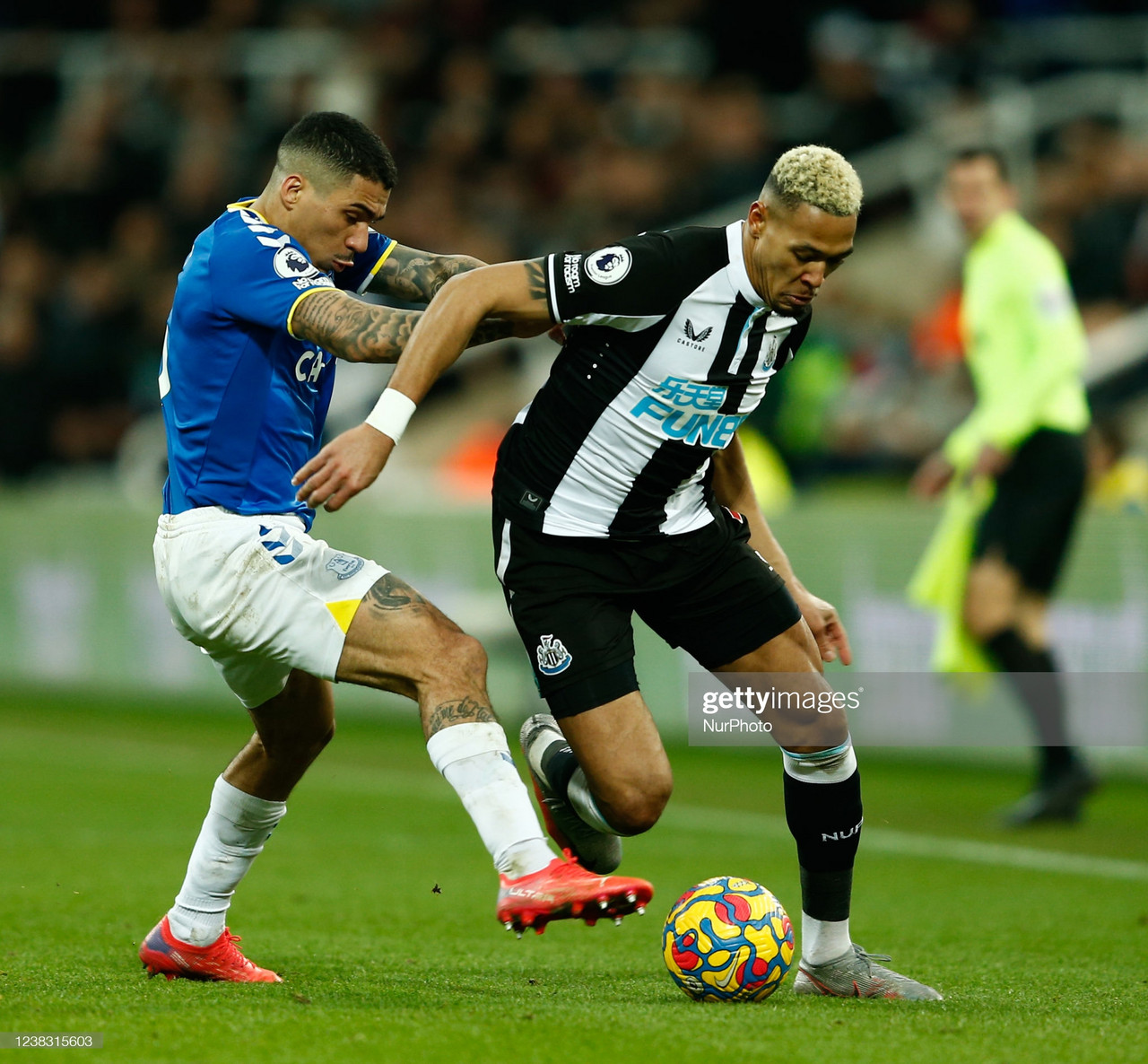 Newcastle United move out of the relegation zone for the first time this season thanks to a huge win over Everton.
Goals from Ryan Fraser, Kieran Trippier and an own goal from Mason Holgate were enough to see off The Toffees.
Positive pressing
Under old manager Steve Bruce, Newcastle were a team who liked to sit back in a low block and allowed to opposition to have the ball.
Whereas now under Eddie Howe and especially in more recent games Newcastle now look to proactively press from the front.
This was well demonstrated tonight with the two more advanced players of the midfield three, Joelinton and Joe Willock, were very advanced and often committed very high up the pitch.
This is a bold strategy not only because if a team manages to get round this press then it may lead to them being very exposed at the back, but also that the Newcastle players have never really been asked to press before. This can lead to mistakes and not understanding where they should be in the system.
However, Newcastle's players executed this plan perfectly, often winning the ball higher up the pitch. Mainly when Everton looked to build from the back from their centre backs to their midfield.
Fantastic full-backs
Apart from the brilliance of Allan Saint-Maximin, Newcastle's best players were their full-backs.
It was Matt Targett's first start in a Newcastle shirt since his loan move from Aston Villa. And he showed his class in the game last night.
On the ball he was very assured and looked to get forward often and link up with Saint-Maximin. While sometimes they did not appear to be singing from the same hymn sheet with some of Targetts passes not matching the runs Saint-Maximin was making.
This is something that will improve as they get more game time together and their partnership grows. But so far there is very positive signs.
England international Kieran Trippier also had a very good game last night.
While it is easy to point out his incredible freekick for Newcastle's third goal, he also had an amazing game.
Newcastle's player of the month for January, Trippier has had a huge impact on the team since joining from Athletico Madrid this January.
He again showed his class tonight. Bombing forward and being able to use his wand of a right foot to create great chances for the Newcastle attackers.
He created four chances and put in 10 crosses, both the most in the game. This shows the importance to the team .
Full-backs have been a problem for The Magpies over recent years however it appears that they have finally solved their full-back nightmare.
New signings making the difference
Both Newcastle and Everton splashed the cash in January. With Newcastle, under their new ownership, becoming the highest spending team this January.
And it was Newcastle's new signings making the difference tonight. with both new full-backs playing very well.
It was also the hotly anticipated debut for big money signing Bruno Guimaraes. While he only played 6 minutes, he clearly showed what he would bring to the team.
His first few touches in a Newcastle shirt was to play a smart through ball to Saint-Maximin which nearly lead to a goal.
In the final stages of the game, he also played a smart backheel through two Everton defenders. So although he didn't get much game time. He has already shown what a great asset he may become for the club.
By contrast, Everton's new signings did not impress. Dele Alli came off the bench to make his Everton debut in the first half after the inform Demarai Grey was forced off due to injury.
Dele struggled to get into the game and did very little to help the Everton attack or create any chances. He was very wasteful on the ball giving it away a lot. most notably he was gave the ball away in what turned out to be the build up for Newcastle's second goal.
Manchester United loanee Donny van de Beek also made his debut tonight. While he seemed to have a better time then Alli, he never really changed the game when he came on.
Now this may be down to him not having played much football this season at Manchester United where he spends a lot of time on the bench. While he put in an ok performance he did not show that creative spark that Evertonians hoped he would bring.