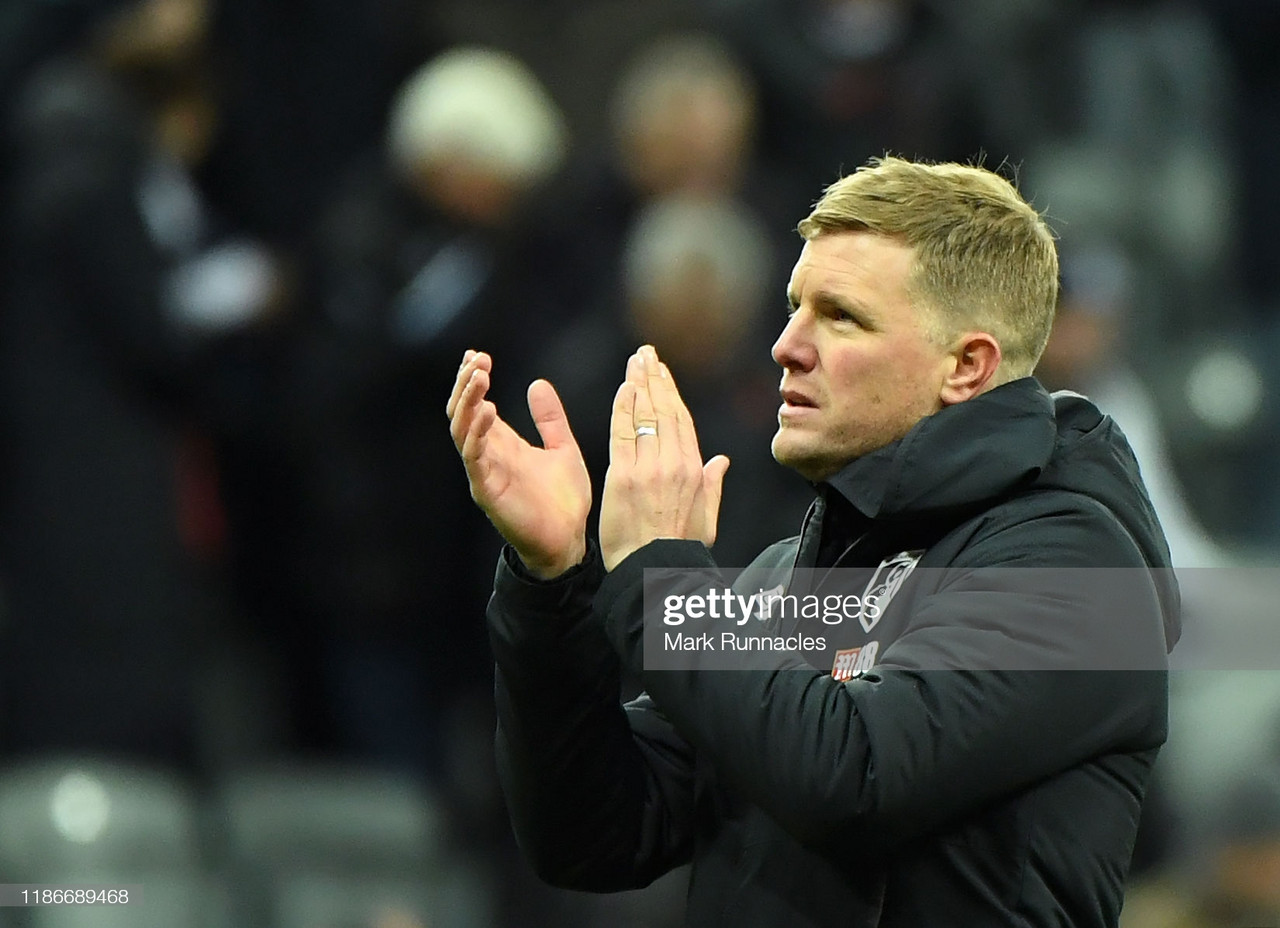 Eddie Howe has been officially appointed as Newcastle United's new head coach on a two-and-a-half-year deal.
The 43-year-old becomes Steve Bruce's successor and the first managerial appointment of the Saudi Arabian-led regime.
Howe is set joined on Tyneside by coaches Jason Tindall, Stephen Perches and Simon Weatherstone as well as current interim boss Graeme Jones, who will remain at the club to join the new-look backroom team.
The former Bournemouth manager has been out of a job since The Cherries were relegated from the Premier League in 2019 – and it was thought that stint of inactivity was going to continue when it was revealed that Villarreal boss Unai Emery was in pole position to take over early last week.
However, in a dramatic turn of events, Emery reportedly rejected the job after a last-minute change of heart, leaving Amanda Staveley and her consortium to switch their attention towards Howe.
Howe now has a mammoth task ahead of him to keep Newcastle in the Premier League, with The Toon currently 19th in the table and five points from safety.
His first game in charge of his new club will be against newly-promoted Brentford at St James' Park, a game that is a must win for the league's only remaining winless side.
Howe: 'This is a wonderful opportunity'
Once the deal was done, Eddie Howe said: "It is a great honour to become head coach of a club with the stature and history of Newcastle United. It is a very proud day for me and my family.
"This is a wonderful opportunity, but there is also a lot of work ahead of us and I am eager to get onto the training ground to start working with the players.
"I would like to thank the club's owners for this opportunity and thank the club's supporters for the incredible welcome they have already given me. I am very excited to begin our journey together."
Staveley: 'He is a great fit for what we are trying to build here'
Following Howe's appointment, Amanda Staveley said: "We have been incredibly impressed by Eddie through what has been a rigorous recruitment process.
"As well as his obvious achievements with AFC Bournemouth, where he had a transformational impact, he is a passionate and dynamic coach who has clear ideas about taking this team and club forward.
"He is a great fit for what we are trying to build here. We are delighted to welcome Eddie and his staff to St. James' Park and very much look forward to working together towards our collective ambitions."
A big opportunity, but the stakes are high
It is almost poetic that Howe is the man who replaces Bruce, the individual who described his successor in a press conference in January as "the fella from Bournemouth who got a team relegated".
Now, it is time for Howe to get Newcastle out of the mess that Bruce put them in: 11 games, zero wins, five points. The worst start to a Premier League season in the club's history.
Despite it being portrayed that Toon supporters wanted and expected an Antonio Conte-esque manager to walk through the doors at St James' Park after Bruce left and the club was finally taken over, Howe has been received overwhelmingly by the fanbase, with many excited at what is to come from his time in charge.
According to The Athletic, Howe impressed a lot in his interview – reportedly more than Emery – last Sunday, where he offered details and specifics about what he could do to lift the team out of the relegation zone in particular.
Howe already has a relegation on his record, and will be desperate to avoid adding a second to it this season, but he has an almighty task ahead of him.
Newcastle's next four games – Brentford, Arsenal, Norwich City and Burnley – offer Howe a great chance to hit the ground running on Tyneside.
And if he succeeds in beating the drop, it could be the start of something very special in the North East for him.