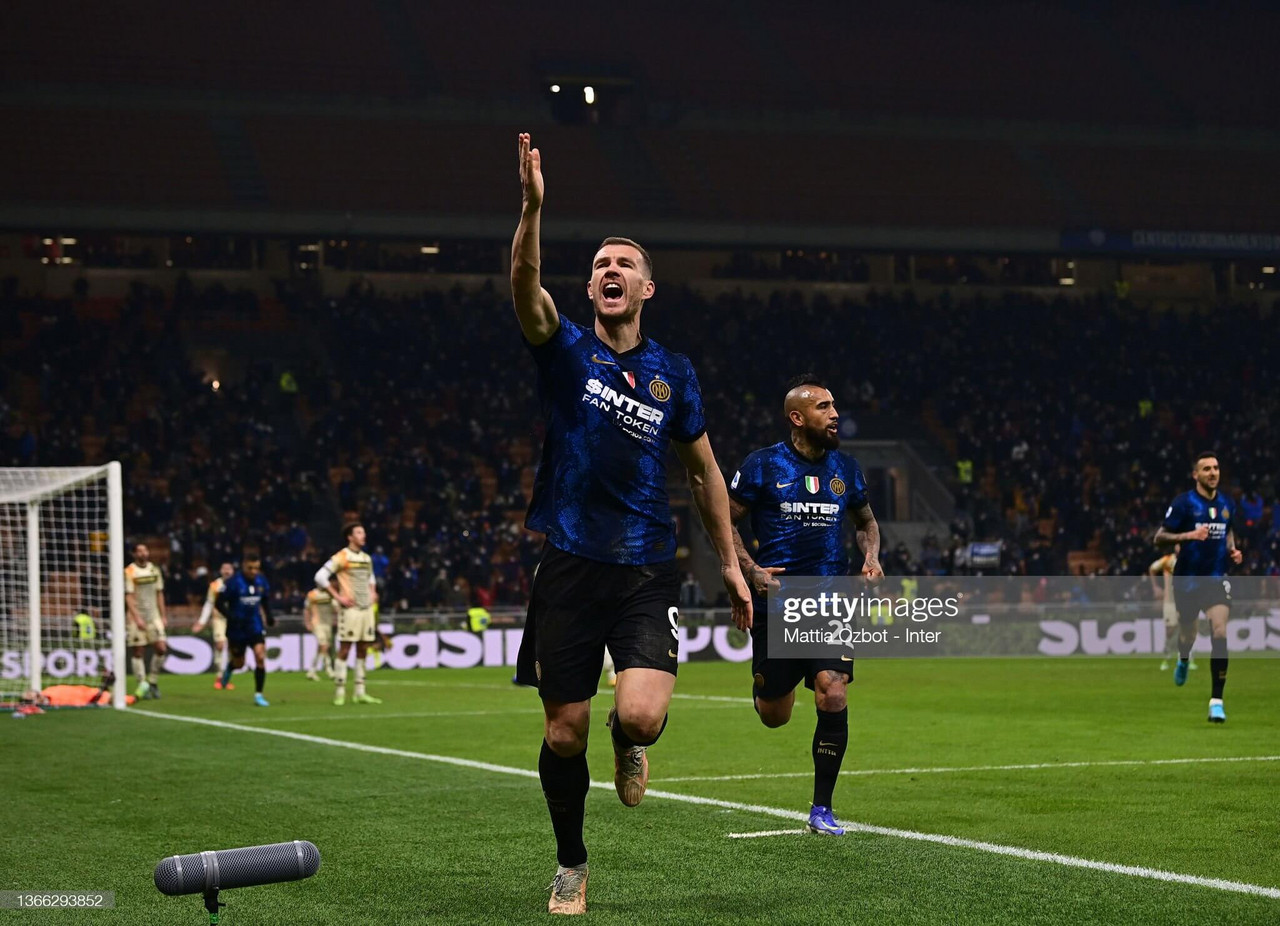 According to the front page of La Gazzetta dello Sport on Sunday, there was no argument as to who was responsible for Inter Milan securing a vital draw with Serie A title rivals Napoli. For those who read through the Italian sports newspaper's match report as they sipped their espressos, it was clear that Edin Dzeko's equaliser was both deserved and crucial in maintaining Inter as favourites for this season's Scudetto.
'Edin the handyman turns on the light' was the headline while another sports daily, Corriere dello Sport, called him 'a cyclone' and Corriere della Sera pointed out his leadership skills, saying that "he believes, when others see only desperation, and that's how leaders do it." There is no question that the 36-year-old striker is proving to be one of the more important summer signings.
Italy is currently home to one of the closest title races in Europe, which has been a rare occurrence in recent years as Juventus have processioned to nine of the past 10 league titles. Dzeko's 10 goals, combined with the 11 scored by strike-partner Lautaro Martinez, are helping Inter stake a creditable title defence. They sit second, a point behind AC Milan and one ahead of Napoli, but crucially with a game in hand.
There were three changes of league leader this weekend alone, and there will be more nip and tuck as the final months of the campaign play out. But Inter's focus swiftly turns to the Champions League this week with the first leg of their last-16 tie seeing Liverpool travel to Milan on Wednesday evening. The examination of Inter will be thorough.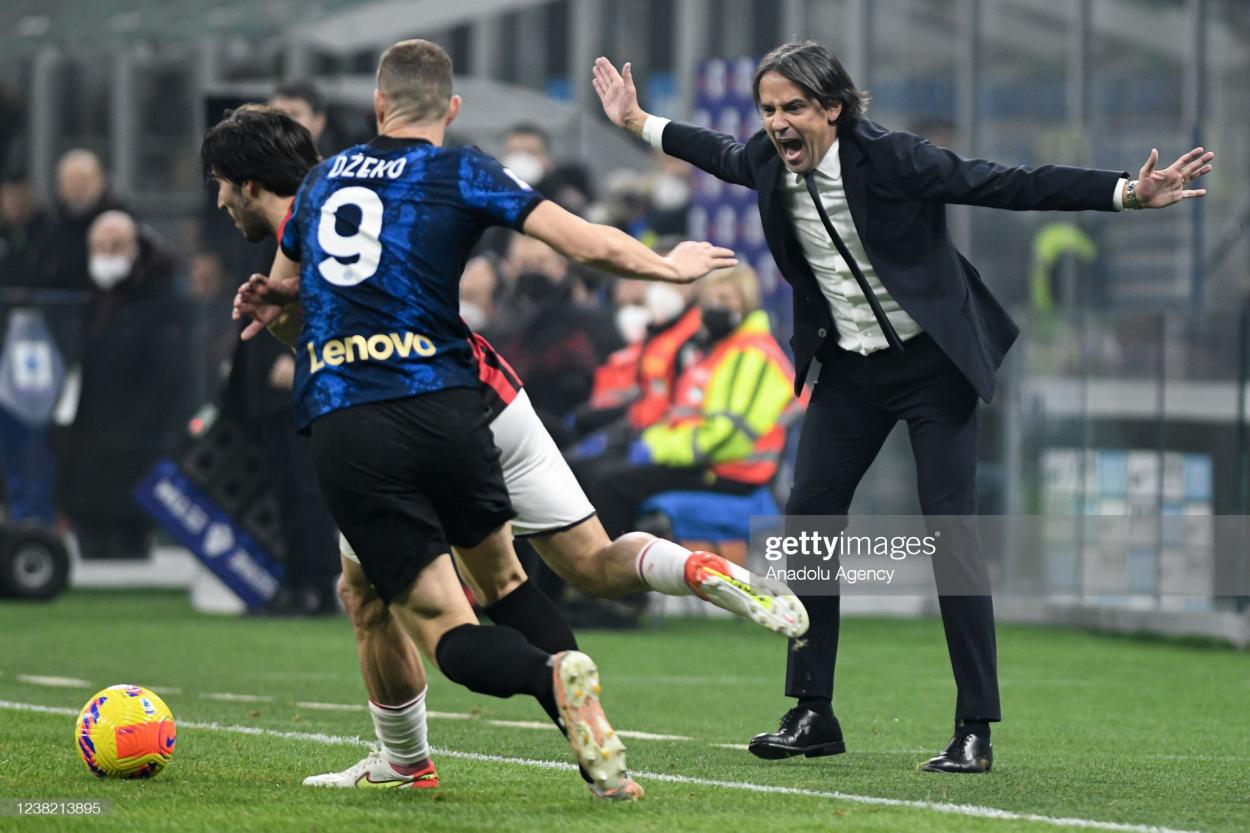 Much has changed since Inter lifted the Serie A trophy last May. Manager Antonio Conte left and has since joined Tottenham Hotspur, Romelu Lukaku moved back to Chelsea and Christian Eriksen is back in the Premier League with Brentford. Given the loss of such key individuals in their title success, many prescribed Inter as a side in need of time to rebuild.
However, the revolution under Simone Inzaghi has been swift — all of a few months — and Inter have barely broke stride since claiming their 19th league title. Inzaghi, who was poached from Lazio after an impressive spell with the capital club, has already achieved something which no Inter head coach has managed in more than a decade which is to progress the team into the Champions League knockout stages.
Once again, Dzeko played his part in securing Inter's pathway by being involved in four of their eight groupstage goals. The Bosnia international arrived from Roma in the summer as a bargain replacement for Lukaku. But the veteran striker, who was already acclimatised to Serie A, has continuously eked out points for Inter.
There are signs of a growing partnership between the former Manchester City forward and Martinez. It was Martinez's cross that Dzeko converted against Napoli on Saturday to take his goalscoring tally to 14 in all competitions. Just as Premier League fans will remember, Dzeko's performances still feature a combination of muscular jostling, sharp runs, bundles of hard work and a poacher's touch.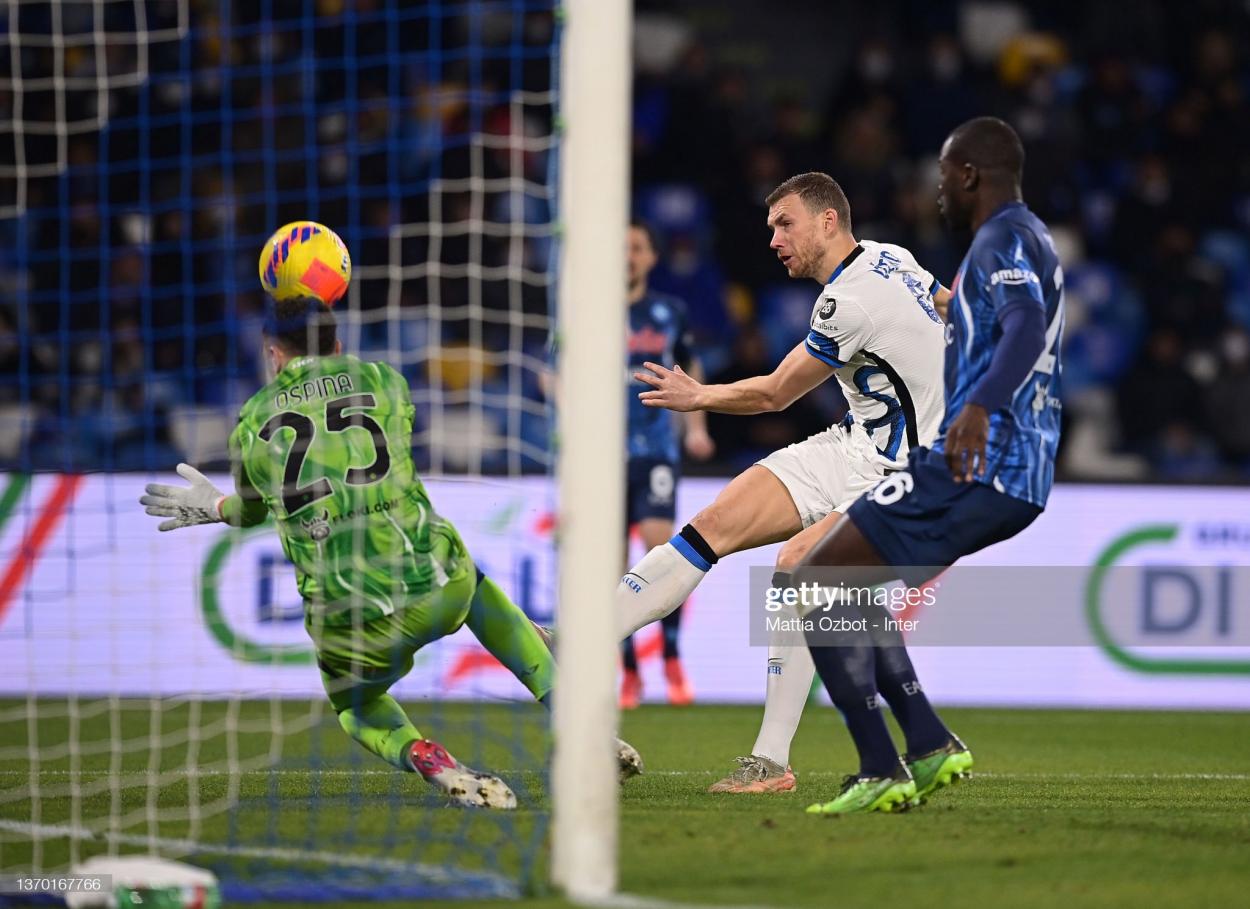 Trying to fill the gap left by Lukaku, who was Inter's leading goalscorer and assist-maker last term, was never going to be easy, and the understanding that the Belgian had with Martinez was what made Inter so deadly in the final third. However, there are signs that Inzaghi has a strike-force which will take Inter into the final straits of the season in a promising position.
Dzeko and Martinez's next test is Liverpool, and trying to get the better of Virgil van Dijk, Joel Matip and Alisson. Jurgen Klopp's team will have to be alert to other supply lines too.
Although influential full back Nicolo Barella is suspended for the first leg, Joaquin Correa is injured and set-piece expert Hakan Calhanoglu needs to shrug off a minor ankle problem, there is still the wing-backs Denzil Dumfries and Ivan Perisic to contend with in Inzaghi's 3-5-2 formation. While Alexis Sanchez could arrive from the bench. But it will be Dzeko who starts and leads the line.
In this Champions League campaign, Liverpool have already come up against AC Milan with Olivier Giroud and an Atletico Madrid team featuring Luis Suarez. Now, in Dzeko, they face another veteran striker who is rolling back the years.