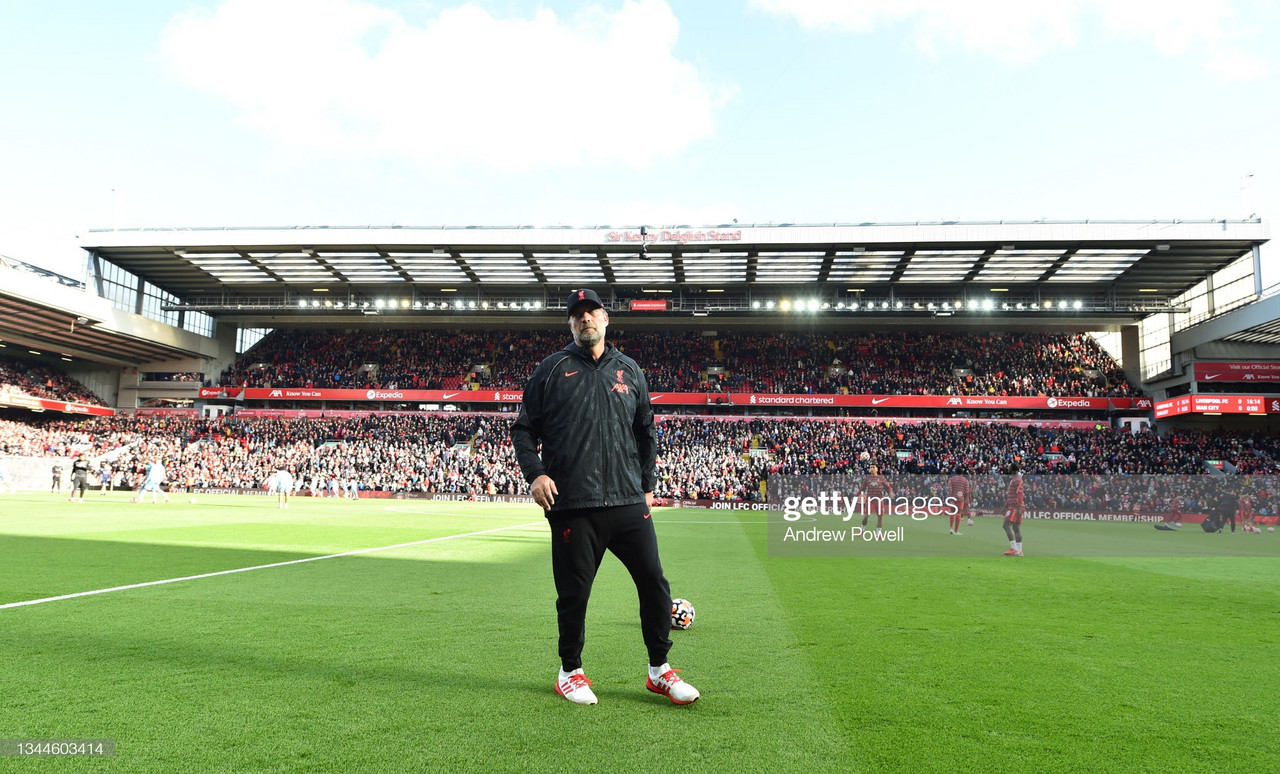 Liverpool and Manchester City shared the points after a 2-2 draw at Anfield.
Sadio Mane's opener was cancelled out by Phil Foden, before Mohamed Salah danced through the City defence to reinstate Liverpool's lead.
Kevin De Bruyne then rescued a point for his side after his shot deflected in.
Speaking to liverpoolfc.com, Jurgen Klopp shared his thoughts on an electric game.
"An exciting game with two obviously completely different halves"
Liverpool's first-half performance was certainly one to forget.
Pep Guardiola's men dominated the first half, limiting Liverpool to just one shot in the first 45 minutes.
Alisson Becker made some crucial saves to ensure the Reds went into halftime with the scoreline even.
Things changed for the better after halftime with Liverpool taking the lead twice in the game.
Klopp said: "Thank God that there were two halves today because the first half was obviously exactly like you shouldn't do it against City and the second half was exactly like you should do it against City.
"Four goals obviously happened in the second half but in the first half I can't remember a chance from us, if I'm right. So I was really happy about the half-time whistle so that we could adjust a few things."
"Actually we didn't change anything"
It was clear to see the difference between both halves, however, Klopp remains adamant that his original game plan just wasn't being executed.
"We just told the boys again what we actually wanted to or should have said already in the first half. Things like this happen against a team like City with the dominance they can put on the pitch.
"When you are then a little bit passive without the ball when they pass through your lines, you never can really get in the challenges."
"People will talk about this goal for a long time"
Klopp's men took the lead with two fantastic goals, which was a not-so-needed reminder of the brilliance of Salah.
For Mane's opener, the Egyptian skipped past Joao Cancelo and slotted his Senegalese teammate through, who finished clinically past Ederson.
For Liverpool's second, Salah had Aymeric Laporte twisting and Bernardo Silva on the floor before firing into the far corner. A phenomenal goal from a truly phenomenal player.
Klopp said: "The first goal is a great, great counter-attack, winning the ball, bam, bam, two passes, Sadio great position, top finish.
"The second goal, only the best players in the world score goals like this. The first touch, the first challenge he wins, then going there, putting it on the right foot and then finishing the situation off like he did, absolutely exceptional.
"Because this club never forgets anything, people will talk about this goal for a long, long time and in 50 or 60 years when they remember this game. It was a really good one."
Trent Alexander-Arnold missed both Tuesday's visit to Porto and Sunday's clash with the Citizens due to a groin injury suffered in training.
James Milner has been his replacement at right-back and put in a strong performance in Portugal, where he registered an assist.
However, the 35-year-old struggled against his former club, particularly against Foden.
Milner was booked in the first half for tactically dragging down Foden who was driving towards the box.
Milner was also close to giving away a penalty for a challenge on Foden, however, VAR controversially didn't see it as a foul.
In the second half, Silva caught Milner's trailing leg as he was about to dribble away, controversially again, not receiving a second yellow card, which provoked an animated Pep who couldn't believe the decision.
Klopp said: "I didn't see it – [I was] too far away from that situation, but I obviously saw the reaction from the City bench. We had planned anyway to take Millie off because of the yellow card from the first half."