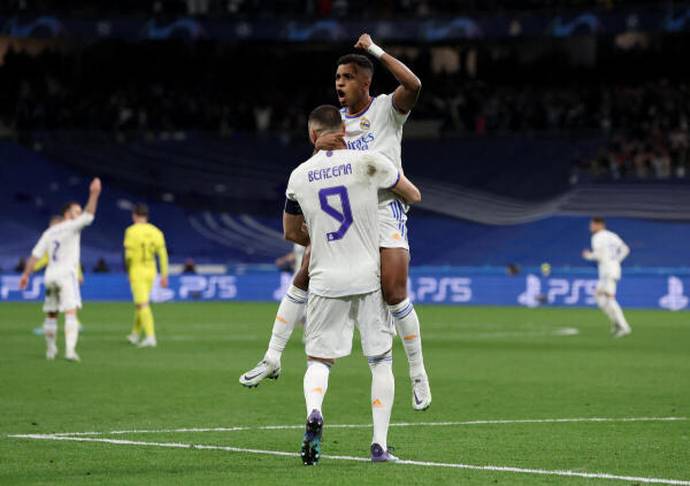 Chelsea always bring the drama. Last week their supporters will have held their heads in their hands as Karim Benzema ran riot at Stamford Bridge and ultimately put the game beyond the London side. That Chelsea had travelled to the Bernabeu so intent on overturning their deficit was to their credit and there was little to criticise about their performance on the night, it just came a week too late.
Timo Turns up the Tempo:
Following on from his brace against Southampton, the team he has scored the most goals against since his arrival in the Premier League, many felt that Timo Werner deserved his chance against Real Madrid in the ties second leg and had been unlucky not to feature in the first.
Scoring what he likely believed would be the winner would have been a suitable reward for a player who has been largely unsung by pundits and plaudits, but continues to garner great support from the Stamford Bridge faithful.
Game in and game out he perseveres, picks himself up and performs and gives the team dynamism, with the ability to put defenders on the back foot. When you look at the trade of Tammy Abraham for Romelu Lukaku last summer and how that has not worked out for anyone but Jose Mourinho and Abraham, there will be many Chelsea fans hoping that the same mistakes aren't repeated with Werner this time around. Other honourable mentions for the night surely go to Antonio Rudiger, Mateo Kovacic, Ruben Loftus-Cheek and Reece James, who gained the respect of opponent Vinicius Junior, who voiced his admiration for the right-wing back on Twitter.
Talking of Lukaku....
He wasn't missed. And it is unlikely that he would have made much difference to the game or the result. Reports this week have linked Lukaku to Paris Saint Germain, who may be looking for a potential replacement for Kylian Mbappe.
His manager Thomas Tuchel seems to have little desire to incorporate Lukaku into his starting eleven and the player looks equally dissatisfied with his role at Chelsea, suggesting a summer transfer could be attractive to both parties.
Domestic Bliss?
Though Chelsea have enjoyed great success at Wembley in the last 25 years, the last couple of years have seen a slump in their high standards and near perfect record. Having lost the last two FA Cup Finals to Arsenal and Leicester City respectively and this year's EFL Cup to Liverpool, Chelsea will be looking to this weekend's FA Cup semi-final against Crystal Palace to get back to winning ways at the home of English football.
Perhaps surprisingly, Jorginho only only featured for Chelsea extra-time against Real Madrid and seems to have fallen behind the pecking order to N'Golo Kante, Kovacic and Loftus-Cheek in recent weeks. If his rested legs do not line-up for the game on Sunday then that could be the clearest indication yet that he is surplus to requirements at Chelsea, considering Crystal Palace loanee Conor Gallagher is likely to be integrated into next seasons squad.
Midfield Mathematics:
There are so many players on Chelsea's books that each transfer window other clubs will always come knocking for those becoming disillusioned with life on the bench or in the stands, and with the changes to rules on the number of players who can be loaned, Chelsea will be planning a busy summer.
Saul Niguez is likely to return to Athletico Madrid and Ross Barkley is also expected to depart, whilst one of Kante or Jorginho will be cashed in on as they approach the latter stages of their twenties. If the pursuit of Declan Rice proves to be successful, then you can expect further deals to be done. Loftus-Cheek, who few thought could compete at the top level for a full 90 minutes let alone 120 minutes a year ago, has given Tuchel food for thought, when his days at his boyhood club were assumed numbered.
All Change:
Until there is a new owner at Stamford Bridge there can of course be no transfers but this now seems a matter of time and all Chelsea and Tuchel can do now is ensure that they will be involved in Champions League football next season with just a few games left to secure third place. With a World Cup coming up though, the fight for positions will be fierce come pre-season.
Though this year's quarter-final didn't exactly go to plan, Chelsea can only blame themselves for the false-start they gave themselves in the first-leg. But for the second season in a row they showed that they had the beating of Real Madrid and the remaining teams will be grateful that this dogged Chelsea side no longer pose a risk to their own pursuits.
Until next time.....