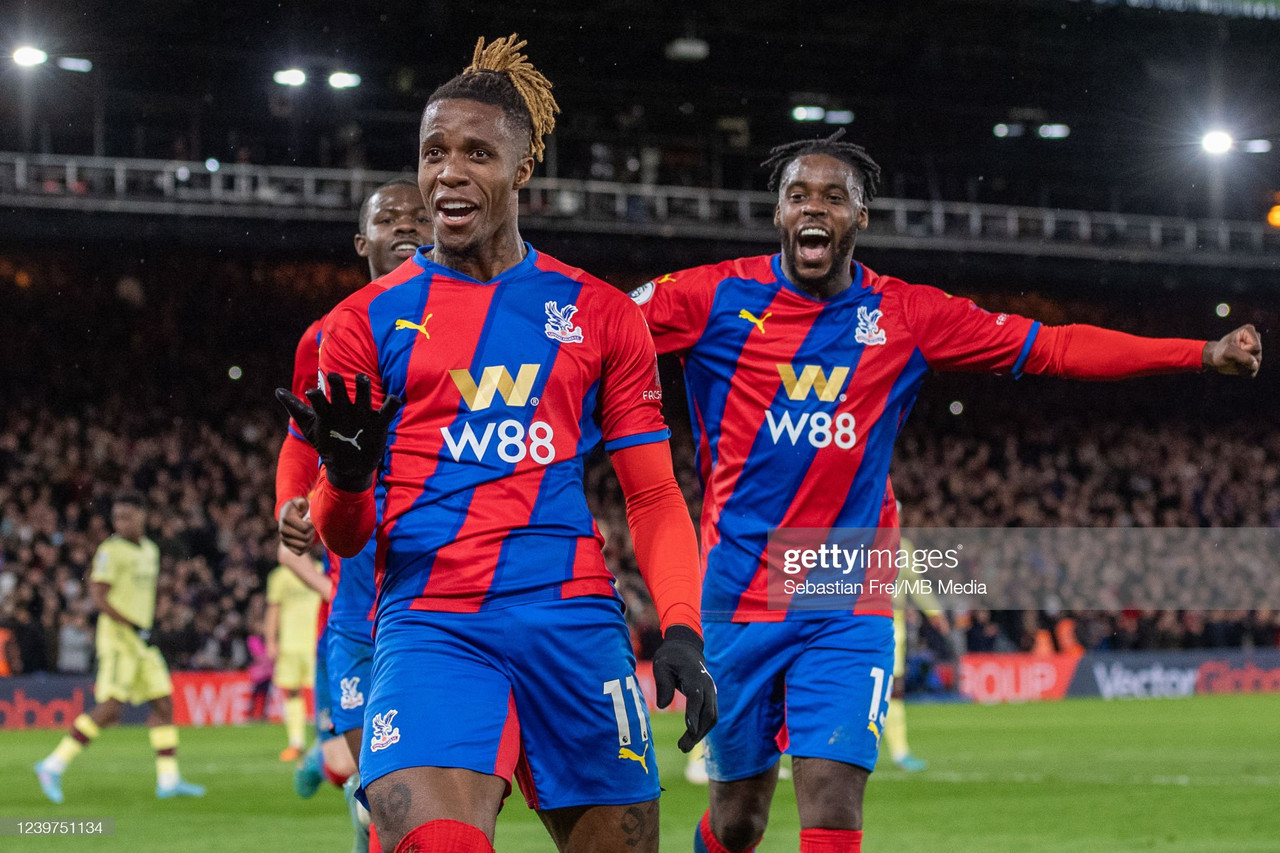 Maybe it is a sign of just how far this Crystal Palace side have come under Patrick Vieira that this didn't even feel that special. Arsenal were dispatched with ease that resembled a routine home win over a mid-table side, rather than a shock victory over a team with a desire of playing Champions League football.
Perhaps this wasn't such a shock.
Palace have been in excellent form, having been unbeaten in six coming into the fixture, with four wins and just three goals conceded in those games. Then again, so had Arsenal, with six consecutive away league victories under their belts. This is meant to be a team made of sterner stuff than its' predecessors, one whose resilience matches its talent.
You would not have known it last night.
By the time Wilfried Zaha sauntered through a ragged Arsenal backline in the 74th minute to win, and duly bury, a penalty, the game had long been settled.
Vieira's men, led by the tireless Conor Gallagher, were on top from the get-go.
A ferocious work rate, coupled with patience in possession, meant the Gunners could barely get out of their half in the opening period as Palace pinned them in. With a quarter of an hour gone, Gallagher looped over a free-kick to Joachim Andersen at the back post, who shunted it back across goal for Jean-Phillippe Mateta to nod home.
This was Palace's first real opportunity of the game, and yet there was an inevitability about it, such was the Eagles' control.
If the first goal had an element of scruff to it, the second epitomised the Eagles' transformation as an offensive force this year. A Palace attack appeared to have broken down as Marc Guehi rolled the ball back to centre-half partner Andersen on the halfway line.
Granit Xhaka, sensing a rare chance to apply pressure, charged at the Dane like a bull, only to see him ping a sublime, first-time diagonal ball straight to Jordan Ayew on the edge of the box, who found himself clean through on goal.
Two touches later and it was 2-0.
Arsenal looked shell-shocked. Such clinical finishing has been far from regular for Palace this season, but this was a night where everything went their way.
Arsenal, insipid in the first half, improved somewhat after the break.
Gabriel Martinelli came on and his fleet-footedness helped work two presentable chances for Emile Smith-Rowe and Martin Odegaard. But their wasteful efforts summed up a disastrous performance. While they huffed and puffed, the Gunners never came close to mounting the siege they would have hoped for.
Palace were forced deeper than they had been in the opening 45 but stayed organised and razor-sharp to close down spaces in midfield, managing the game in a remarkably efficient manner. Their maturity was personified by Guehi, who put in yet another fine display.
Guehi is always standing exactly where he should be, unfussily tidying up the danger. He has composure and an exceptional defender's instinct.
His first England cap last week will surely not be his last.
Palace eased through the second half as if they have done this a thousand times before; the lack of jeopardy was a curious feature.
When exactly was this new Arsenal going to show up? In the end, the last word went to a man who could have been on the opposite side, if Unai Emery had gotten his way.
Intercepting a loose ball in the centre circle, Zaha found himself with no support and little option but to run. He promptly flashed past Gabriel as if he wasn't there, drove into the box and drew a trip from the hapless Odegaard.
This was the standout moment in a vintage Zaha performance, the kind of display that makes you wonder why he never got his move to one of the big boys. The penalty, smacked into the top corner, took Zaha to ten goals this season, while the player Arsenal chose to sign instead of him, Nicolas Pepe, has one.
A penny for Emery's thoughts.
In years gone by there have been momentous April nights under the lights at Selhurst; the giddy dismissal of the same opponents under Sam Allardyce, a gritty 2-1 against Manchester City in 2015, the scarcely believable 3-3 comeback that ruined Liverpool's title dream.
But where those games seemed out of this world, this was routine; just a professional, straightforward win against an opponent made to look decidedly average.
Crystal Palace have come a long way indeed. It is exciting for fans to think how far they may yet be able to go.