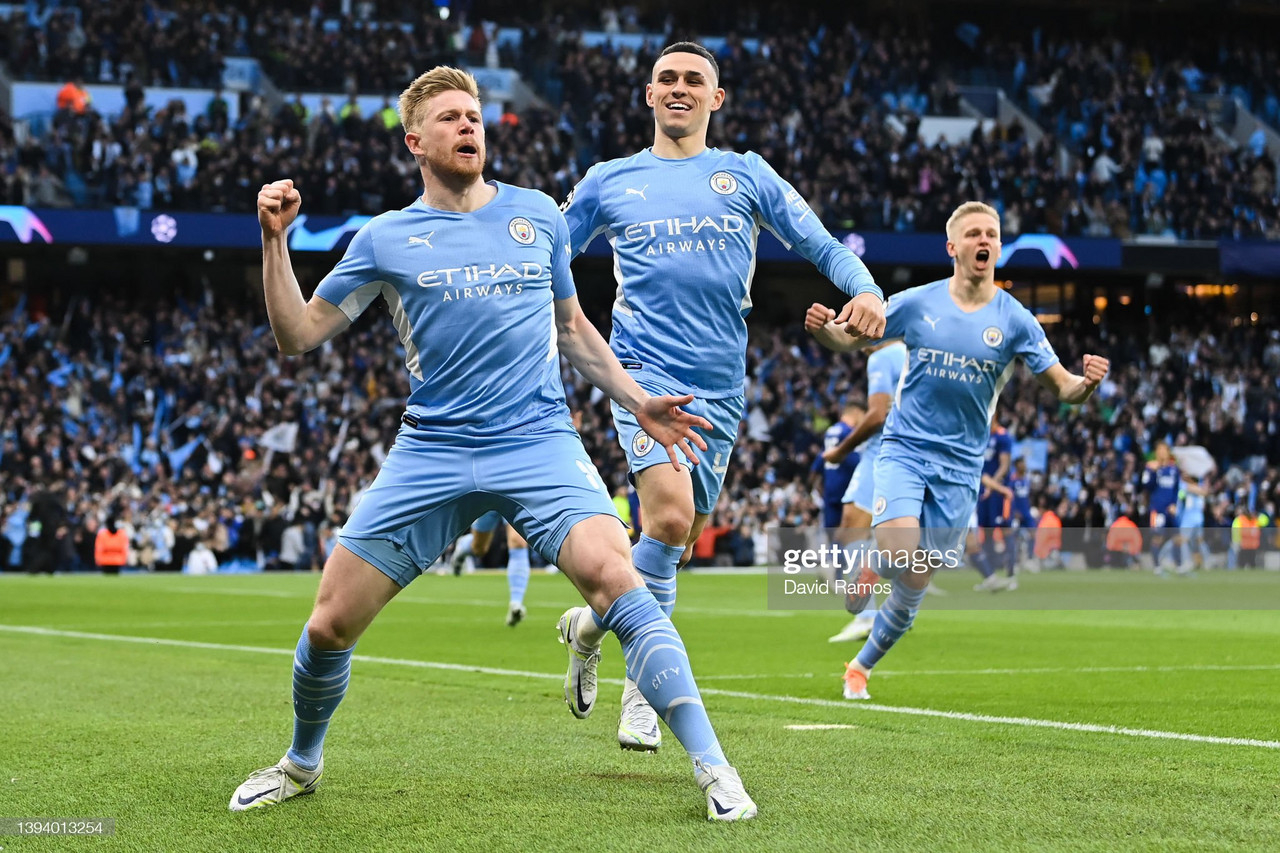 Manchester City's quest to qualify for back-to-back UEFA Champions League finals got off to a good start on Tuesday night, as they saw off Real Madrid in a seven-goal thriller at the Etihad Stadium.
However despite victory on the night, there is still plenty to do for Pep Guardiola's side when they head to the Spanish capital next week, with the Citizens left ruing several missed opportunities on a night where they could, and probably should, have put the tie to bed.
Here are three ways in which Manchester City can ensure that they are successful in Madrid.
Fullback Fitness
Whilst City fans may be a little underwhelmed with their lead heading into the second leg when you look a little deeper, the fact that they have a lead at all should be applauded.
Yes, the Citizens were the overwhelming favourites when the draw was made, but they were hit by a series of injuries and suspensions that left their back four in tatters ahead of the tie.
Joao Cancelo's late booking in the quarter-final second-leg against Atletico Madrid meant that the Portuguese fullback was suspended for the first leg, whilst Kyle Walker's injury late in the game resulted in City being without a recognised right-back for the tie.
In addition to that, circumstances outside of the club's control meant that City didn't have a recognised left-back either and whilst Oleksandr Zinchenko has progressively developed into a left-back over the last two seasons, the Ukrainian is an attacking midfielder by trade.
This meant that City lineup up with centre back John Stones at right-back, with the Englishman replaced by defensive midfielder Fernandinho due to a lack of fitness, and attacking midfielder Zinchenko at left-back.
Now Pep Guardiola isn't one to complain and praised the efforts of the trio post-match, but lining up against one of the most fearsome attacks in Europe without a recognised full-back is not ideal in a UEFA Champions League semi-final, and City should be applauded for the fact that they won the game.
Joao Cancelo will be back in the side for the second leg after completing his suspension, and if City can get Kyle Walker back to full fitness before the trip to Madrid, then they should be able to contain Vinicius Jr and Rodrygo with a greater degree of success than they managed on Tuesday night.
Clinical Edge
It seems absurd to suggest that Manchester City weren't clinical enough on Tuesday night, considering they put four goals past the Spanish champions-elect.
But that was indeed the case, with Riyad Mahrez and Phil Foden amongst those guilty of spurning gilt-edged opportunities to put the game beyond Real's reach before half-time.
Pep came out after the game to praise his side's efforts in creating those chances, claiming that he had "not one complaint about the performance".
"We missed but we created. We were there all the time. Maybe we have to defend well or maybe we have to put the chances [away]. But we were there so there is not one complaint about the result, not one complaint about the performance. Anything."
However deep down, Pep will know that City left a couple of goals out on the Etihad turf on Tuesday night, and with a red-hot Karim Benzema returning to the Bernabeu, they mustn't allow such opportunities to go begging in the second leg.
Don't Overthink Pep!
Pep Guardiola is one of the greatest managers of all time. There is simply no debating that statement.
However, despite his plethora of success in Spain, Germany and England, Pep has been found guilty of overthinking in some of his most important games as a manager.
The Spaniard opted against fielding a recognised holding midfielder in last season's UEFA Champions League final defeat to Chelsea, whilst he has also been criticised for selections in Champions League defeats to Moncao and Lyon in recent seasons.
On their day, City is one of, if not the best team in world football, and they needn't worry about tricking the opposition with unorthodox team selections.
Do what you do best Pep. Name your strongest XI and go out there and beat Madrid. You don't need to overthink it!