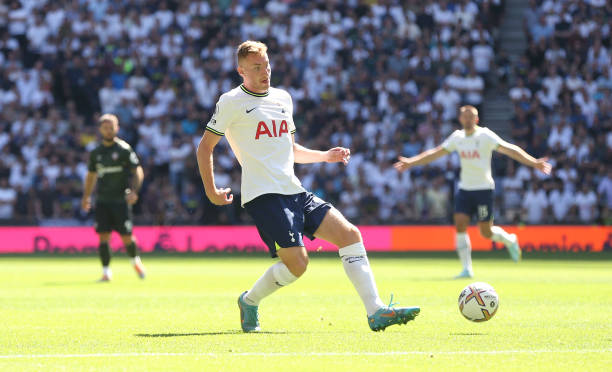 When Antonio Conte was searching for a winger to add to Tottenham Hotspur's attacking prowess up top, Dejan Kulusevski was not always the first man on the list. It was common knowledge of spurs' attempts on, now Liverpool player, Luiz Diaz.
Liverpool did get a very good deal for Diaz, who has also taken the Premier League by storm, but was it Spurs' who got the better deal in Kulusevski?
Kulusevski arrived at Spurs from Juventus for an initial loan deal ending in the summer of 2023, with a mandatory buy clause if certain conditions are met. Tottenham will pay just 30 million euros for the Swedish winger if he plays 50% of spurs' matches and they qualify for the Champions League, both of which are likely.
Spurs' did have to pay £8.3 million in loan fees, but this has more than been paid off with the contributions he has already brought to the side, gaining them Champions League football in the process.
Player Profile
The Swede arrived in Italy as an 18-year-old at Atalanta from Swedish club IF Brommapojkarna, initially into the youth system. However, failed to make more than 3 appearances for the club and joined Parma on loan.
A successful loan deal saw Italian giants Juventus move for the winger in a 35-million-euro deal in 2020, with an immediate loan back to Parma. Things did not completely work out for Kulusevski at Juventus with playing time hard to come by near the end before his eventual transfer to Tottenham.
Since joining Conte's Spurs', the swede has taken to the Premier League like a duck to water, contributing 15 goals in just 19 games. He has certainly been able to cope with the fast-paced nature of the Premier League and Spurs are reaping the rewards.
His technical and direct play has certainly played a hand in him producing 9 assists for his teammates, arguably one of his biggest strengths. Combining Kulusevski's great wing play and creativeness with Harry Kane's and Heung Min-Son's eye for goal, any side will surely score a lot of goals.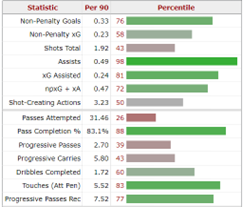 ​
A good representation of Kulusevki strengths is highlighted in this graphic from Fbref. It shows his clear technical abilities and his knack to find a teammate and lay-on assists, with 0.49 assists per 90 in the top 99 percentile.
This is also correlated with his expected assists. As per Understat, Kulusevski outperformed his xA (expected assists) by 3.85 last season for Tottenham whilst also outperforming his xG (expected goals) by 1.98. It is clear how well Kulusevski has adapted to the Premier League and how he is massively improved Conte's side, especially on the right.

​
Fbref also outlines Kulusevski to press from the front as Spurs aim to win the ball back from their opponents, with 24.02 pressures per 90. His 1.68 interceptions per 90 also highlight his ability to win the ball in high areas, giving spurs a higher chance of creating an opportunity and score.
How does this compare?
The quality Kulusevski brings to this Tottenham team is clear on the eye and through the stats but how does this compare to other spurs' wingers and other wingers in the Premier League?
Lucas Moura
To fully understand the impact kulusevski has brought to this team, it is fair to compare him to a teammate who would be implemented in a similar position. Moura was often played from the right in a front three with Kane and Son.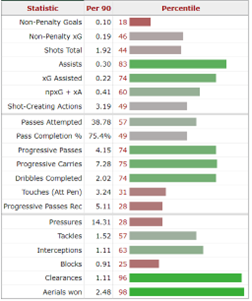 ​
As per Fbref, Moura brings a little more in progressive actions, but Kulusevski still brings a more significant threat in terms of creating chances for his teammates.
Alongside this, Moura offers much less in terms of defensive actions in the final third, in terms of pressing from the front, again showing having the Swede in the team brings more opportunity for goal-scoring chances.
Luis Diaz
Another good comparison to make is the player spurs originally wanted before eventually moving for Kulusevski, Luis Diaz. The Colombian has also made a great start to life since joining Liverpool which makes for a good comparison.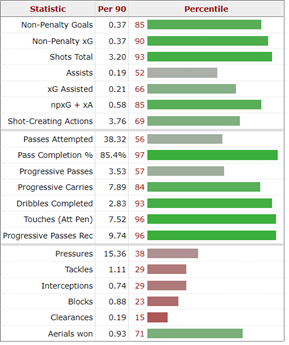 ​
As per Fbref, Diaz excels in a lot of departments, especially in progressive actions and dribbles which has been clear in his great start at Liverpool. But areas Diaz lacks in, Kulusevski excels in, with almost 8 more pressures per 90 and 0.94 more interceptions per 90.
As Conte's sides are usually built upon a good defence, a player such as Kulusevki would be much better suited to this as he is more likely to stop the danger before it even begins, whilst bringing the opportunity to create further up the pitch.
Mohamed Salah
Mohamed Salah is arguably the best winger in the league, so a comparison with Salah will help understand how Kulusevski compares to the very best in the league.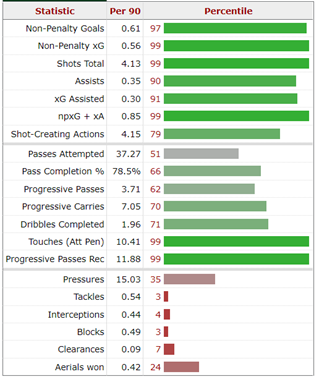 ​
As per Fbref, it is no surprise Salah appears strongly in most attacking metrics, which is shown by the high percentile in various areas. Despite his assists percentile still appearing very high at 90% and 0.35 per 90, this is still an area in that Kulusevski is consistently better than most.
Salah is a lot more attacking-focused in how he plays, and the stats show this. Kulusevski once again appears much higher in pressures and interceptions, once more showing his ability to defend from the front.
Worth Every Penny
Every player has their strengths, which are shown in the stats, and Kulusevski is very good at playing to his best. The Swede's xA is very impressive and immediately shows what he brings to this Spurs side, the ability to create many chances per game for his teammates.
This brings tons of goals to this spurs team with goal scorers Kane and Son in the team, an aspect they would have missed with Lucas Moura in the team, who would typically create a lot less.
Conte will certainly be happy with the way Kulusevski presses in game, an aspect in which he bettered all three players. This ability to defend from the front allows Spurs to keep the possession in their opponent's final third, which is good defensively but offers an opportunity for goals as well.
Not to say Spurs 'dodged a bullet' with Diaz, but they certainly found a better-suited player to how the manager likes his teams to play. Kulusevski has improved spurs both attacking and defensive aspects of the game, immediately gelled into the team and created a great partnership up top.
Tottenham have certainly found the player they had been missing up top, a deal that looks to be one of their best signings in recent times and hopefully one that helps them to some long-awaited silverware.
Kulusevski will be looking to add to his goal and assist against Southampton in their next game away at fellow Londoners Chelsea. The match at Stamford Bridge kicks off at 4.30 pm on Sunday 14th August.