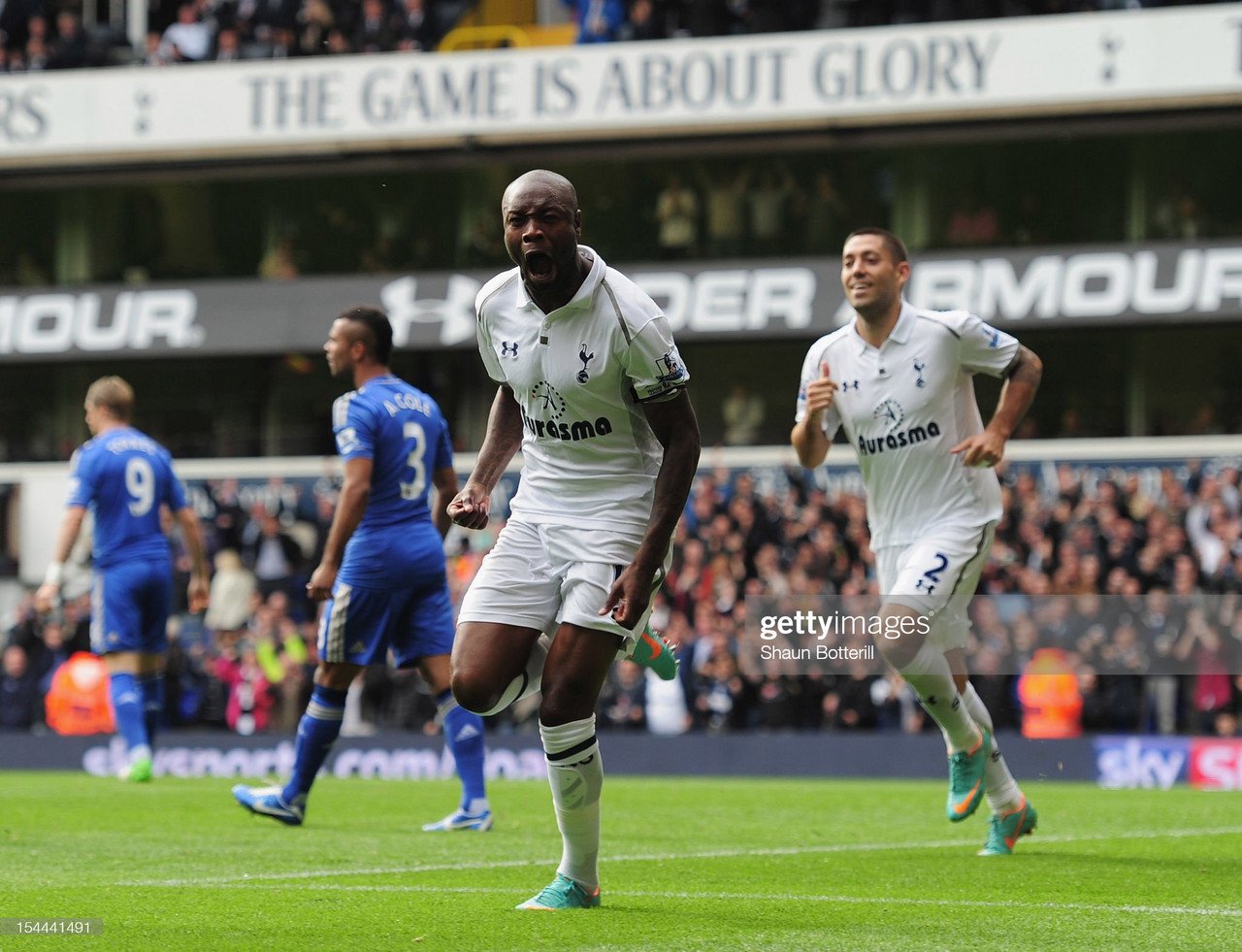 On Sunday, Tottenham Hotspur travel a few short miles to west London as they face Chelsea.
On paper it is first versus eighth in the second game of the new Premier League season but as former France international, William Gallas knows, it is often a season-defining fixture and always a ferocious London derby.
For five years, William Gallas marshalled the defence of Chelsea and won back-to-back Premier League titles under José Mourinho before moving to Arsenal and then north London rivals, Tottenham.
Whilst plagued by injury, Gallas captained Tottenham for the first time against his former club Arsenal at the Emirates Stadium in a famous Tottenham victory, their first league victory at Arsenal since 1993, and took Spurs to the knock-out stages of the Champions League in their maiden appearance.
Gallas was a formidable force on the pitch and in an exclusive interview, provides his thoughts on Chelsea's league hopes, his Premier League predictions, and what to expect on Sunday.
After a busy transfer window, what will the pressure be like on Chelsea?
"Normally, the manager receives pressure especially when they manage a big club like Chelsea, I think, even if Chelsea are going to spend a lot of money, the pressure will be the same. I think Chelsea, it's not Tuchel who wants the pressure, I think Chelsea have pressure right now because they bring players that for the owner he has to be careful with the crazy money being spent.
You can spend a lot of money on one player and then that player does not perform very well for example; Timo Werner. They spent 50 million pounds and he only stayed for two years and then went back to his former club so they have to be careful. I think football is really crazy, people don't know how to spend their money. I'm not a big fan of this."
On Chelsea's defence
"It is very important for Chelsea to sign these young defenders. Firstly, while they had young players at the club already, some did not perform very well. That is why they signed the two centre-backs this summer.
Tuchel needs at least one more player who is very strong with experience, but there are other defenders who are at least 30 years old already at the club. Therefore, to sign someone like Fofana is a good idea, but they cannot be crazy about the price.
My problem with the deal for Fofana is the fee is crazy. Obviously you need to sign good players, but I heard they want to pay 85M for him. 85M is a lot of money. Chelsea have had the opportunity to sign young players who would have been cheaper, such as Kounde.
He's played in the national team and in La Liga and he is going to be a top class player. Chelsea failed to do a deal with the player though, who would have gone for less money.
Now, I think Chelsea are in a rush and they are acting a little crazy. However, they should not be paying 85M. I like Fofana, he is unbelievable. He was great in his first season at Leicester then picked up his injury. 85M is not the price that should be put on him though."
If you could pick one attacker for Chelsea to sign, who would you choose?
"That is a question for the people who are in charge. They need to find players who are right for the club, and the recruitment team need to do a good job.
However, they should have known they had to sign a striker a few months ago. I don't know why they are mainly linked with defenders when Lukaku did not stay and Timo Werner did not perform well over his two years at Chelsea. The recruitment team's job had to do a better job there, in order to try and find the right player for Chelsea.
To be honest, I do not know which striker will come in as it is very difficult to find because the window is shutting soon. I don't know how they will do this."
Who would be good additions to Chelsea?
"If Aubameyang can leave Barcelona, it would be good but he only just joined them. I would take Aubameyang though, as he is really experienced in the Premier League, and he will fit in straight away with the players.
De Jong is a great player. He is still young but he is so experienced in the way he plays. I don't think Chelsea have to go for someone of that profile though. Chelsea already have players like him.
They should go for someone like Casemiro or Rodri instead. They are strong guys who stay in front of their defenders. They have good impacts physically as well. That is why I would not sign De Jong, because they already have players who are a little bit similar."
What are you thoughts on Arsenal's defence?
"What's good about football nowadays, systems can change from four at the back to three at the back, Arsenal can play both systems. Ben White can play in the center with a three or on the right of a four if he needs to help the team, but I don't see him playing right back all season.
Saliba is a really good player. He had a great season at Marseille, now he's back at Arsenal, it is a big step. He will show what he can really do. Last season he was upset to leave Arsenal on loan.
When I look at him, he reminds me of a player I used to play against, and that player is Rio Ferdinand. If you look at how Saliba plays, and how Rio did when he was young, they have the same style.
I didn't say he will have the same career, but I hope he does. He just has a similar style to Ferdinand. I think Saliba will surprise a lot of people, as he plays more games and gains more confidence, because he has pressure on his shoulders, he's still so young and has much to prove, he will be even better."
Is Arteta under pressure if they don't get top four?
"Of course he will be in trouble. Arteta has been asked to make the top four and he didn't do it last season. If Arsenal don't play in the Champions League next season, it would cause a lot of drama. They have to have a great season, possibly win the Premier League, but definitely to qualify for the Champions League.
They have just bought new players, it's in the hands of Arteta and the players. It will be a big problem for all of them if they don't do their job to qualify in the Champions League."
What are your top four predictions?
"As an ex-London player, I have to say Chelsea, Arsenal or Tottenham to win the Premier League. After watching Man City, they are still strong, Liverpool will still be there.
It will be difficult for the London clubs to be honest. If Chelsea does not buy the right striker, they will not finish in the top four. Arsenal will be in the top four for sure. Liverpool can miss out because they don't have Sadio Mane anymore and Diaz does not have the same impact. Liverpool always concede goals too, like against Fulham. Even if I like how they play, I think it will be City, Chelsea, Arsenal and Tottenham."
What do you think Tottenham can achieve this season?
"I think Conte can make a surprise. I don't know if they are going to be champions. When they played against Southampton, they looked good but they didn't look strong enough, perhaps it was because it was the beginning of the season.
Maybe we have to give them a few more games to show what they can really do. That squad is better than last season, with Conte, I think they can do a good job this season and if they are consistent then maybe. We like football because anything can happen."
Chelsea are playing Tottenham on Sunday. What are your predictions for the match?
"I think it will be very tight because Tottenham look good, they have good players and the only thing with Chelsea is that they don't have a real striker and that can be a problem for Chelsea as it becomes difficult for them to score goals or to create chances. That is why that game will be very tight, I would say Chelsea to win but i would go for a draw.
I think they have a great squad but to have a good squad you need to have a good striker and a good finisher and you don't have that right now.
Even if they won 1-0 against Everton, they didn't look strong. They were strong at the back but at the front, they were not strong so now they are going to play against one club where it's the derby and Tottenham are stronger as it's going to be more difficult for Chelsea. So for me, they really need to buy a striker and find that striker otherwise they will be problems for the rest of the season."
Come Sunday evening, we will see if Chelsea struggle or thrive but what is for sure, it will not be easy.
All the views, news and live updates of Chelsea versus Tottenham will be right here on VAVEL UK.
The interview is provided by Genting Casino – please gamble responsibly. If you or someone you know would like further information or support, GamCare provide a confidential service.