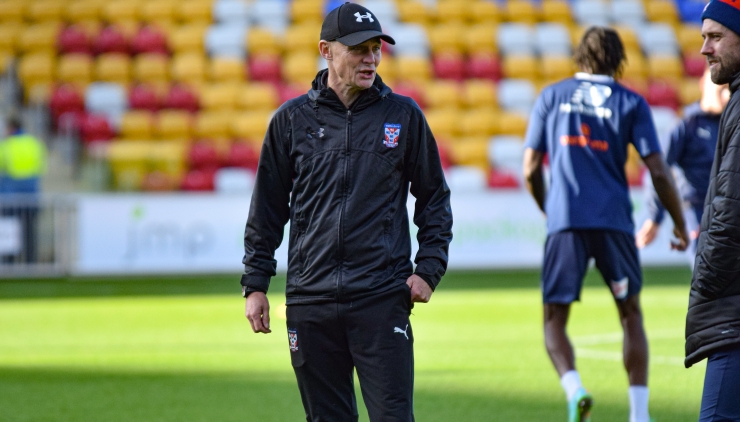 York City host Wrexham in a huge Saturday lunchtime match, where one side is looking to retain their good form, while the other is hoping to flip it upside down.
The Minstermen, despite a positive start to the season, now settle in 17th place, after a drop off of late. Without a single league win in eight, they look to turn their fortunes around, following the appointment of new manager David Webb.
On the other hand, the Hollywood-owned Red Dragons take up top spot in the Vanarama National League, as pretty much expected. They are unbeaten in eight, so it's really contrasting form going into this one.
Prior to the TV fixture, interim manager Tim Ryan spoke to local radio station Jorvik Radio.
Tim Ryan was particularly unhappy with how the team dealt with set-pieces during the loss at Dorking. He spoke on how he can prevent mistakes happening again against the top team in the league.
"The only thing you can do is just try and stop it. I'm not a miracle worker, nobody else is. What I would say is, what we've been doing in training is working on set-pieces defensively. People have changed positions - we've gone from zonal marking to man marking, and the same as anything you do in life, the more we do it, hopefully the better we get at it."
It will be nothing short of a difficult game on Saturday, when Wrexham come to town. The Red Dragons have scored an astounding 52 goals which helps them to 1st place in the National League.
"In fairness to Wrexham, and in credit to them as well, they're up there for a reason, and I fully expect them to be there right at the very end.
"I've said to the lads, if we play a game that was no set-pieces, there wouldn't be a lot in it. If we can counteract their set-pieces, then it's a close game.
Mentally, the lads know what's coming, and it's up to them to combat that and put their bodies on the line and win headers.
"It's the same as what I said at Dorking - nothing changes in that way because we're playing a team that's top of the league, we have to really man up and get together and dig in, and see where we go."
Whichever way you look at this game, you've got to see it as one which York City appear as a clear underdog. Wrexham are the worst team to face when you're on an eight game winless run, however it's evident that anything can happen in the National League.
"I think anybody who plays Wrexham in the National League is an underdog, if I'm being honest. Notts County may argue the case, but anybody else who plays them in the form they are in, and with the goals that they are scoring, anybody would say an underdog.
"But we're at home, we're going to have a big crowd in front of us/to play in front of, and it's up to the lads, live on BT (Sport), to put a show on for their own individual self and collectively, and to represent the football club to the best of their ability.
"I've said it right at the very start, it's not about me, so first and foremost, what happens on the pitch isn't really about me.
"Once the lads go out there, it's what they do, how they perform and how they look after themselves individually and collectively. We've prepped them enough for what's coming, so it's a matter of the lads going out there and really putting a show on.
"Every time we seem to have played one of the top teams, we're really competitive - the Chesterfield game rings a bell.
"If the lads show up, and put a real show on for the supporters of York City, and do themselves justice, we've got a game on."
Right-back Ryan Fallowfield is set to be ruled for potentially a couple of weeks, whilst on the flip side, pacey winger Nathan Thomas is back in training.
"Ryan Fallowfield from Dorking has a hamstring injury - he's out for a week or two. Nathan Thomas is back in training, for his first full week. The two lads with flu last week are back in. Apart from that, it's just one of two niggles."
With the new manager, David Webb, announced on Friday, Ryan will now step down as caretaker and return to being the youth team coach. He was asked how much he has enjoyed his short stint as manager.
"It's been good, I've enjoyed it.
"Like I say to everybody, it's something that I've done since I left school, I've always been in and around, whether it's playing, coaching or managing, so I've really enjoyed it and I really enjoy my time at York, and I'm more than happy to step back to the U19's, try and progress and drive them forward, but if it is my last game tomorrow, and the new manager comes in, then that's great, I'll be all hands to the pump and help out where I can.
"We all muck in together and move the club forward."