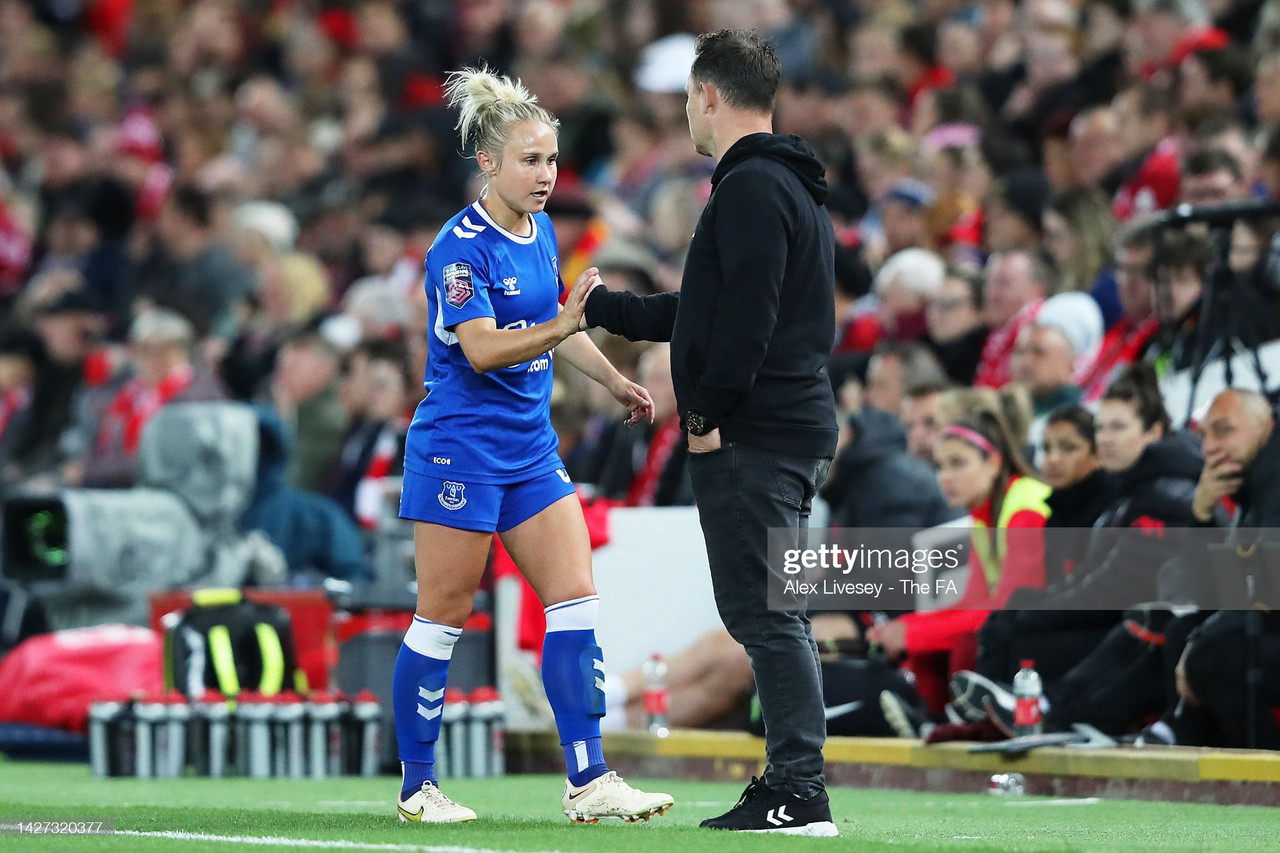 Everton manager Brian Sørensen has praised Izzy Christiansen,, after the midfielder announced that she will retire after Saturday's game against Manchester City.
Christiansen started her career at the Toffees, and after excursions to the Citizens and abroad with Lyon, she will bow out of the game back where it all began, with Everton.
Sørensen has praised Christiansen for everything that she's given the club during his time in charge.
"I didn't know about the final decision, but she mentioned to me that retirement was one of the routes that she could choose.
"We hadn't spoken deeply about it, but I wasn't super surprised when she told everyone yesterday.
"She hadn't mentioned where she was leaning towards, but she said it was definitely one of the options in her mind.
"Izzy has been an excellent player and an excellent captain.
"I had the privilege before I came to Everton to come up against her while I was in Denmark in the Champions League, and she was at the peak of her powers.
"She's a wonderful person who's done superb work for Everton, not just on the pitch but also off it.
"We wish her all the best in what's to come."
Christiansen's departure does leave a big chasm in terms of experience and leadership, but the Dane is confident some of his players can step up to fill the void the current captain is leaving.
"There's a lot of people that need to take over and set those good standards that she's been setting.
"It's not just a one-person job, especially someone with so much experience is leaving, but we have a lot of good individual human beings in this squad who know they can pick up from where Izzy left it."
This has of course been Sørensen's first season in charge at Everton, and it has certainly been a successful one.
Having flirted with relegation last season, Everton will finish in sixth place this season, an achievement the manager is very happy with.
"I'm happy with the way the team is going, I've always said the honeymoon period is great because everything is new, but it's how you respond when that period is over.
"We're in a really good place, we try and play attractive football and keep the ball, yes sometimes the opponent is better than us, but consistency in the way we play is so important.
"We've showcased that in a lot of games, and when we haven't, we take everything on board, and we learn and grow from it.
"But overall, I'm really excited to finish the season and kick on over the summer."
Off the field, Sørensen has said he is loving life in the North-West.
"I enjoy it a lot here at Everton. Of course, it's much easier now that my family is over, but it's been good.
"I like living in Liverpool and doing my day-to-day work here at Finch Farm. I love working with the girls and everything about that side of it has been great."
Everton finish the season away to Manchester City.
The Citizens still have an outside shot of finishing in the Champions League places, and Sørensen is expecting a tough test on Saturday, especially after City's derby defeat.
"Manchester City will be super hungry to get back on track after last weekend. In front of their own fans too, it will be interesting to see how they attack the game.
"Theoretically they can still get the third spot if they score a lot against us, and Arsenal lose. If it was me, I would go for it and try to do everything in my power to win by a big margin.
"For us, the way we will go about it remains the same as it has been all season. We have to be more clinical in the possession we have, but we know it's a big test for us."
For all the plaudits Everton have gained this season, they have yet to beat one of the big four, and Sørensen knows a win against City will put them in a good place heading into next season.
"The only thing we are missing this year is a win against one of the top four. We will try to do that on Saturday, but it will be hard.
"They have so much quality, especially in the starting eleven. But we will do everything that we can to get a good result and hopefully we can build on that into next season."