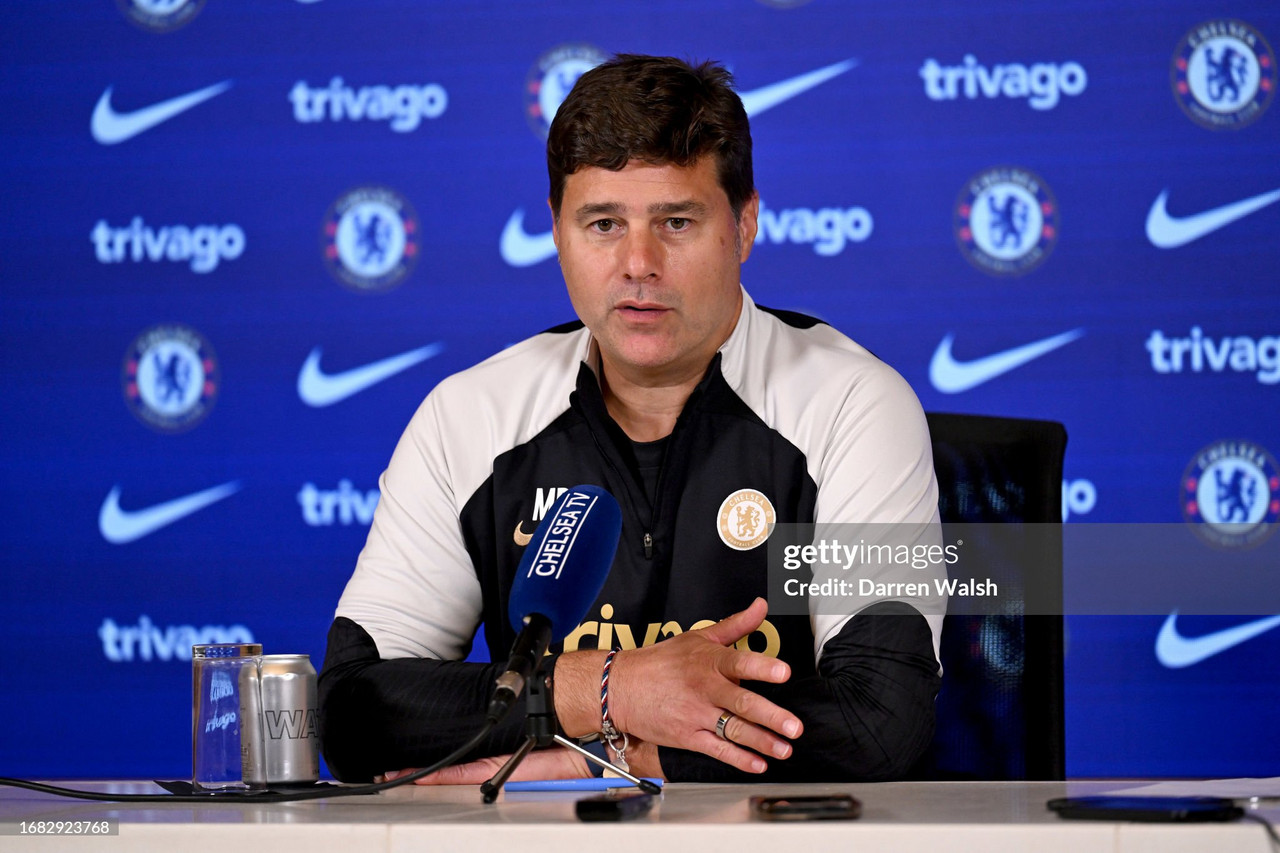 The thought that Chelsea won the Champions League just over two years ago is one that seems almost preposterous given the monumental drop in performances which has occurred since then.
Five managers later, with a 12th-place finish last season, it seems perhaps obvious to say that this is clearly not the same side that reached the pinnacle of European football back in 2021 - after all, they aren't even competing on the continent in this campaign.
But for Mauricio Pochettino, it is an important point that he feels needs to be made, with all the questions surrounding expectations at the club being an almost never-ending barrage each time he faces the media.
"We should win every game because we are Chelsea?" he asked. "Yes, but we are not the Chelsea that won the Champions League or the Premier League.
"We are Chelsea in progress, [working] to improve, to find our way to behave and to perform altogether, many things like this. But I accept competition is not waiting for anyone."
It is that word – progress – that has become somewhat notorious amongst Blues' supporters, given the connotations many will associate it with (think Graham Potter's commitment to the vaguely-defined 'project', say).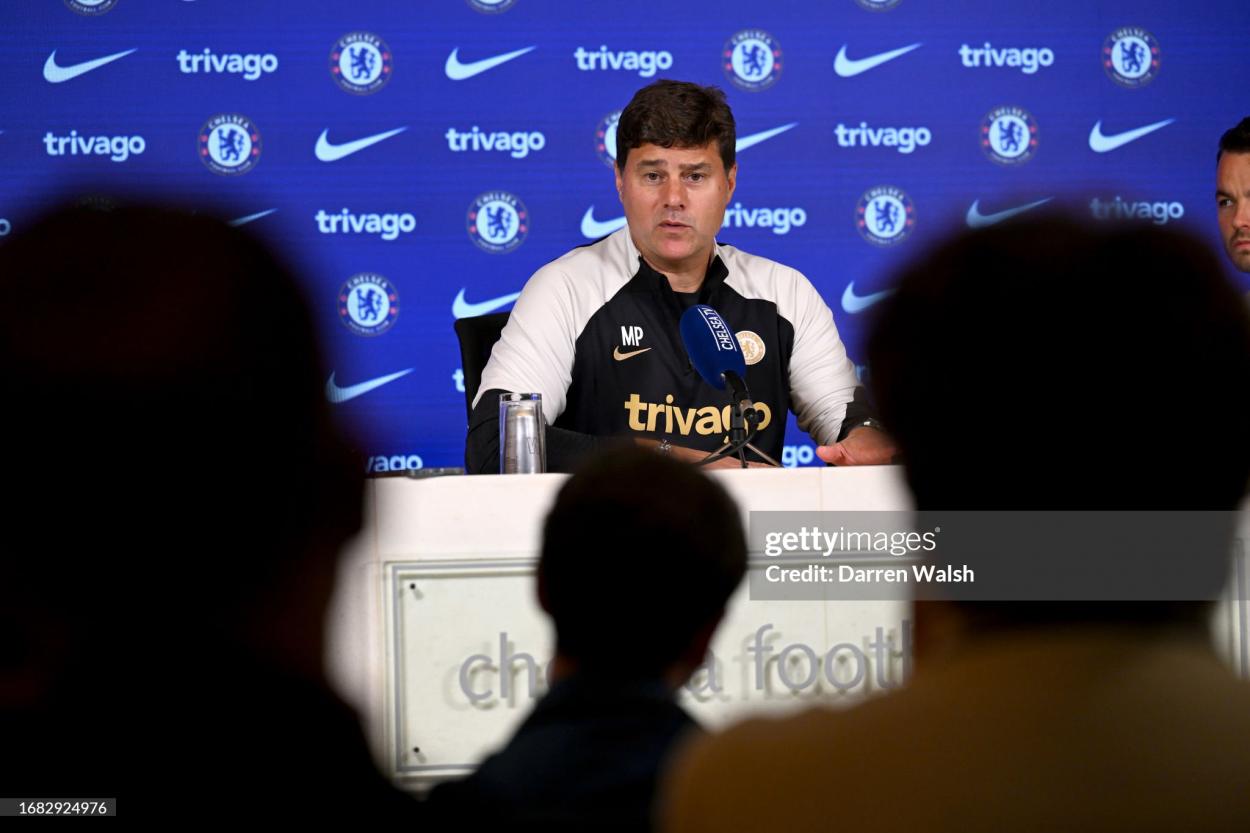 With Pochettino though, it does feel as though it is a valid piece of terminology to use, given the level of squad upheaval in such a short space of time, leaving players that have been at the club for longer than a few months few and far between.
When asked quite how long this 'progress' might take in practice, the 51-year-old was understandably non-committal: "You never know," he said. "First of all, the players need to be settled, feel comfortable, they need to know each other.
"They are going to compete with teams that maybe play [together] for three, four, five years. Our keeper, Robert, played with Disasi for four or five games. Disasi with Malo Gusto three games, Thiago with Colwill three, four games. Lesley Ugochukwu, he played with Enzo one game.
"Nico [Jackson] with Sterling, they need time to link and to create things, with Misha [Mudryk], with Noni, with Palmer arriving the day before the transfer window finished. It's not an excuse, but we need to analyse all these things, we need to assess all these things"
Continuing on the theme of experience, the Argentine was keen to stress that the quality was very specific to certain circumstances, with not all previous game time counting for the same in England.
"Individual experience is also experience in the environment that you are going to compete," he remarked. "If you are in the Premier League, you need a player with experience there in the Premier League, [whereas] in Spain, France it's a different league."
PSG's Expectations
One place where the idea of a project is rarely given the time of day is Paris Saint-Germain, which has a reputation for being so demanding on coaches that if they fail to achieve considerable success within 18 months or so, they are likely to be shown the door.
Pochettino had a stint at the French club between January 2021 and July 2022, ironically taking over from the man who then went to west London to win Europe's biggest prize, in the form of Thomas Tuchel.
When asked whether it was more difficult to be successful with a project such as Chelsea's than winning the league when expected to do so in Ligue 1, the Argentinian provided a measured response.
"I think it's not easy to win with Paris Saint-Germain, it's not easy to win with different clubs.
"We need to give the credit for the coaches and the players that won with different teams, because even for different reasons, you also feel the pressure in a club like Paris Saint-Germain because it's about winning, and you cannot use any excuse.
"But it's not easy to win, in every single competition and every single cup. If you say about the competition, the Premier League's the most important competition and most competitive, and of course if you can win here, the feeling for sure [and] the credit is bigger."
In the end however, no matter how people try to avoid using the dreaded word, it is progress that is fundamental to this new look Chelsea side, with Pochettino summarising the challenge that lay ahead particularly succinctly.
He said: "We need to accept that it's a project, an idea, but that we are going to build something for the future, with time. Because you can destroy in one second but to build it's about setting the bases and starting to work.
"The steps are very little – maybe from outside it's difficult to see the improvement and progression – but what I can tell you is from inside I think the team are doing well."