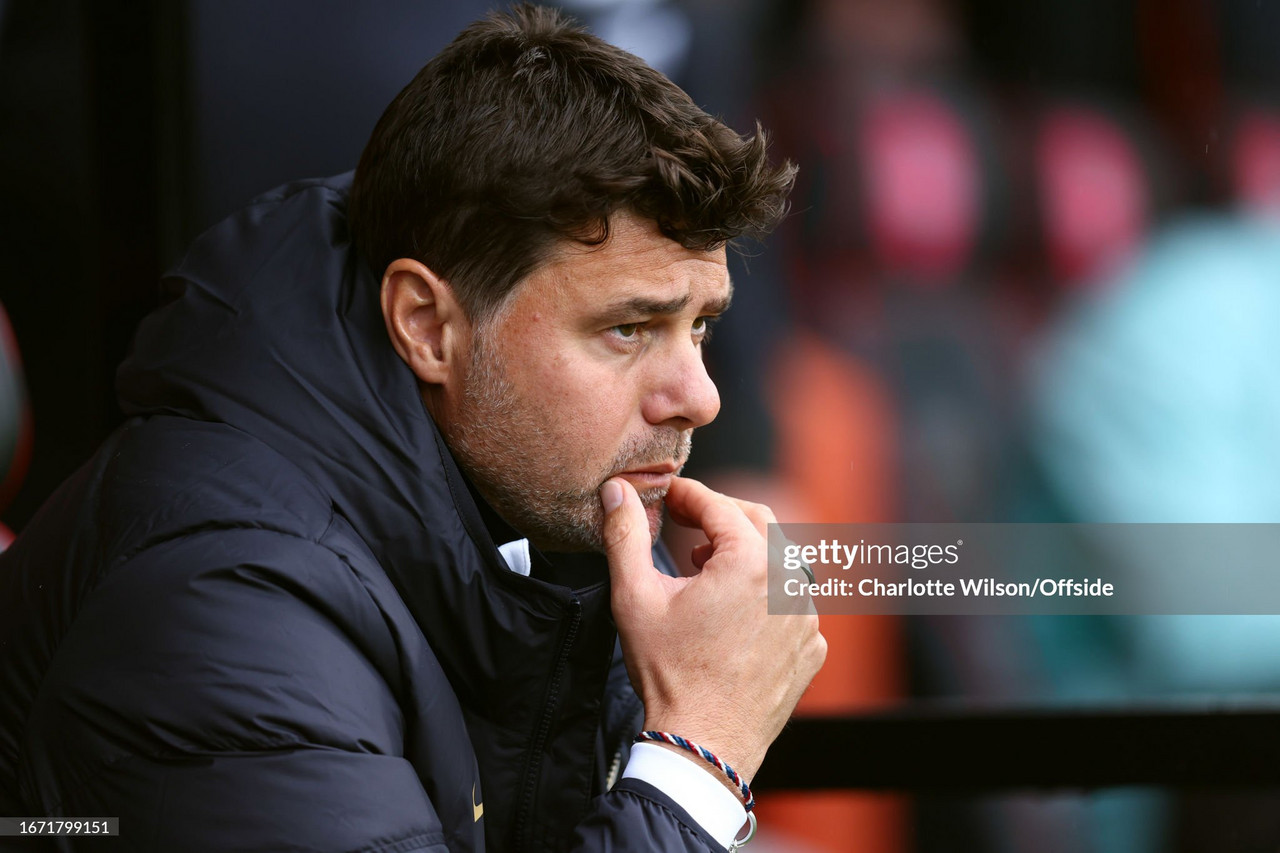 Mauricio Pochettino believes his Chelsea side are "playing well" despite them only winning one of their opening five Premier League games, ahead of a meeting with Aston Villa at Stamford Bridge on Sunday afternoon.
A dispiriting goalless draw to AFC Bournemouth last weekend was preceded by a much-criticised 1-0 defeat at home against Nottingham Forest prior to the international break, with the Blues' singular league victory coming against last-place Luton Town.
That lack of wins - and indeed lack of goals - has worried many supporters, but the 51-year-old head coach has claimed that patience is needed, with results not reflective of performances thus far.
He said: "It's a really important game for us, we need to win, we need to keep playing well – because I think we are playing well. As seen in the last few weeks we need to be more clinical in front of goal and to convert chances.
"That is the most important thing in football because I think we are in all the data in the top four – it's difficult to find some data that says Chelsea are not on the top – but in the efficiency in front of goal, we are in the bottom, and that is why we don't have the points we deserve."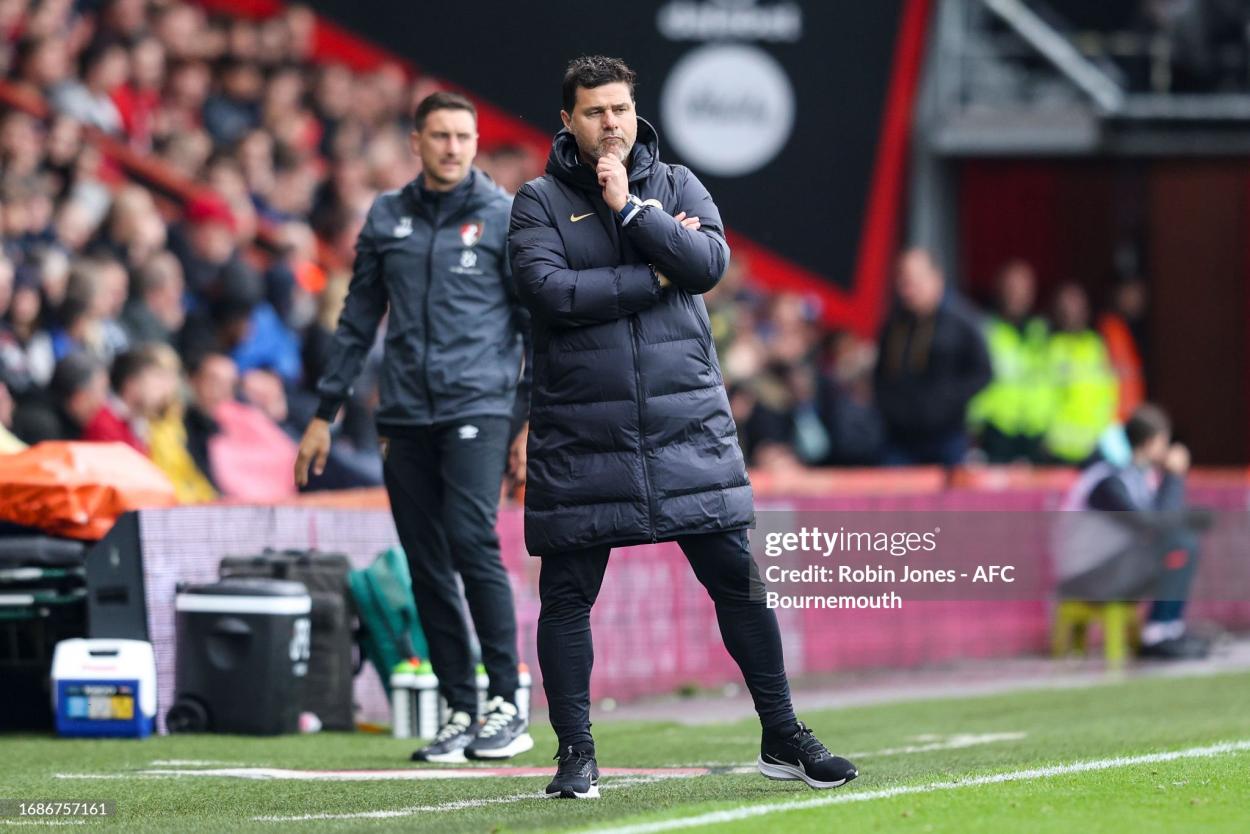 Whilst this discrepancy between performances and results is of concern, Pochettino was keen to stress that they would not stop working, with a focus on sticking with the project being of paramount importance to the Argentinian.
"I'm not frustrated because I think the team is performing well," the head coach remarked. "With performances we cannot complain, missing many, many key players. I am not frustrated, I am disappointed because I think many teams with less [chances] score more.
"That is why we feel bad, because the players deserve more, the team deserves more. But the only way to find what we want is to keep pushing, keep playing, keep doing the right things that we're doing, and replicate again and again, every single game.
"I am so happy in the way they [the players] felt after Bournemouth, and of course after Nottingham [Forest]; they really care about the club, about winning games and performing better. I think this week was good to work really hard."
"It was a very good week"
After a free midweek owing to their lack of participation in European football, the Blues have had much longer to prepare than their opponents, who played in the UEFA Europa Conference League on Thursday.
Pochettino did not believe, however, that this would pose much of a disadvantage to Unai Emery's side, insisting that the depth and quality within their squad meant they would be a tough prospect.
"They have a very good squad, very good players, and I think they're prepared to compete in Europe. For us I think it looks like [we have competed too] - Bournemouth [we had] 15 players - we need to use three, four players from the academy."
Equally, although it was an unfamiliar situation for the Blues to have been absent from the big European fixtures, Pochettino attempted to search for the positives, despite the tough circumstance the club find themselves in.
He pointed to the extended recovery time available, which is especially important given the extent of injuries that appear to have mounted up over the course of just a few weeks at the start of this season.
"I think for us, it's about recovering players from injuries and players that were out on international break," explained Pochettino. "For us the circumstances I think are good – we have time to work, it was a very good week. We work really, really hard with the players that we have and then time to recover players.
"Of course it's a time that for the fans is difficult because normally Chelsea is a club that is involved in European competition, but at the moment because of the circumstances we are not."
Following the draw on the south coast with Bournemouth, there were boos heard from the travelling fans, who were dismayed at what they had seen from their side, especially off the back of the loss to Nottingham Forest.
Pochettino made clear that he did not hold anything against those supporters, but was certain that they would be getting behind the team by the time the players walked out at Stamford Bridge this weekend.
"I really believe that they are going to be behind us," he said. "For sure, it's normal when you don't win [that] all are disappointed and like I said after in my press conference, it's normal that they show their feelings and their emotions.
"[They] cannot be happy after a draw with Bournemouth. Fans are fans and they want to win always, but for sure we are going to feel the support. They are going to be behind the team, the players need the support because they need to perform."