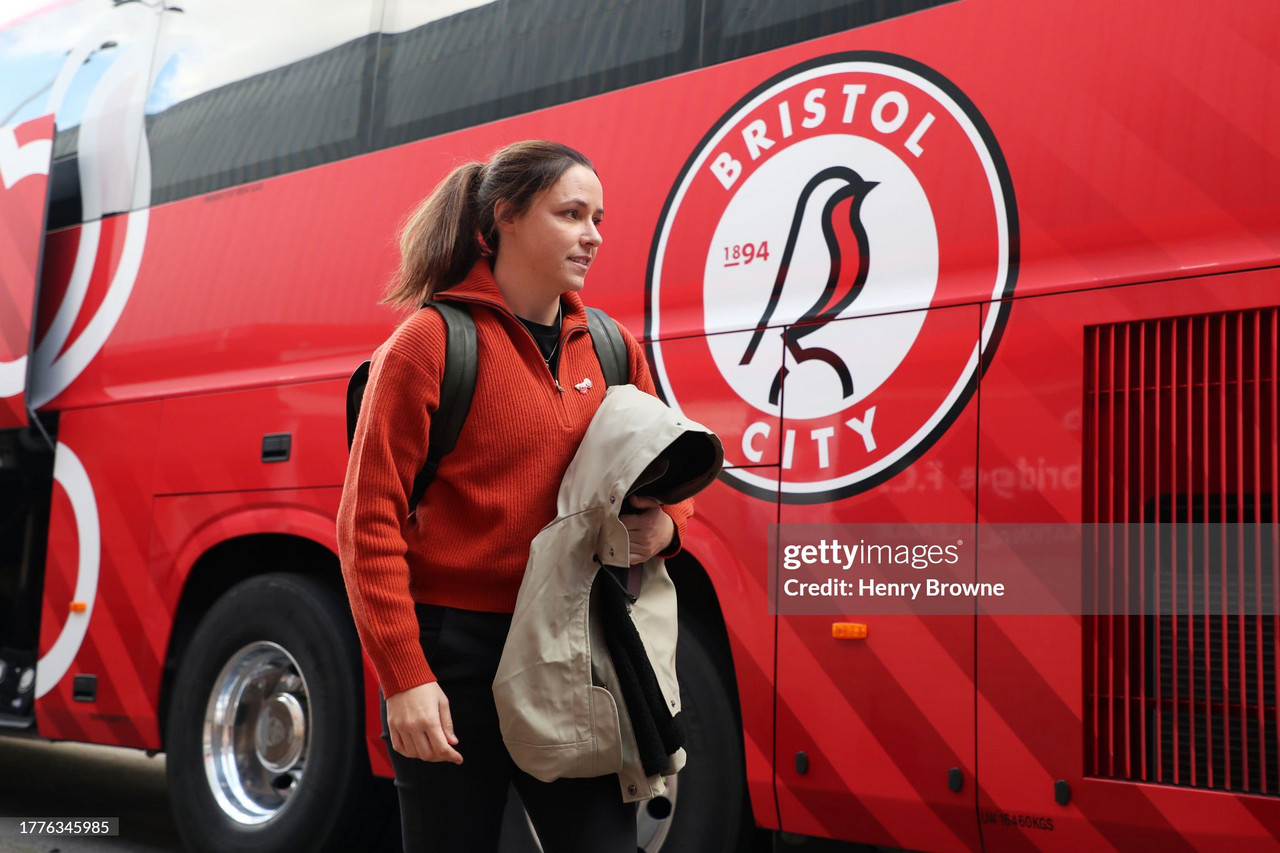 Bristol City manager Lauren Smith believes Aston Villa will get themselves out of the rut they currently find themselves in.
To the shock of many, Carla Ward's side find themselves bottom of the table, and are the only team in the division with no points to their name.
Despite their poor start, Smith knows they have the firepower available to them to get themselves out of the mess they're currently in.
"You can see that it's been tough for them. To be on that rollercoaster, especially being a team that weren't expected to lose all those games at the start.
"It's been tough, and no one would have expected it, but I think they are a much better team than their results have shown.
"We've looked at them, and while they're not firing on all cylinders yet, they can do that, and that's the danger going into this game.
"Yes, they are bottom of the table, but realistically, they've got quality players who have the ability to pull them out of it, and we have to keep our feet firmly on the ground in that situation."
Asked whether Villa were the victims of their own success, Smith admitted they could be, and complacency may have come into play.
"There is a chance of that [victims of their own success].
"We looked at the start of the season and thought they might have an opportunity to create a top five, and that chance has gone at this stage and it's still a top four for me.
"You never know, complacency may come into it at times. They've got quality and they know they have it.
"They haven't had the start they've wanted, but I'm pretty sure it will come, and they will get the wins and move their way up the table."
Momentum in different ways
There's certainly no doubting that the Robins' performances have been improving game on game.
Come the end of the season, of course, judgement will come solely down to results, but Smith is pleased that momentum, at the moment, is coming in various different forms.
"I don't think momentum comes with results all the time.
"As long as our performances are getting better, we're learning more about ourselves and play against different opposition, then for me, that is momentum. We showed that on Thursday night.
"I think that some players who haven't played that much in the league for us showed how they could step into the team when called upon, and that adds to our momentum too."
After victory against West Ham last weekend, Bristol City find themselves one place above Villa on three points, a place where, on reflection, Smith and the squad believe is fair.
"I think it's fair where we're at and I think it's fair that we've got points on the board now as well.
"When we look back at the first four games before the international break, we were very much on a learning curve.
"We were taking each game and getting better, but it was almost about that introduction to the league and introduce our new players as well, in terms of starting to play together and finding a flow.
"I feel like we have that flow now; both our defensive and attacking games have improved in that situation.
"Those four games, we had to give a little bit to see how we got on, but we're looking for our performances to start having an impact now in this next block of games."
Youngsters progressing
Two players who have stood out so far in the WSL for City have been Brooke Aspin and Naomi Layzell.
It certainly isn't easy for a newly promoted side to keep clean sheet after clean sheet in the top tier, but both Aspin, who is on loan from Chelsea, and Layzell have been solid.
Smith is confident that, if both stay on the same path they are currently on, they can certainly become WSL mainstays.
"Both Brooke Aspin and Naomi Layzell have really stepped up their game, especially as they've come through from youth football.
"Naomi had a little taste of WSL action a few years ago, but to be starters at the age they're at, I think they've both had a really good start.
"Everything is going to be a test of them to see where they're at and what they need to do.
"If they do that, they can learn how to become seasoned WSL pros, and I think they both have the ability to do that."